Far Side Bimble

Beez Neez now Chy Whella
Big Bear and Pepe Millard
Wed 23 May 2012 22:01
The Far Side of the Marina Bimble
Todays bimble is over to the far side
We started gently with some electrics
Nothing special, you may think, but the stern steps have a lovely show of tube worms, however, the rope is a classic and a first for us.
This lady actually is a liveaboard, complete with young baby. What on earth is the fungating bottled water about ???
Next was a girl with a bike actually rusting to pieces
Nice growth and a territorial angel fish
Nothing special, but just look at the fender – quality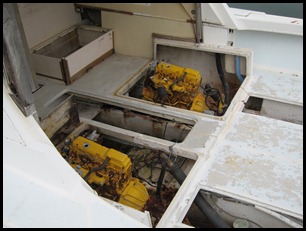 Shenandoah is clearly a twin engine
Supply cupboard
Light renovation required
Bear liked the cutlass motifs. A dashboard and doors.
By the threesome, the middle one is showing all the signs though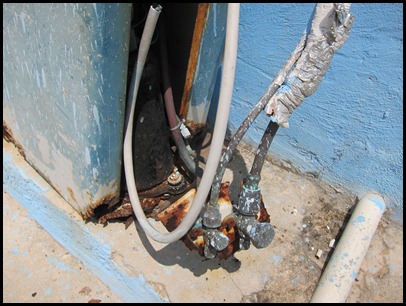 The Customs office air-con unit
Finally our guard hut propped up on a hefty stone
Oh, we got home to a visitor in our cockpit
ALL IN ALL SUCH CHOICES
---