Carping with Joe

Beez Neez now Chy Whella
Big Bear and Pepe Millard
Fri 24 Aug 2018 22:57
Big Boy Carping with Joe – in a Mixed Bag of Weather
We wake to horrendous rain but a promise is a promise, undaunted Bear made the tea flasks, I did the sarnies and off we went to collect Joe. Set up in fine rain, it did stop and I did land the first little chap of the day.
The best Joe has had recently is one ankle biter with him, usually it's three boys, Emmie and help from Vicks. Today, great to see him settled on the next peg to mine, concentrating, sarny in hand but then I'm called away as Bear lands.
No sooner than Bear had posed with his not bad for the size in this pond, Joe hooked and we raced toward him. Three minutes after Bear had returned his chap than Joe was landing. So pleased as last week he scored a massive zero to my twelve and Bear's two......"OK mum, so the challenge is on", yes, today is a new slate, currently one all. Just saying, no need to get your pants in a wad – boys........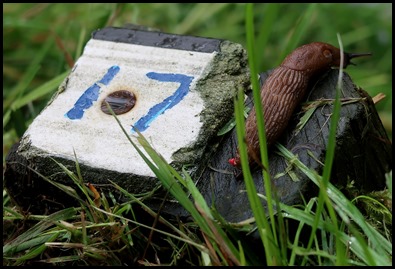 Joe posed with his first catch of the day as I returned to my peg and found a visitor as the rain started to spit.
Six minutes later, we watched Joe bring in his second chap.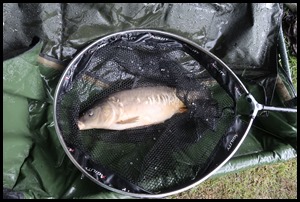 No time to get Joe to pose with this chap as one minute later I was on net duty for Bear who managed as pose as two minutes later Joe was bringing in his next, this was indeed worth a pose as it was a very handsome chap and not a bad size at that.
By the time we were all ready to settle back at our pegs, the cloudburst was over, Joe had a puddle on his chair and the dry part of my bait tray was awash and the wind had taken the whole thing to a jaunty angle.
We had half an hour to regroup, more rain and many more giggles. I caught and so did Joe.
Joe rang out his 'drying towel', I had a blow-out in my sandwich bag (a duo of bags acting as waterproofing for my feet - guess who left her wellygogs in store in Plymouth – thinking I wouldn't need them in the extended heatwave???) ....... and Bear has wet blobs where the rain has gone through the holes in my Crocs........
We all rush to Bear to warm up a bit, he poses, I catch and the sun comes out, so warm we all begin to steam.
Joe catches, an ugly little thing with such a deformed mouth it looks like an elephant seal.
Bear catches and butter fingers......At least the sun stays out and we can dry off a bit.
Joe gets another, I catch and you see my umbrella upside-down, that's because the last cloudburst saw it raining 'through' my umbrella, just a shade better than sitting out in it.......may need a new one??? Right now, I'm trying to dry the inside.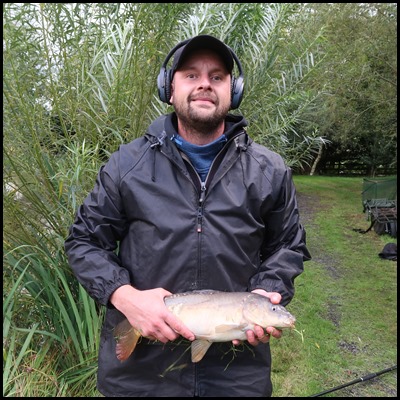 Bear feels cold, can't say that this will be the new fashion, but needs must I suppose...... Joe catches, getting a little worn typing those two words....
Just as I was dabbing tissue inside my wet rig holder, that is, with a lap full of hooks on lines, pins, size cards and my umbrella is out of reach still upside-down....... it hurls it down....... Forget it, everything is wet once more.
Joe casts into the tree on the opposite bank, that will slow him down for a bit. Bear still moaning about being cold perks up as he catches and I sneak one in as well.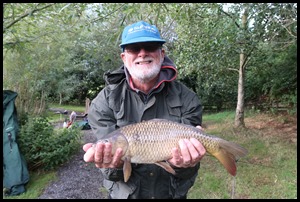 I'm sure all this running about taking pictures is having an adverse effect on my zen, Oh pull the other one, and words to that effect from Joe, just saying as both boys catch a few minutes apart and Joe quickly gets another – the same chap that looks like an elephant seal.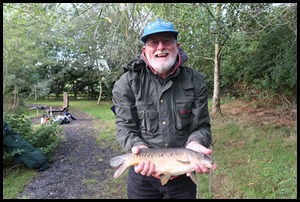 Bear catches, it rains and more importantly – my flask is feeling way too light and nine minutes since his last one, Bear catches. My nerves are getting pulled quite tightly now. OK Miss Competitive, no I'm happy participating and no matter what I'm ahead on this particular lake, I was merely going to say that I have lost a few good 'uns....... Mmmmmm or Huhhhhhhhh take your pick.
I snag my last fish of the day and start to tidy up my kit. We had set a limit of eight o'clock to pack up and a very sneaky Joe announced at three minutes to. It has to be landed before the stroke of eight to count. Several 'not encouraging words of non-agreement from the man with the current tight line.
On the dot of eight the last fish of the day was landed and we all had a laugh at the butter fingering but Joe managed to keep hold of the slippery little chap to laugh at his achievement.
We are both delighted and certainly Joe is too, to report the total for the day was 11 – 8 – 6 and I didn't mind one bit coming in last. We laughed so much, got soaked through to the skin, steamed in hot sun, giggled at each other for losses, butter fingery and all the tall tales of life as a carper...........
ALL IN ALL WHAT A LAUGH
SUCCESSFUL FISHING, UNSUCCESSFUL WEATHER
---