KL to Beez

Beez Neez
Skipper and First Mate Millard (Big Bear and Pepe)
Mon 2 Jan 2017 23:57
KL to Beez Neez
We left our hotel with an Uber taxi driver who was completely deaf. Soon on the hour flight and returning to Beez in mucky, dark weather. Rebak Marina came into view.
We could actually see Beez, Marina side of the jetty on the left.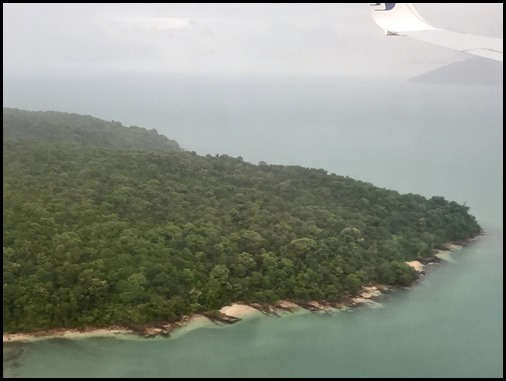 The edge of Rebak.
The surge protection structures that serve the airport.
Final view in the air, soon in a taxi – driven by a retired Forest Policeman – very interesting. He took us to Kuah Town to log out as we leave on the morrow for Ao Chalong, Phuket but the Harbourmaster had gone home early........... Nothing for it but to stop off at the cheapest booze shop to get our January ration, rude not to. Back home and ready to proceed in readiness for Alex's visit next week – excited now.
ALL IN ALL GOOD TO BE BACK HOME
PREPARATIONS FULL STEAM AHEAD
---