Beez Neez to HCMC

Beez Neez now Chy Whella
Big Bear and Pepe Millard
Sat 23 Dec 2017 23:57
Beez Neez to Ho Chi Minh City
Mr Chew the taxi was booked for twenty to eight. He was on the phone to me at seven wondering what time he was needed, "no worry, I here", OK then "No rush, Missy", I'll just finish cleaning the fridge and the sink next, then........ The start of the day to come ???? Yes as it turns out.......... On the brightly coloured eight thirty bus thinking to knock off a few blogs on the four and a half hour bumpy ride, no, look out of the window at a duck farm and pack the laptop away. Every time either of us shut our eyes the man in front of us played FB videos as loud as his phone would play them. His wife kept telling him off and his toddler would race up and down, thoughtfully wearing sandals that squeaked at each step, and her sisters did too.......Had we got the later bus we would miss boarding so no choice, smile, there was a lot of that to come.
We pose by the Christmas tree at KLIA2 and ate our picnic before realising we were at the wrong terminal. Quick bimble to the KLIA Express, I paused briefly at Toys R Us to pick up a pocket backgammon in a teeny tiny box with five other games. Oh Yeah. Look, if I fought back from seventeen down to four down with eight days left of the year, I think I stand a fighting chance. We'll see.......
We handed over our forty pence fares, down the escalator and in the ten minutes we had until the next train we had a lot of fun with a big cat on the floor, both of us with ready trigger fingers. On the train, the chap next to me was too keen on his tunes to see his case trundle off without him, Bear caught it down the carriage. We all smiled.....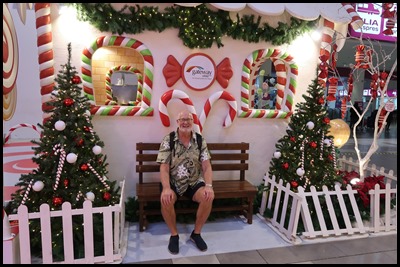 One stop and there we were at KLIA1 Bear posing once again.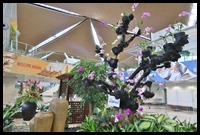 Once down the escalator and through Immigration we did our usual 'admiration of the amazing orchids'.
You could give this lot a perfect setting and they could fail, here in a really draughty corner they look gorgeous.
Just after we boarded our plane and the walkway trundled back, followed by the little wagon that got us reversed off the gate – slight conniption – I realised I forgot to pack two two-inch photos of us for our Vietnamese Visas. The one thing that is always brilliant about travelling with Bear is, he takes it all in his stride. It's just not like you at all, but you have had rather a lot of planning and Visas to deal with, but inexcusable nonetheless. Don't be so hard on yourself. Thank you. I'm now weighing it up at this point. The very worst case scenario is:- 'They' can put us back on this plane, we land back in KL, we get pictures from a machine and we fly back to HCMC tomorrow, well it might be a nice night in KL – an extra little holiday. Two things spring to mind, Got to Love this man and can't fault the Bear.
Meanwhile, no time for a whole film, what with safety film, Christmas carols, curried chicken, announcements and it being a short hop of only an hour and forty minutes. We did have a pretty sky leaving KL and I didn't have another 'intrusion' of the left sinus. Things might, just might be fine. We'll soon find out. Bear smiles.
Coming in to HCMC as dusk saw the lights in the city come on (we moved forward an hour in time).
We landed and for me, it was a long trot to the Visa area which, it has to be said was a bit of a zoo. Queues of people from about six planes of all nationalities, standing in queues called 'Group', 'Single', 'Cashier', loads by a line of tables with forms and no pens and people squeaking about having been there for two hours already..........Take a deep breath and catch the eye of the roving English speaking helper, the one with the clipboard. He smiled said "yes, yes" and pointed randomly before I had said anything, that was until I grabbed his arm and in a shaky voice said no pictures. He gave a happy grin "fill forms, queue there and give man money". Head of queue reached another smiley man asked for five dollars each and another smiley man came out camera in hand and stood us against a wall, took our picture and headed back behind the counter, yep – smiling.
We sat then, expecting the long haul. Ten minutes later we heard our names, handed over twenty five dollars each and bimbled toward Immigration – total time twenty minutes. Once the nice smiley chap had stamped our brand new Visas (mine on my only single page but my two Selotaped together pages still intact for China), we changed a thousand dollars to twenty two million, six hundred and sixty thousand Dongs. The adjoining counter to the money change one dealt with SIM cards, Bear's department, above the lady was a sign saying ten dollars to town. Bargain compared to the hotels who want fifteen. Our lady laughed as she suggested I take a picture of her companies taxi stand, "down stairs, turn right, keep going, find number ten", I guess she saw our ages and assumed we wouldn't remember.
After Myanmar we had thought our money pile would be a case-full as in the movies but it was a discreet half inch. The 500,000 note is worth twenty two pounds and six pence, so the 100,000 is four pounds forty-one. Methinks a calculator at hand at all times with all those noughts. Just the simple matter of going down on the escalator to carousel four and collect our case........Now, bearing in mind since we landed we had the walk to Visa, the twenty minutes there, the ten minutes to be first in the Immigration mans queue, the fives minutes at money lady, the five minutes at SIM lady and the five minutes it took her to write our taxi receipt, surely our case should be there. Slightly more cases were whizzing along due to two flights from Shanghai had been added to the list. We waited for an hour until our lights went out and the Shanghai's had a little blue bollard appear that said "End of Line" – OH NO. I went and searched all belts, just in case, then I found a man in uniform who smiled and pointed to Lost and Found. That smiley lady pointed to Malaysia Airlines Lost and Found. OH JOY and colour us happy, our case must have gone round on the belt for so long someone had brought it over and there it was sitting on a cart. A simple matter of going through xray and OH MY a million smiling faces waving placards with names as the heat of the outside hit us. Just as well we had the picture. On we went smiley people pointing until one lad in ill-fitting shoes but a nice smile handed us over to a taxi driver who nothing in the way of lips and those poor excuses he had stayed in a perfectly straight line. Bear tried to engage him but all he got was "I'm sorry Sir, I speak no English at all". Silence there then.
Out of the airport and all looked quiet for a few minutes.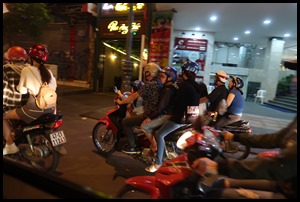 We joined the main road and talk about organised chaos with hundreds of thousands of motorbikes everywhere.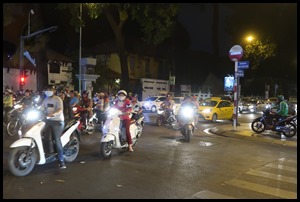 We got through one junction and then it went crazy, so crowded on the road that loads of motorbikes simple used the pavement. We saw one, two, three, four and five to a bike. A child slumped asleep over the front handles, a small child sitting on a cane stool on the foot-well of a scooter and when a passenger went by actually breast feeding I thought I had seen everything there was to see. Every time we stopped riders, pillions and pedestrians would look in and smile, cheeks now aching it took forty minutes to get through one junction. That only came to pass when a traffic policeman strolled into the melee, made a car back up and promptly told him to turn right (he had been trying to turn left).....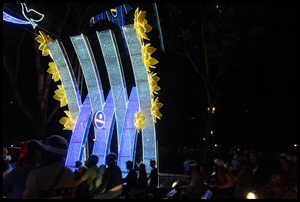 Christmas decorations and crowds everywhere.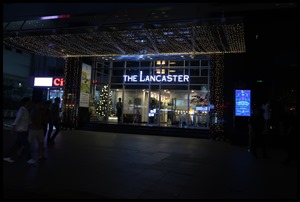 Finally, we left the main road and passed some of the posh ones, the Intercontinental, Sheraton and the like, down a side road and there we were.
It had taken an hour and forty minutes to do seven kilometres. Who would want to be a taxi driver here ??? There was the steps to our humble digs. It took seconds for Beds eyes to shut. We bimbled across the road to talk to a local tour operator who wanted us on the Mekong Delta tour at seven in the morning, we thanked her, took brochures and bowed out. Too tired to find an eatery we popped into the corner shop. bought pot noodles, some water, Coke and a tiny Kit Kat each. Crossing over, back up the stairs, lift to the seventh floor and bed with an episode on the Nat Geo channel. We had got up at half past six and here we were at half past eleven (having moved an hour) all for a short flight, no wonder we both prefer life on Beez Neez. Goodnight one and all.
ALL IN ALL A LONG JOURNEY TO A MAD CITY
A JOURNEY FRAUGHT WITH BIZARRE TWISTS
---