Wrong Clovelly

Beez Neez now Chy Whella
Big Bear and Pepe Millard
Sat 1 Apr 2017 22:57
The Wrong Clovelly
Between pubs we stopped for a selfie.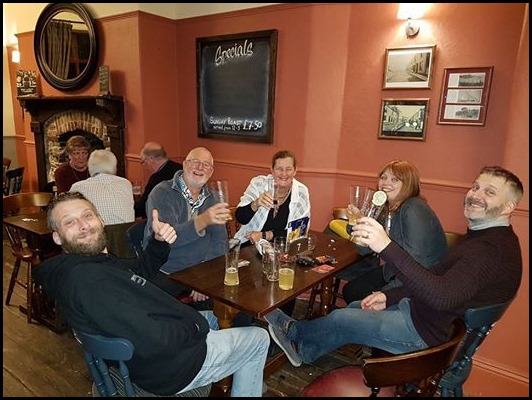 Family fun in the Boringdon Arms to celebrate Martin's birthday.
This story began the weekend before last when Martin invited us by text message to Clovelly "for a pie and pint festival". Nothing strange about that and we were thrilled to be invited, but, as we were due at Joe's in Burnley the next day it made perfect sense to leave Clovelly, head to the M5 and B+B for the night, thus lessening the journey on the morrow by an hour or so. That was opposed to driving an hour back to Wembury from Clovelly and have to make that hour up...................I booked and paid for the Premier Inn, Taunton on the M5.
Last weekend whilst we were enjoying our Supper with Super Heroes at the pub, I happened to mention booking the hotel "Why ???? You're staying with us". I explained my reasons and very quietly and discreetly Martin looked back through his text messages. "Oops". He had left out the word THE Clovelly. I cancelled the B+B and here we are. So much giggling, every time one of us thought about it we fell about in peals of laughter. The thing that made everybody helpless was when I said that I had mentioned the Pie and Pint Festival to all the guests at Roger's 60th birthday party. All the born and bred North Devonians looked in surprise – not a one of them had ever heard of it and some said they would have to pop over to Clovelly to check it out.............. Today, when we arrived the giggling recommenced...............
Tonight, we arrived too late to this famous drinking house – the pies had all gone.......... laughter continued as we posed in front of The Right Wrong Clovelly.
ALL IN ALL SUCH A LAUGH
GOOD TO BE WITH THE THREE BOYS – TOGETHER
---