To Thunderbolt

Beez Neez
Skipper and First Mate Millard (Big Bear and Pepe)
Fri 20 Jan 2012 23:37
To Thunderbolt Marina, Thunderbolt, Georgia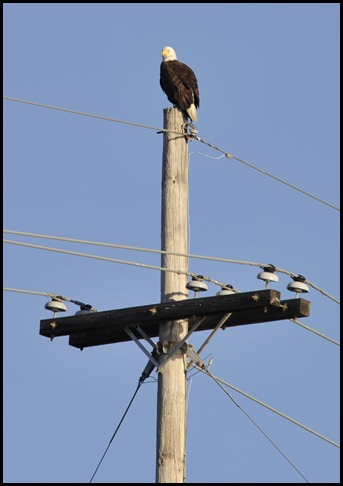 We were up and ready this morning at eight thirty, the one journey south we had to get the tides right to minimise the risk of too much "sailing on the spot". As Bear was raising the anchor I saw this young chap sitting on the telegraph pole opposite. Yet again we jumped up and down, clapping and squealing, once again all we got was a slight turn of the head.
A beautiful morning
A couple of sunbathers, an itch to deal with and seeing what the morning looks like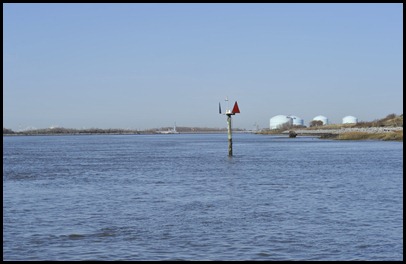 The fun part of this short ten mile journey was crossing the Elba cut. One minute we are in a skinny little 'stream' with 0.1 metres below us, then out into the main Savannah River with 9.1 metres below us. Our first look at the suspension bridge in the city of Savannah. Then across into St Augustine Creek with some lumps brushing the bottom of the girl, passing a bigger bump with sea birds sunning themselves. Timed just right as a chum rounded the bend.
It made us laugh to see a big girl parallel to us hidden by bushes, to peeking out, then passing the very lump the seabirds were resting on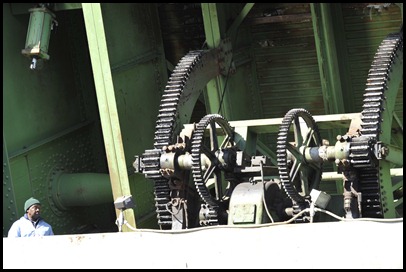 My nemesis on our journey north was Causton Bluff Bridge. Bear had called the bridge to open, I was on duty, took the middle of the channel and got a little stuck on the spot. Next thing the bridge master is saying "You comin' Cap". Eased off the mud and full throttle to go through, the voice then said, "keep left Cap, real shallow on the right". This time I saw a pelican and heard myself say, "I hope that pelican is swimming and not standing up". Well I made the excuse of taking some photos which resulted in Bear on the wheel which just happened to get him to do the bit before the bridge, cunning plan eh. Well I did take some pictures which included a chap doing a bit of WD40-ing to the lifting gears. Only a few minutes until we are there, so Bear may as well stay on the wheel until he has to get the ropes ready.............
Time to watch a quick landing opposite as we pull on to the dock at Thunderbolt Marina, chosen purely for its name
ALL IN ALL A VARIED DAY
.
---