To Cid Harbour

Beez Neez
Skipper and First Mate Millard (Big Bear and Pepe)
Tue 31 May 2016 22:47
To Cid Harbour, Whitsunday Island
We woke this morning in Tongue Bay, after a rolly ol' night on the visitor's buoy.
Certainly lovely scenery.
A classic lady coming in as we left at quarter past seven.
This morning we have a fifteen mile journey through Hook Island Passage down the west coast of Whitsunday Island.
Looking right Hook Island.
Sailing with the genoa until we rounded the corner at the top.

Hook Passage is 0.2 miles wide and we have to keep right of centre as there are some naughty bommies sticking out from Whitsunday Island.
Round we go, the tidal current generally flows north but the Hook Passage has the anomaly of flowing south on the ebb tide.
Handy, the ferry showed us the track.
We waited for him to be on his way.
Just a couple of hundred feet from the right and we are in deep water.
Safely through, we take in the scenery of Hook Island.
The passage behind us begins to close once more.

Unspoilt scenery all around us.
Ahead Cid Harbour.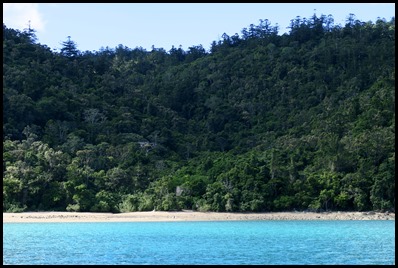 I choose my spot by the beach, as the water shallows gently Bear asks for around two metres below. He gets two point one in pale water.
The water really is this shade of azure blue.
To our left Dugong Bay a vast unsurveyed area, our spuddle target after lunch.
A lovely evening in the cockpit playing games and enjoying the sunset.
ALL IN ALL A LOVELY ANCHORAGE
A NICE DAY - MOVING ONWARDS
---