Australian Pelican

Beez Neez
Skipper and First Mate Millard (Big Bear and Pepe)
Thu 13 Nov 2014 23:57
The Australian Pelican
Our first Australian pelican was a snooty chap trying his luck with the tourists near the fish and chip shop as we got off the ferry at Watsons Beach.
On our ferry journey back this one wanted to give us a three sixty of his impressive bill.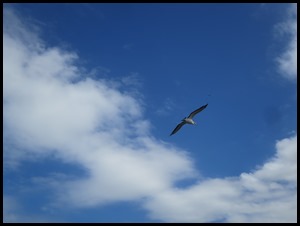 Our next lot were all at a distance when we did our first bimble at Nelsons Bay.
Then we saw loads on our road trip from Nelsons Bay up the coast.
This handsome chap is beginning to show his head gear for 'that time of the year'.
The 'Lancaster Bomber' coming in to land dwarfing the gull beside him.
The Australian pelican is medium-sized by pelican standards, with a wingspan of seven and a half to eight and a half feet. Weight can range from eight to twenty eight pounds, although most of these pelicans weigh between ten and seventeen pounds. The pale, pinkish bill is enormous, even by pelican standards, and is the largest bill in the avian world. This record-sized bill is twenty inches long. Females are slightly smaller with a notably smaller bill, which can measure as little as thirteen and a bit inches at maturity. The total length is boosted by the bill to sixty to seventy four inches, which makes it rank alongside the Dalmatian pelican as the longest of pelicans.
Overall, the Australian pelican is predominantly white in colour. There is a white panel on the upper-wing and a white-V on the rump set against black along the primaries. During courtship, the orbital skin and distal quarter of the bill are orange-coloured with the pouch variously turning dark blue, pink and scarlet. The non-breeding adult has its bill and eye-ring a pale yellow and the pouch is a pale pinkish. Juvenile birds are similar to the adults, but with black replaced with brown and the white patch on upper wing reduced. Overall, their appearance is somewhat similar to several other pelicans.
Bear with the opportunistic queue waiting for the fish cleaning station to be used and the odd nibble to come their way.
.
ALL IN ALL ANOTHER PELICAN TO OUR LIST
THEY LOOK LIKE WIDE-MOUTHED FROGS
---