Day One Hluhluwe Park – Part Two

Beez Neez now Chy Whella
Big Bear and Pepe Millard
Sat 16 Nov 2019 23:27
Day One Hluhluwe Park – Part Two
Soon after we got going following our splendid lunch Trevor spotted what was to be his forte – rhino spotting. We weren't certain this enormous creature, weighing in at over two tons would come out from scruffing about in the bushes.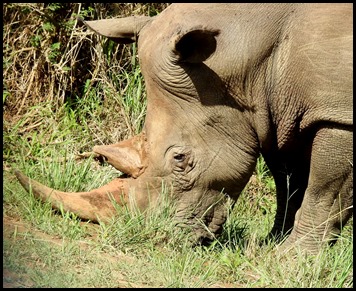 Our patience was rewarded, head popped out.
Hluhluwe–iMfolozi Park is the oldest proclaimed nature reserve in Africa. It consists of two hundred and forty thousand square acres of hilly topography known for its rich wildlife and conservation efforts. The park is the only state-run park in KwaZulu-Natal where each of the Big Five game animals can be seen.
The white rhino story has to be one of the most successful conservation efforts of all time. When the Natal Parks Board was established at the end of the nineteenth century (1947) there were only fourteen white rhinos left in the world - all resident in the Umfolozi area. Today Ezemvello (local game reserve) is the world's sole supplier of white and black Rhino to parks, reserves and zoos across the world.
Hluhluwe-iMfolozi Park is the global genetic home to every white rhino on the planet. By 2008, due to all the conservation efforts, the park had the largest population of white rhino in the world.
Not the best looking animal but..... At the shoulder these chaps can stand over six feet tall. One to three weeks is the limit of a romantic dalliance before each partner bimbles back to their solitary wanderings (the bull that is). Ladies can live in 'crashes' (gangs) of up to fourteen. Babies are carried for sixteen months and at birth weigh in at between forty and sixty kilograms. These short sighted grass eaters can live up to fifty years.
Later on Trevor spotted a rear end - Mmmmm.
Toward evening a mum and baby.
we saw this young zebra.
A bird hopped on for a snack.
Mum and little one ended with a sweet moment........
.......as dad looked on.
This young chap was brave enough to stand on the other side of the road – such a wonderful hair-do......
Mum was on high alert though. We spent time with the herd of seven before moving on.
Our third tortoise but still an unexpected sight.
We saw more creatures and at the far side of the park turned to head back toward Memorial Gate, rounding a bend......... well colour us happy, an extremely tall giraffe bimbled along, crossed the road and changed his mind.
He seemed to know we wanted his picture, obligingly he stood to our right for several minutes, him and his flock.
Amazing how such a big animal can simply disappear.
This pile of stones beside the road is not random, it is called an isiVivaneni and holds great cultural and historical interest. These cairns were used by the Zulu people to mark the place where a traveller had died. The body was covered with stones to protect it from scavengers as people did not carry digging implements. People passing the cairn would pick up a stone, spit on it, and throw it on the isiVivane as a sign of respect. They believed that by doing this the spirits or "amaDozi" would protect them for the rest of their journey. Many Zulu speaking people continue this custom today.
This cultural and historical site is one of many in Hluhluwe-iMfolozi Park which are preserved to prevent the erosion of the Zulu culture.
A shy lady. Trevor told us it was "clearly Rhino weather" as this was his sixth of the day. Mmmmm.........
Hurrah, another tick in the box, a gang of buffalo – at a distance.
Luckily, and as many of our sightings, a little further on down the road, another flock. Strange hats, wet noses and a huge presence.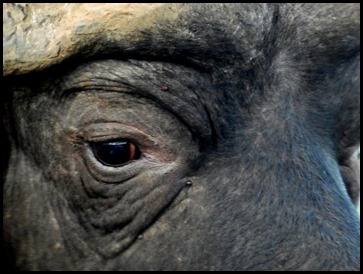 Kind eye.....bad tempered though.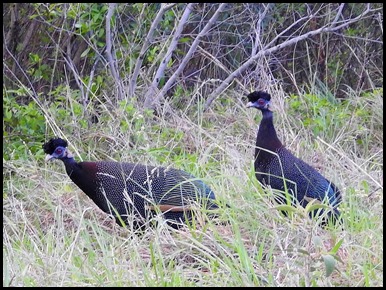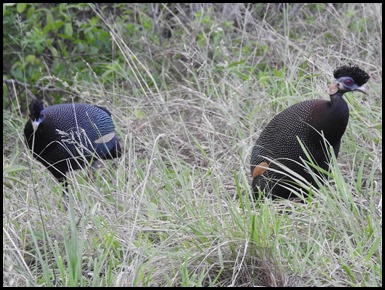 A couple of crested guineafowl completed our birding for the day.
Our final lady of the day was a noble looking creature and one of the Big 5......
A pretty end to an amazing day.
ALL IN ALL SURPASSED ALL OUR EXPECTATIONS
BRILLIANT, WE SAW SUCH A LOT
---