Knife Making

Beez Neez now Chy Whella
Big Bear and Pepe Millard
Fri 5 Sep 2014 22:57
Knife Making, Barrytown
Although we did a fair amount of research of what we wanted to see and do, along the way people have said bits we shouldn't miss, we have found pamphlets in shops and information centres, found things on the internet and come across things by accident. Bear picked up a brochure for knife making whilst we were in Greymouth, a new one on both of us. I would very much like to do this, what do you think. Book us in then, sounds brilliant. Looking it up on Trip Advisor was a first too – everyone but everyone gave rave reviews, even girlfriends going to keep boyfriends happy, young and old alike.
We jumped up this morning, drove ten minutes to Barrytown and were warmly welcomed by Steven and Robyn. Safety glasses, gloves and overshirts on, Bear had time to read the 10 Commandments – Smithy Style.
While we waited for the rest of the days 'forgers' I had time to look at the flowers and scratch Sam's head.
After our safety briefing we listened as Steven told us how to heat our carbon steel. Three times we would heat to orange, never banging the tip against the edge of the forge and not to blue hot. Bear shows how his 'knife' began the day and getting going.
Bear on his final heat before plunging in bucket – important stage. Mine on final cooling down.
Bear hack sawing the unwanted end off. Me on third grind. Bear getting a shiny middle.
Bear on final grind. Me drilling my bolster or guard, pins in and off to hammer flat.
Bear cutting his handle. Both beasts with handles glued and pinned.
Our last job before lunch was to masking tape our index finger, get a dollop of three-part epoxy filler and squidge it all round our handle joins and into our bolster joins, that done it was hands wash. Bear went to say 'hello' to Sam. Our knives by lunchtime. I went to throw an axe. During our lunch break we had to consider what we wanted our final blade shape to be. That was easy for me as I had arrived picturing a machete shape. My last one I had put to a tunas head and whacked with a hammer and it fell to pieces. I didn't want anything fancy to be put away and not used, mine is to live in the cockpit, oiled and protected of course, kept razor sharp and ready for 'the catch of the day'. Easy for me too, I fancied a Bowie knife.
During our lunch of toasties and tea Steven worked on. On the beast – an unforgiving grinder that even he had to wear ear defenders, mask and gloves for. He would take our knives to first pass. Getting the handles to rough shape, the blades to the point of ready for sharpening and most important to get rid of any unwanted epoxy.
After lunch we all followed Robyn to let the big horses out into their field and the Shetlands for a bit of a run, jump and fun time. Jess volunteered to be our runner.
Little One had a turn but as he was a little lame, just twice. Back we went – a merry troop chatting. The group of eleven was made up of us, a helicopter pilot, a sky diver, an anaesthetist, a builder, a school lad, an engineer and three we didn't catch. Robyn then was in charge of getting the swing going.........
Everyone pulled back, each in turn had the same _expression_, each first words were different – some unprintable. It is Emma's birthday and Lucinda is only six weeks before baby due.
Bear's face a classic. Who would think an ordinary garden swing set much higher off the ground could be such a short, sharp shock before the rhythm of the swinging took over.
The Master had done a wonderful job, our knives were really beginning to look the part. Now we had to draw felt tip squiggles on each side of our blade and go down in grinding size three times. Then a piece of masking tap one mil from our bolster on the handle side. Then we trooped around to the front of the house with wonderful sea view, flat calm. Robyn took us through 400 and 800 wet sanding, a 1200 dry sand and a metal polish on our blades.
Shy Otto came out to show off his magnificent hair-do.
The beast was tamed with a smoother belt, taken from the small selection and Steven put the cutting edge to our knives.
The final, final polish.
After we had wood-dyed our handles, we put them on the numbered newspaper on the draining board. Our lovely line up, ours are on six and seven. We stood in the kitchen drinking Robyn's smashing home-made champagne and watched as Steven put a protective layer of Kiwi polish on the handles whilst he told us how to care long-term for our beautiful creations. What is amazing is that ten people began at the exact same beginning at half past nine this morning and here we were at five o'clock all with a different finished product – all chuffed to bits. What an incredible journey of learning, laughter and camaraderie. Not a cross word, if someone was on a machine someone else wanted, we just lined up and chatted happily. Robyn and Steven worked flat out ALL day, keeping us busy, safe and productive. In the morning Robyn came round with a sugar fix of a marshmallow. In the afternoon with a spoonful of jelly beans. We went from tourists to house guests and left as friends. A day to remember. We cannot thank Steven and Robyn enough and hope one day soon they will retire and enjoy some easier days as twenty three years and thousands of knives is a wonderful career making so many people very delighted.
Lucinda just made this picture, well her hand and new knife did.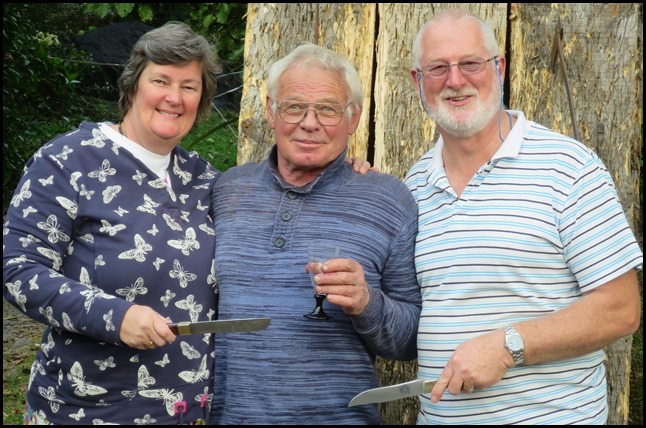 What a fantastic day. A brilliant day
ALL IN ALL THE FULLEST, FUN DAY EVER
A UNIQUE AND TERRIFIC DAY
---