Cuzco Art and Zapata

Beez Neez
Skipper and First Mate Millard (Big Bear and Pepe)
Fri 10 Sep 2010 20:01
Cuzco School
The Flotilla of Salvation
The Cuzco School (Escuela Cuzqueña) was a Roman Catholic artistic tradition based in Cuzco during the Colonial period, in the 16th, 17th and 18th centuries. It was not limited to Cuzco only, but spread to other cities in the Andes, as well as to present day Bolivia and Ecuador.
The Virgin of Pomata portrays the Virgin Mary with smooth dark reams of hair like that of Andean women. She took on a triangular shape to represent the apu (sacred mountain) - or Pachamama (Mother Earth), both sacred to Peruvians
History: The tradition originated after the 1534 Spanish conquest of the Inca Empire, and it is considered the first artistic center that systematically taught European artistic techniques in the Americas. The Cusqueña paintings were a form of religious art whose main purpose was didactic. The Spanish, who aimed to convert the Incas to Catholicism, sent a group of religious artists to Cusco. These artists formed a school for Quechua people and mestizos (mixed Peruvian - Spanish parentage), teaching them drawing and oil painting. The designation "Cusqueña," however, is not limited to the city of Cusco or to indigenous artists, as Spanish creoles participated in the tradition as well.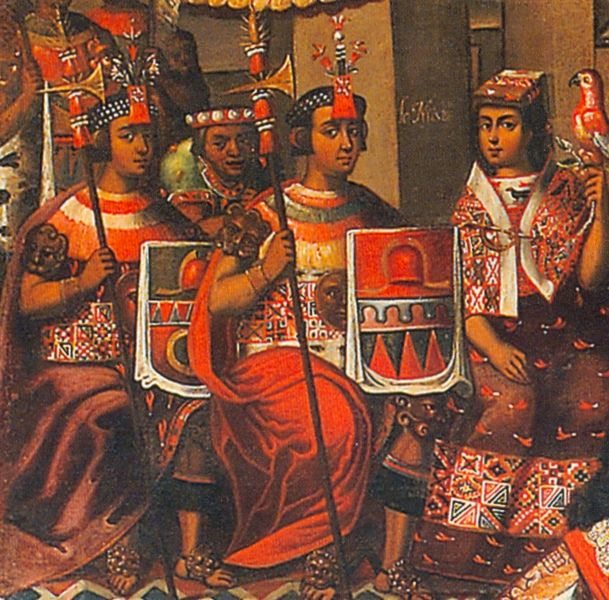 The Marriage of Captain Martin de Loyola to Beatriz Nusta (c. 1675-90)
A major patron of the Cuzco artists was Bishop Manuel de Lollinedo y Angulo, who collected European art and made his collection available to Peruvian artists. He promoted and financially assisted such Cusqueña artists such as Basilo Santa Cruz Pumacallao, Antonio Sinchi Roca Inka, and Marcos Rivera. In 1688 Spanish-born and mestizo members of the Cuzco painting guild chose to break ranks with the Indian painters. This split led to the far more numerous Quechua Indian painters developing their own styles, based upon the latest European art works. They also created a tradition of painting Inca monarchs – a departure from Christian religious themes and an _expression_ of cultural pride. What is so subtle is the inclusion of very Inca / Peruvian culture. The Snake, Puma and Condor are added in small detail and the heads of horses are replaced by Llamas.
Virgin of Bethlehem. In a triangular shape meaning the past, present and future, also the shape of the local women - mestizos
Style: The defining characteristics of the Cusqueña style are believed to have originated in the art of Quechua painter Diego Quispe Tito. Cusqueña paintings are characterized by their use of exclusively religious subjects, their lack of perpective, and the predominance of red, yellow and earth colours. They are also remarkable for their lavish use of gold leaf, especially with images of the Virgin Mary. Though the Cusqueño painters were familiar with prints of Byzantine, Flemish and Italian Renaissance art, their works were freer than those of their European tutors; they used bright colors and distorted, dramatic images. They often adapted the topics to depict their native flora and fauna as a backdrop in their works, in The Nativity there are llamas and the headgear is local.
Warrior Angels like this Archangel Ariel became a popular motif in Cusqueña paintings. San Sebastian with local flora and fauna.
Collections: largest collection of paintings from the Cuzco school is in the Cathedral of Santo Domingo in Cuzco. The Lima Art Museum and the Inca Museum also house important collections. A large number of works were destroyed in the 18th century so there is a limited supply of Cuzco school paintings. In recent years there has been a significant increase in demand from both Latin American art collectors and certain museums for paintings from the Cuzco school period.
The Adoration of the Magi
Most Cusqueña paintings were created anonymously because of Pre-Columbian traditions that define art as communal. An exception is one of the last members of the Cuzco School, Marcos Zapata 1710-1773. Other known artists of the Cuzco School include Diego Cusihuamán, Gregorio Gamarra, Basilio Santa Cruz Pumacallao, and Antonio Sinchi Roca Inka.
Marcos Zapata
The Last Supper by Zapata, in the Cuzco Cathedral featuring the dish of Guinea Pig
Marcos Zapata was born in 1710, also called Marcos Sapaca Inca, was a Peruvian Quechua painter, born in Cuzco. He was one of the last members of the Cuzco School, an art center in which Spanish painters taught native students to paint religious works. Zapata introduced elements from his own lands into his paintings. For instance, his 1753 rendering of the The Last Supper shows Jesus and his disciples gathering around a table laid with viscacha and glasses of chicha.
Between 1748 and 1764, Zapata painted at least 200 works. 24 of them portrayed the life of Saint Francis of Assisi for the Order of Friars Minor Capuchin of Santiago, Chile. He painted fifty linen cloths with the Laurentina Litany for the Cathedral of Santo Domingo, Cusco. Red and blue were prominent colors in his palette. His influential style developed between 1748 and 1773. He is known for his beautiful portraits of the Virgin Mary, almost always surrounded by cherubim. Zapata incorporated allegorical subjects in his Madonnas. Christoph Thomas Scheffler wrote in 1732, that the painter was inspired by prints of the subject. His compositions are didactic, with a relatively simple reading of complex theological concepts. By order of the Jesuits, Zapata created another similar series of painting, assisted by his apprentice, Cipriano Gutiérrez. These included an enthroned Virgin, which Zapata finished in 1764 for the Parish of the Almudena. His majestic representation enjoyed enormous acceptance, judging by the large numbers of copies and variants that circulated in throughout the region. The fame of Zapata widely extended the limits of Cuzco, and its sphere of influence extended through Peru, Chile, and northern Argentina. The art of this teacher was continued in later decades by several of his followers, including Antonio Vilca and Ignacio Chacón. He died in 1773.
ALL IN ALL A GREAT FUSION OF ART, RELIGION AND REGION
---