Kepayang Island

Beez Neez now Chy Whella
Big Bear and Pepe Millard
Sat 15 Oct 2016 22:57
Kepayang Island
As we pulled away from our snorkel the sky turned stormy dark and we saw so much lightning.
Groups of granite boulders in every direction.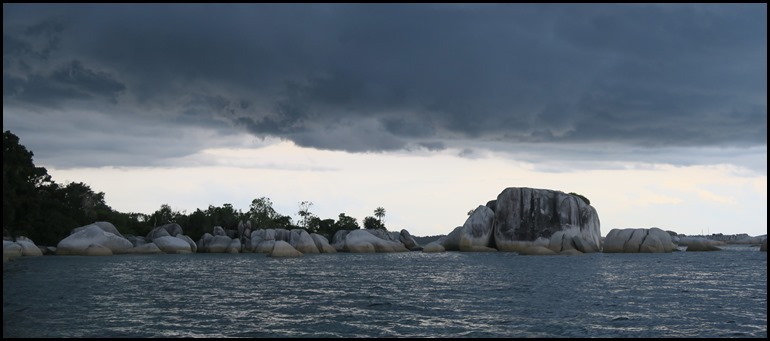 As the sky turned very dark we rounded a group to land on Kepayang Island.
We parked on the beach and our driver pointed to the bigger boats, there we would find the turtle sanctuary.
We head toward the rickety walkway passing the biggest boulder yet.
Below us, a classic 'one careful owner'.
The chair did it for me.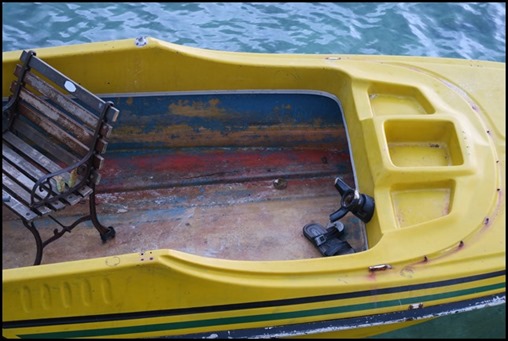 The steering wheel for me.
The turtle sanctuary looked like a sad affair even from this distance. The pen on the left suspended a net holding three adults turtles. The pen, front right had a few big fish and a cuttlefish, again trying to swim over a suspended net. Along the back were smaller frames with a couple of groups of baby turtles. We saw no one to pay, no one looking after the place and felt downhearted at what we saw.
An adult turtle, big fish and the cuttlefish and babies.
The sky brightened a little just as the first drops of rain began to fall. The boat park.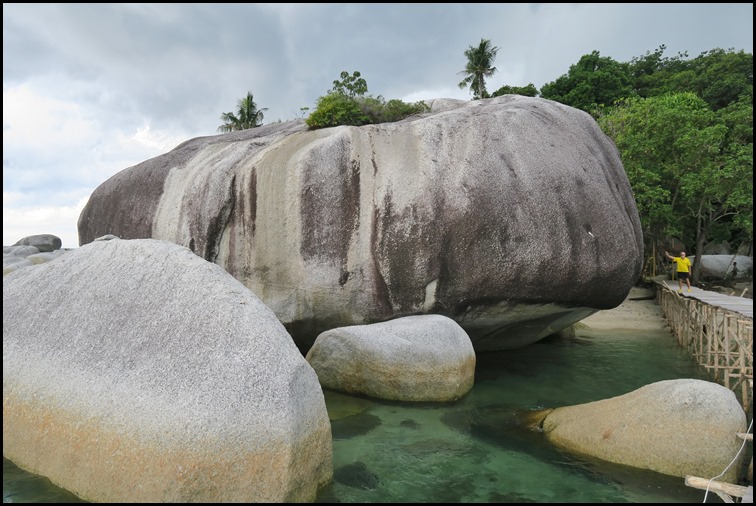 Bear dwarfed by the biggest granite boulder.
We went to explore, that turned out to be a mistake we should have gone straight back to our little boat. As the heavens opened we took shelter at the edge of an eatery catering to a group of Indonesian tourists. One lady settled undercover and serenely carried on with a good book.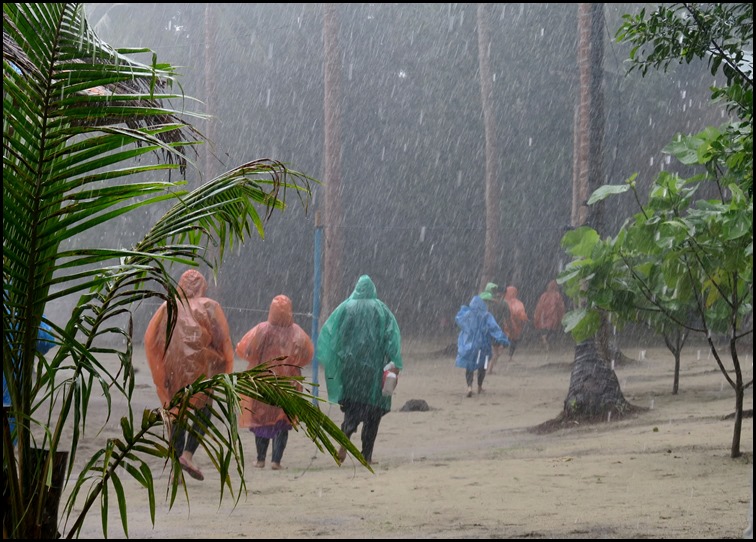 Reminiscent of so many school outings – but at least its warm.
We run for it in a short lull and pull out as things get heavy once more. Rain flattening the surface.
We passed a couple of keen snorkelers who gave up in low visibility.
Underway, the brightening sky couldn't mask the lovely sea colours. Time to head back for a late lunch and a Bintang.
ALL IN ALL DRAMATIC WEATHER OVER A POORLY TURTLE SANCTUARY
AMAZINGLY BEAUTIFUL DESPITE THE QUICK CHANGE IN WEATHER
---