Eva to Adam et Al

Beez Neez
Skipper and First Mate Millard (Big Bear and Pepe)
Wed 18 Jul 2018 22:57
Eva to Service, Homeless to Adam, Jenny, Faye and WIlliam
This morning we headed to Highbridge for Eva to have a weeks holiday for her first service. She was excited at the prospect of being in a herd and having several men scramble over her as they system checked and went through our snagging list.
Not due to Falmouth until tomorrow evening, we were effectively 'homeless' for the night. Good ol' Adam and Jenny took us in. Jenny and Faye headed out for a trampoline birthday party so we had William to ourselves for a few hours.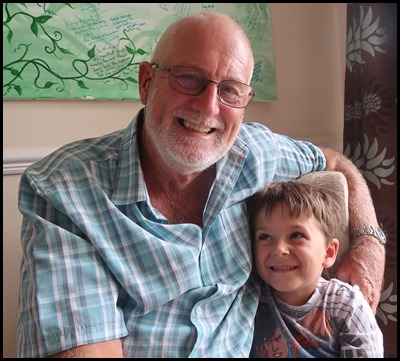 We spent the entire time at the dining room table playing with Power Rangers and of course a pose with grandpa.
Faye returned, and after her shower we were formally introduced to Ruby.
Ruby climbs well and has no regard for Jen's hair-do.........
Still a cause for concern when William looks cute.....
Adam and his dad catch up as we wait for a delicious Chinese take-away.
Way too soon it was time to luxuriate in the biggest, comfiest bed of all. Beds led the way as always.
ALL IN ALL A VERY SETTLED DAY
LOVELY TO SEE THE GARDEN COMING ON SO WELL
---