GTW to St John's

Beez Neez now Chy Whella
Big Bear and Pepe Millard
Sat 2 Jun 2018 22:57
Gatwick to Jolly Harbour, St John's, Antigua
We were very comfy in our Gatwick digs but the time difference had us awake at three this morning. An easy stroll to Virgin check-in, excited to be flying to Antigua on the ten thirty, eight hour flight. Bear loved the name of our plane – Daydream Believer, very appropriate for what we hope to achieve on our two week 'holiday', more on that later.
Soon in the air and up above the clouds, not bad food and good films.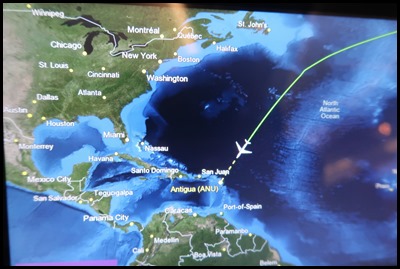 Bear kept an eye on the map and there in the mist finally, the Caribbean Sea, a couple of years earlier than planned.
A few minutes later, the beautiful blue and some coral reefs.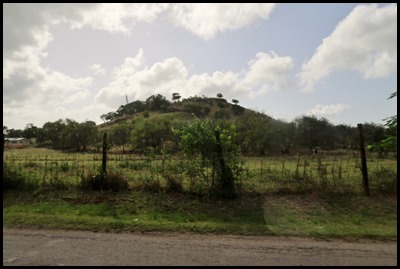 A first for us was landing at St John's as we have only ever been here on Beez Neez. Loads of planes landed at the same time so the queue for Immigration was five zig-zags long. An hour and ten minutes and we were stamped in. The queue behind us filled to brimming and the five zig-zags were chocker. Lennox met us and as he had others coming in, he handed us over to his friend. Ten minutes later we saw Jack's Hill for the first time in eight years.
Twenty minutes later we arrived at Sleeping Indian Retreat, Villa 234D Jolly Harbour, St John's. In the front door, welcomed by Kathy of TT and a long awaited view of the Sleeping Indian Hill through the patio doors.
Upstairs to settle Beds and empty a case in the second bedroom, quick cuppa and out for supplies.
Case in hand for supermarket shopping, we could not resist turning right at the end of the cul-de-sac. We will just check that the beach is still there and get some sand between our toes.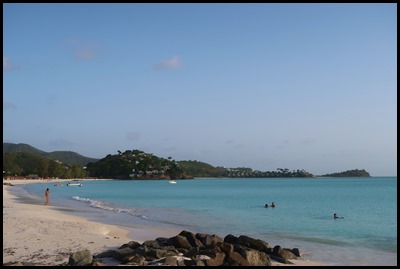 Looking left at Lignum Vitae Bay and looking right. Now for the ten minute bimble to the shops.
En route to the shops a sunbird stopped what he was doing to 'welcome' us.
Shopping put away, did look a bit weird to the locals as we had used a suitcase (they do not give out plastic bags at the supermarket anymore). That done, we walked to the end of the fifty foot dock and looked right toward the far end of the channel, turning right would be to the marina.
Upstairs with a cup of tea to take a proper look at Sleeping Indian Hill. We are now five hours behind UK time but our bodies remain in Malaysian time, twelve hours ahead. Oh my, we are so tired and managed to get to half past eight and that was that. Night, Night.........
ALL IN ALL THRILLED TO BE BACK IN JOLLY HARBOUR
VERY EXCITING
---