Bougainvillea Bar

Beez Neez
Skipper and First Mate Millard (Big Bear and Pepe)
Fri 19 Apr 2013 22:57
The Bougainvillea Bar
We left the Darwin Research Centre and began our walk back to town, a bar – must be beer o'clock. Looks really different.
A water feature with drift wood fountain.
Cans as a wall decoration.
Vodka bottle lamp, the bar lady switched it on when I wowed.
Ceiling lamps to match.
Empty water bottle wall. Bear meeting the model covered in can cuttings. A fish mural made from crushed cans.
Skipper with a cold one.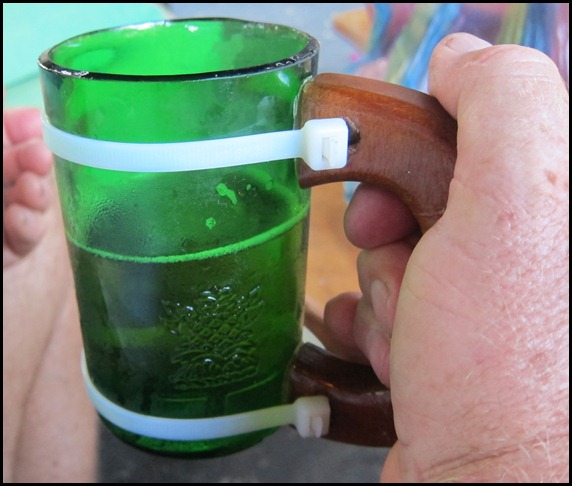 A great glass. An old London Dry Gin bottle, wooden handle fixed with cable ties. Neat.
Wall lamps behind the hammock bay are old painted fans and bikes as vases.
The water bottle wall to the left of the hammocks.
As we left Bear said 'farewell' to the doorman...............
.......................... and pointed out her manta ray.......Mmmmmm.
ALL IN ALL A REALLY COOL BAR
RECYCLING TAKEN TO ITS ULTIMATE EXTREME
---