To Abraham's Bay

Beez Neez now Chy Whella
Big Bear and Pepe Millard
Wed 23 Mar 2011 23:38
En Route to Abraham's Bay, Mayaguana Island in the Bahamas
The alarm went off at six, but we didn't rush as it was still pitch black, so a slow breakfast and off in the sunrise at seven
We followed Mi Amante
A quick hair update. I tried to give Bear a Mohican - he tried to look cool. Not sure about the rear view though, it has been threatened with a grade two.
We waved our 'farewell' as we left Sapodilla Bay
We wiggled out through The Funnel and face a similar entry at the other end some sixty miles later. We still cannot get over one minute being in three metres of water, the next too deep for Beez depth gauge. A lady in a dive shop yesterday told how so many divers feel vertigo for the first time in their lives, when one minute they are paddling in the pretty shallows, the next staring into the deep, dark abyss.
Soon out to sea we passed a deserted island on our left, another project begun and left
Bear getting caught being handy with "my" camera - and the 'butter wouldn't melt look'
The stunning Classic Yacht - Nancy Dawson overtaking us. Still a favourite of mine is to photograph a hull as it seems to disappear underwater. Here she looks as if the weight of Mi Amante is too heavy to bear, you can just see her 'cargo' behind the main sail.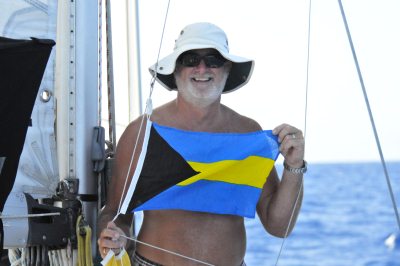 We didn't have the T+C Flag to do the raising ceremony, so here is the lowering. The inaugural raising of the Bahamian Flag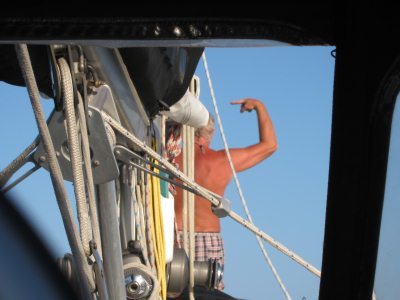 We entered into Abraham's Bay and for six miles had VPR (not visible panty ridges) but Visual Piloting Rules. According to the Explorer Chartbook you need: good weather, sunlight, bottom reading and piloting skills. With the caution: The position of all features is approximate and portions of this chart are unsurveyed (the bloke with the greasy plumb bob who always seems to shout "sand and shale"). The publisher assumes no responsibility for omissions - well they really cannot be held responsible for new coral heads popping up, but they have to cover all bases - errors or alterations and advises that any use of this chart for navigational purposes is done at the mariner's risk. The prudent mariner will not rely solely on any single aid to navigation. Well that said we have found the Chartbook to be really useful and accurate so far. But prudent we are. On went the forward facing sonar for me to get a handle on depth changes (from three metres to one point one under the keel) and my Beautiful Assistant in charge of A1 Eye Ball. Our new code system is as follows: one finger - turn a bit, two fingers - turn a bit more and three fingers - a real swing in direction. All went well.
Safely anchored behind the reef for the night
"Time for bed" said Zebedee
ALL IN ALL GLAD TO CLOSE MY TIRED EYES
I'M GOOD AT MY NEW DUTY
DON'T OVER EGG YOUR PUDDING MATEY
THAT'S SKIPPER TO YOU
HAVE YOU EVER SEEN A TOOTHBRUSH USED AS AN EYE GOUGE BEFORE
BEAR HAS
DUCK BEAR, DUCK
---