Tim Tam Challenge

Beez Neez now Chy Whella
Big Bear and Pepe Millard
Wed 31 Dec 2014 18:07
The Tim Tam Challenge Happens and So Much More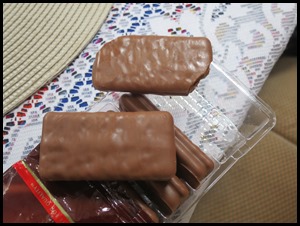 Chris and Steve - Scott-Free, had been present and witnessed our dressing-down by Rod – State of Mind on Boxing Day. We were "lightweights, been in the country long enough" and a whole raft of telling-off material as to why we needed to put the lack of Tim Tam experience behind us once and for all. Between leaving us after Christmas and returning for New Year our supporters had brought a packet of these innocent looking weapons with them. Us Brits would compare them to Penguin biscuits although, it has to be said, they are not as posh as they are not individually wrapped – a side point I know, but standards darling, standards........ Anyhoo, we had not been advised as to whether the said Tim Tam had to come from the fridge, freezer or room temp, oh well, room temp it is then. Steve our instructor first showed us how the two opposite corners had to be nibbled off. Easy so far.....
The boys had chosen cappuccino loaded with Mr Jamieson, no need for me not to follow with a loading of the Russian clear fluid..... Steve, our tutor, assembled his thoughts and poise. Held his Time Tam and dunked. Within a few seconds he was up, biscuit gone and showing messy fingers. Elevenses may never feel the same again.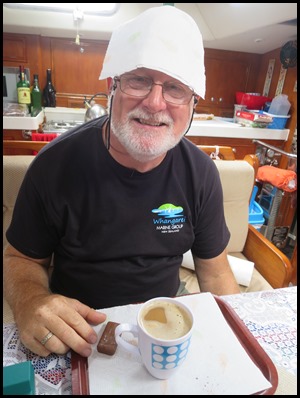 Much chuckling, visible tongue as chocolate was licked and some semblance of order returned. I still felt I had not seen enough and asked Bear to go next. Like the TV News floor manager I asked for a quick wipe of the glistening forehead, all I got was a Samurai-type vision and a certain amount of cheek....
OK, Bear bit his corners and dunked.
I actually heard the sucking and got a close up of the raise.
A second later there was the same frantic hoovering of biscuit, the same mess and clean up.
My turn, I could put it off no longer. Corners nibbled in a lady-like fashion, dunk and suck. Then that finite second - not properly explained on my two watching experiences..............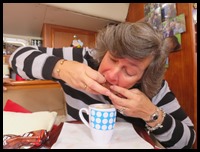 ............that sucking the hot cappuccino through the biscuit led to a trillionth of a millisecond in which to decide it was time to get the now wet, melting leviathan into the mouth before the disastrous and failing of the whole episode if said Tim Tam fell into the drink, quite literally, with a modicum of dignity but very chocolaty fingers.
I'm pleased the Tim Tam is no bigger, it's quite a mouthful and I cannot say I'm displeased to have that experience behind me.
The giggling continued after Bear dug in the fridge for an escapee hard boiled egg. Out it came with pattern - Mmmm.
Picky lunch moved to the boys on their IPads looking up new batteries while the ladies prepped tonight's snacks to take over to Sheer Tenacity.
High concentration as we filled brandy snaps with thick cream, piped from a plastic bag. Suddenly we both lost it and at the exact moment both laughed into the backs of our hands. I just loved watching Chris wielding her surgical twongs.
Clearly it was time to have a pre-leaving glass of rose bubbly and finish the leftover strawbs and mandarins dipped in chocolate or caramel sauce and might as well tidy up the last of the thick cream.
Chris had done a lovely design job with the brandy snap baskets but felt that the stuffed snaps looked like cigars. Plenty more giggling as we packed the 'oh so English' cheese and pineapple, cheese and silverskin on sticks ready for transport just as the heavens opened. Then securing the baskets between sticky taped trays and the cigars back in their packet. Steve and Chris set off in Baby Beez all wrapped up like an Atlantic night on watch. Bear came back for me and said there was a threat that I had to polish of the strawberry daiquiri without too much support from the others. Oh it's going to be a messy night..........
ALL IN ALL GLAD THE TIM TAM THING IS TICKED OFF
A GAME FOR SUCKERS.......
---