Beez Bad Beak

Beez Neez now Chy Whella
Big Bear and Pepe Millard
Mon 23 Dec 2019 23:57
Beez Bad Beak
Off we went on a sunny morning with no wind for a trip to the mall with Patricia and Allen (Nauti Nauti). Along the way we stopped at the restaurant to find out opening hours for Christmas Eve, they would close at four so we booked a table for eleven of us at one o'clock. That done we booked an Uber taxi and settled in a small, fast car for a trip to the Mall. The loose plan to bimble about, explore the shops, long lunch and Christmas food shopping. We had a really nice time and bear in mind this was the first time we had left Beez for more than an hour since arriving in Port Elizabeth Marina, no worries........ We got back in the early evening loaded down with goodies. We bought each other new purses, stocked up on supplies and food for Christmas Day to share. Bear and Allen went to find a cart and as we passed the other yachts in the gang we told them about lunch tomorrow. I nipped up the gangway between Peggy West and Harmoni and after telling Roy turned to speak to Didier and Monika. Smiles soon vanished when Didier said "So sorry about Beez" Oh.
From a distance – not too bad........
On closer inspection, heart sink. All three spring ropes (one fitted with a snubber) had snapped in a huge blow and the girl had been beak banging the dock..... A local had heard the noise and Heath Robinson style had managed to secure her from more damage.
Our beautiful girl with her year old paint job was scratched and chipped............
............and a bit battered. I felt quite sick. Larry and Allen helped Bear get our shopping aboard, that done Patricia and I left the 'mens talk' to off load their shopping. I returned the cart stopping off to tell Fred and Mick about lunch the following day. Later, Fred popped down and wondered how I had managed to talk about such frivolity. Well in truth, I refused to cry, no one had died and the girl although pride-dented, was still seaworthy. Roy offered Bear some epoxy to seal her and vowed to be in the chandlery first thing for more, thicker rope.....
Bear did indeed do just that. Christmas Eve morning he settled in the cockpit with rope that would have graced the Titanic and set to work filling Beez with the burning aroma of his task.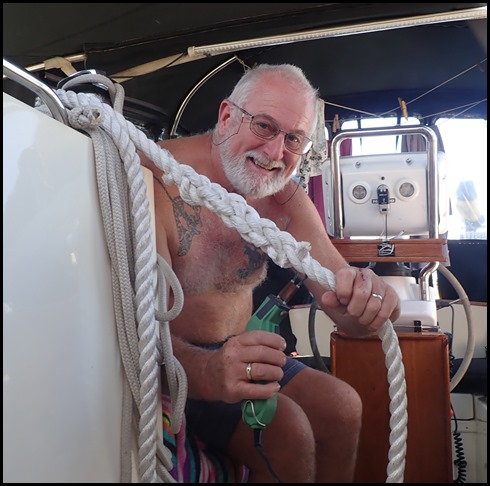 He even managed a smile – but that's Bear for you.
ALL IN ALL SO SAD
HEART SINK, TALK ABOUT BAD LUCK
---