Bus Ride

Beez Neez
Skipper and First Mate Millard (Big Bear and Pepe)
Thu 8 Oct 2009 21:41
330 miles of Fun on a Bus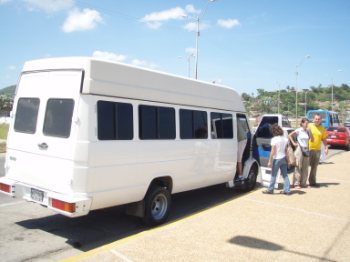 After our thawed breakfast and repacking session we were all on the bus with Carlos our driver ready to leave at 06:55. As soon as we were settled with the luggage at the back, Carlos locked us in and off we went. Our route took us along the Peninsula de Paria through Rio Caribe and a stop for fuel at the seaside town of Carupano. The cheeky advert became known as Branko's bottom. Fuel - full tank was 2.50 Bolivars or 30p. Carupano, Carlos put in 37 litres which cost 24p. Next stop was 22 litres at 2 Bolivars or 25p.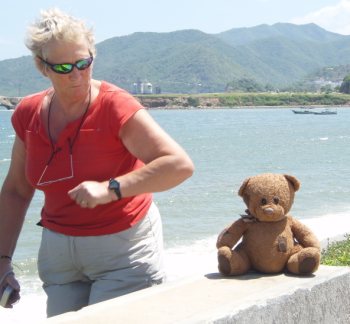 Time for some photos. Beds posing. A view of this stretch of coast and the first time Pat threatened Beds.
A look the other way up the coast. Betty and Branko and another quick look at his bottom.
A quick map check. Most cars here look like "one careful owner" and a man watering.
Off we went again toward Caripito toward Maturin a big town. Then Temblador, Puerto Ordaz and finally to head for Ciudad Bolivar. Along the way we stopped for snacks and a comfort break at a very posh pharmacy cum supermarket.
Mid morning we stopped opposite a shrine and bought local fruit. Off again time for Jochen to catch some zeds.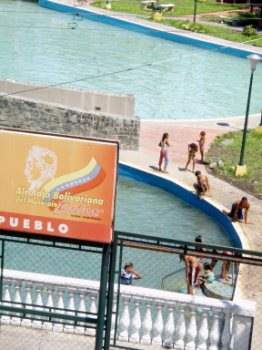 Then it was time for a beer stop, below us was a government funded lido.
Along the way we saw some very interesting sites, this huge Jesus along with the roar of the Mack Trucks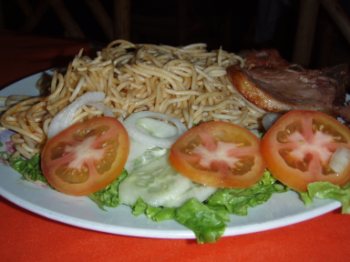 We stopped for lunch at the village called Punceres at a place called Jose G Medina. While we waited for our food a local beer rep gave us each a plastic mug - which Connie later sold for ten Bolivars. Jochen and Traudl had a standard lunch. Rice, plantain, mixed salad, sweet potato, feta, lime, chicken, beef, pork, lamb sausage, all washed down with juice, pop or beer and coffee for 500 Bolivars or £82.50, or £5.50 each.
Good food. We decided the local rum, although it came in a fancy leather pouch was a bit dear. After such a big table the chef had to get cooking again, outside on his home made bar-be.
A brief photo opportunity by the River Morichal Largo. The locals wanted us to buy baskets, we said on our return journey. The most modern bit of their rustic lifestyle is their outboards.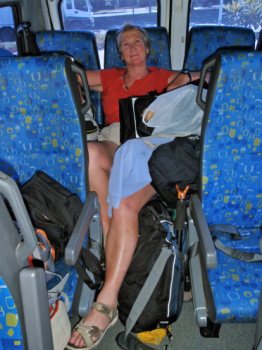 Last bit of the journey - Pat shows her nest among the baggage. We arrived at Hotel Da Gino in Ciudad Bolivar at 8pm, supper next door and a couple of beers.
ALL IN ALL WE SAW LOCALS, GRASSLAND, HILLSIDE, MOUNTAIN AND RIVER. A GOOD OPPORTUNITY TO SEE THIS VARIED COUNTRY
---