Hurricane Tomas

Beez Neez
Skipper and First Mate Millard (Big Bear and Pepe)
Thu 4 Nov 2010 23:32
Hurricane Tomas
We set off one day for an at-venture, before long a cow resting with a friend on her back, we even introduced the MOTH's to 'One Careful Owner' then we saw the effects of Hurricane Tomas
The huge, sprawling Hurricane Tomas. The track showing from the south the first larger dot heading for Trinidad
Hurricane Tomas was the nineteenth named storm and twelfth hurricane of the 2010 Atlantic hurricane season. Tomas developed from a tropical wave east of the Windward Islands on the 29th of October. Quickly intensifying into a hurricane, it moved through the Windward Islands and passed very near to Saint Lucia. After reaching Category 2 status on the Saffir-Simpson scale, Tomas quickly weakened to a tropical storm in the central Caribbean Sea, due to strong wind shear and dry air. Tomas later regained hurricane status.
St Lucia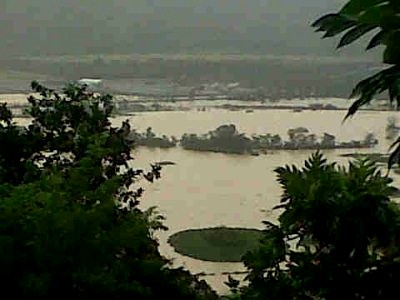 Cul de Sac, St Lucia, where we had to go in a circle as we thought the village sign meant cul-de-sac. Gustav on St Barts
The sad sight of Haiti
.
Throughout the hurricane's path, at least forty one people are known to have been killed, fourteen of whom were in St. Lucia. The mud slides buried houses to the upper storey in the village surrounding the beautiful bay of Soufriere, one of the most photographed bays in the world (own blog - visited with Miffy when he stayed with us on Beez Neez), it happened so fast and has destroyed the tourist industry in the area. Monetary losses have been estimated at over five hundred and seventy two million US dollars, mainly in St. Lucia. In the wake of the storm in Haiti, flooding intensified an ongoing cholera outbreak indirectly causing more fatalities. St Vincent lost every banana crop.
At one point it threatened us in Trinidad but just as it was barreling straight at us, Tomas put in a right turn and passed by, however, due to the huge need for feeder winds our weather was all over the place. It was no real surprise the day we ventured north to visit Charlotteville to find the roads strewn with mud and debris, then at a more serious lump Bear and Chris waited in the car whilst Alasdair and I went to recce ........
......... but then we ground to a halt with only a few miles to go nothing for it but to return home, pour a tot and play Mexican Train Dominos.
ALL IN ALL A BAD BUSINESS
---