Textile Museum

Beez Neez now Chy Whella
Big Bear and Pepe Millard
Mon 23 Jul 2012 22:20
The Textile Museum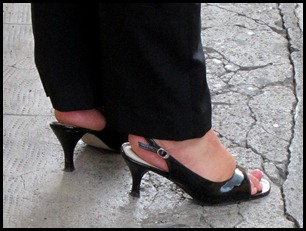 We followed my professora in her dangerous heels and after a ten minute walk we arrived at the Textile Museum. We paid eighty pence entry and our guide introduced us to the traditional art of weaving. Here the ladies always produce runners that are about a foot wide, these can be used for table decoration or joined together to make larger items.
Behind the demonstrators' head was a piece covered in bees, but in that pink I found it easy to suppress the urge to purchase.
Next we saw how the women and children prepare the thread. The bench with 'poles' produces just the correct length in coils for right to left and back again on the loom we had just seen. For longer lengths the continuous winding on the cone.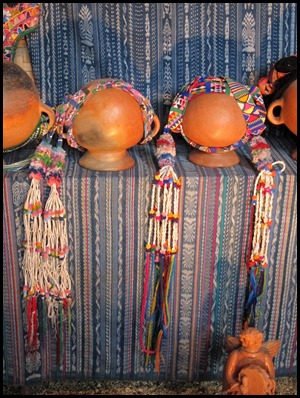 Next we saw the work of the village – Sacatepequez, they fashion their headgear to represent snakes in honour of the Ixchel Goddess of the moon and weaving.
Some high fashion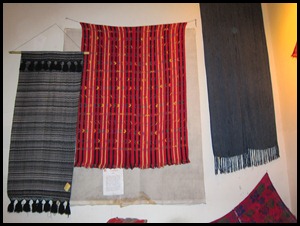 Shawls and a double width piece of material used to carry babies. Children's fashions. The blue blouse on the right Bear bought me for eight pounds in Chichi market, here thirty two, the urge to shop dropped like a stone.
A beautiful outfit from San Cristobal Totonicapan, next Quetzaltenango. then two outfits from San Pedro Sacatepequez.
Then we saw the men's loom and the fantastic materials they produce
A ladies loom used to produce pretty belts. Thin for a single lady, double width for a married lady.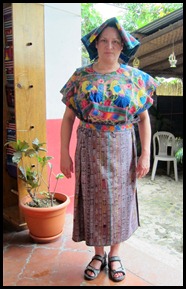 Caroline, another student was dressed as a local helped by one of the staff.
One final look in the shop and it was time to walk back to school.
ALL IN ALL AN INTERESTING LITTLE VISIT
---