Ha Noi to Beez

Beez Neez
Skipper and First Mate Millard (Big Bear and Pepe)
Mon 22 Jan 2018 02:37
Ha Noi to Beez Neez
Our digs organised a private car for us to get to the airport and gave us a six dollar discount (we paid ten when the usual going rate is sixteen to twenty). Our driver spoke not a word but at least he didn't beep his horn, which made for a wonderful, peaceful three quarter of an hour journey. Ten minutes out visibility dropped to thirty feet or so. Mmmm, hope we can take off at one o'clock. Once inside the terminal Christmas is still going strong. They may of course leave them up until Chinese New Year next month as we see year of the dog begin.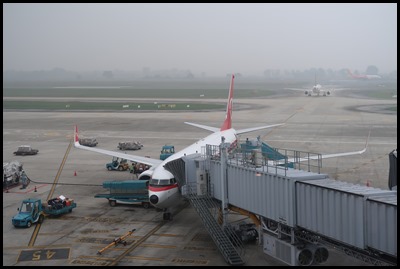 View from the ladies toilet, full-length glass windows with a sign that reads "Do not lean against the glass". Through baggage drop, Immigration, x-ray and to our gate within thirty five minutes. We sat for twenty minutes and were very pleased to see our plane come in.
Ten minute turnaround and we watched our bags trundle out as we walked down the flexi-thingy to the plane. We sat for a few minutes waiting for a lady to come in, then we took off exactly on time.
We could just make out the ground below but as soon as we were above the clouds it was gorgeous.
As we began our descent we could see the ground very clearly, then a bit of a wiggle as we went through a cloud, then a real wiggle at the next one.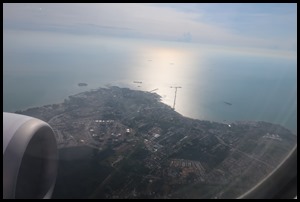 The coast of Malaysia.
Inland. Amazing that not that far from Kuala Lumpur is such a huge area of palm for oil production.
As we land at KL and begin to taxi in our pilot tells us the time has moved on an hour and the temperature outside is thirty two degrees. How marvellous.
Forty minutes to get through Immigration, our chap never mentioned my crowded Passport, always a pleasure coming through, not a jot of hassle. We slowly make our way to the bus stop and sit with a Coke for the next hour or so. On time we leave KL at eight forty five with a lovely driver who doesn't see the accelerator as a Lilo air-bed pump. Mr Chew is waiting for us at Sitiawan bus stop at one forty five. I smack a small cockroach to death with my book (must remember to wash it when I get in) as it marched across the back of Mr Chew's seat. It's body falls and I see movement. I borrow Bear's torch and see the dead one has friends. Oh my. Fancy getting an infestation on Bee from a damned taxi. I ask Bear to throw away Mr Chew's phone number as the risk of doing this again is too much. Quarter past two and there she is. Such a shock to see her without her bee stickers but Jimmy the paint man's sander has been busy. Very naked at her back end. The girl next door is looking smart in a shiny blue, so looking forward to Beez getting her new coat. Half two and bedtime it is.
ALL IN ALL LIKE TAKING THE BUS HOME
GREAT TO BE HOME
---