PA Isle of the Dead II

Beez Neez now Chy Whella
Big Bear and Pepe Millard
Thu 14 Jan 2016 23:17
Port Arthur's Burial Ground - The Isle of the Dead, Part Two
Children. Thomas Andrew Farrell Departed this life on the 5th of November 1854 aged 7 years and 9 months. Suffer little children......... He also has a brother buried nearby Thomas Farrell who died on the 12th of September 1845 aged 28 months. James Andrew McDivitt who died on the 5th of December 1840 aged 2 years and 10 months. The stonemason forgot the 'n' in Andrew and added a little one above. William John Chadwick. Eldest son of Peter & Jane Chadwick died 16th of January 1864 aged 14 years & 10 months.
Marguerite Annabelle Wilkie. Died on the 3rd of August 1858 aged 6 hours. Another little one to have Mark XIV "Suffer little children to come unto me and forbid them not, for of such is the kingdom of God." Marguerite is the youngest on the island, she died of debility, her little body was buried the day after. Catherine M. Barnett who departed this life on the 11th of November 1857 aged 26 days.
Sadly the next gravestone is a memorial to three Staveley Children. Here lyeth inter'd the body of John Thomas son of Francis and Eliza Staveley who was drowned in a well at Port Arthur on the 6th of October 1846 aged 2 years and 6 months. Also of Julia Staveley who died on the 5 of February 1851 aged 5 months. Also of George Staveley (he was recorded as being totally blind and died of bronchitis) who died on the 27 of July 1870 aged 18 years and 8 months. The Lord gave and the Lord hath taken away, Blessed be the name of the Lord.
Ladies. Christina Morley, the beloved wife of William Morley who departed this life on the 24th of March 1861 aged 40 years. Give her of the fruit of her hands, and let her own works praise her at the gates. Proverbs 31.
Harriet Chatfield who departed this life on the 15th April 1859 aged 39 years. She is not dead but sleepeth. Both these ladies have the Tom Pickering rope detail.
Anne Gibbons. Wife of Michael Gibbons of 21st Royal N. B. Fusiliers, who departed this life June 20th 1838 aged 27 years. Leaving an affectionate Husband and two children to lament her lofs. Mmmm. Stonemason error.
When worth and truth like hers descend to dust. Grief is a debt and sorrow is most just. Such cause had he to weep who pious pays. This last sad tribute of his love and praise. Trusts he shall meet her on that happy shore. Where sickness pain and death shall be no more.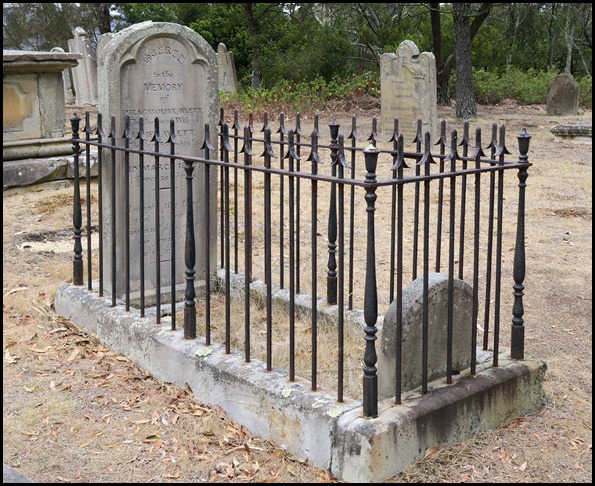 Eliza Caroline Aylett. The beloved wife of James who departed this life on the 19th of March 1869 aged 38 years. I sought the Lord and he heard me and delivered me from all my fears. Eliza has the only fenced grave with both head and footstone. Eliza's death is on record as phthisis and diarrhoea. Phthisis is described as being atrophy, or wasting of the body. Her husband James was the Keeper of the Separate Prison. The Aylett family, from Middlesex was obviously a close one. Eliza, James and their eight year old son, also called James arrived in Van Diemen's Land on the Hooghly in December 1859. They were accompanied by her sister-in-law Caroline and mother-in-law Harriet. They had come to Port Arthur to be reunited with her husband's father, also called James who had been transported for stealing a piano. Following the death of Eliza, James took the family back to England. His father James senior had been away for thirty four years.
Soldiers and Others. Among the many soldiers buried on the Isle of the Dead is Private Robert Young.
Twenty-year old Robert Young was serving at Port Arthur with the King's Own Light Infantry in 1840. His job was to provide security whenever convicts were at work or moving from place to place. One night in March he accompanied a whaleboat with four convict crew and a coxswain, taking the doctor across to Point Puer to see a sick boy. Private Young stood in the bow of the boat dressed in his military greatcoat and armed with his musket. Although he had complained of the cold and of feeling unwell, he remained with the boat while the doctor went ashore, refusing to come and warm himself by the fire when invited to do so by the coxswain. By the time the boat returned to the main settlement it was very dark. The doctor alighted on the jetty, followed by Private Young. Suddenly there was a loud scream and a splash. Perhaps missing his footing in the dark, Robert Young had fallen into the freezing waters of Mason Cove. One of the convict crew immediately jumped in and swam under the jetty to try to save him but there was no sign of young Robert. Another man stripped off his clothes and leaped in. Ten minutes of frantic searching passed in until his lifeless body was finally found, retrieved with a boat hook and taken to the hospital, where he was pronounced dead. Later another man dived in and retrieved his musket from the bottom of the harbour.
William Smith – Private in the 12th Regiment died on the 24th of December 1856 aged 23.
James Glass – Private in the 96th Regiment died on the 5th of March 1846 aged 31.
William Doodie - Senior Constable, was fifty four years old when he accidentally drowned at Eagle Hawk Neck, Tasman Peninsula whist carrying mail on the 18th of March 1863. Leaving a wife and two small children to lament his loss.
Sacred to the memory of Benjamin Horne Esq. Head Master School Point Pure (spelling mistake on the part of the stonemason should read Puer) Died 27 de 1843 Aged 33 years. Sincerily (oops) regretted by all who knew Him.
Reverend George Eastman was born to John and Harriette (nee Bye) in the Southsea, Hampshire in July 1818. He sailed as the Catechist on the convict transport London and arrived in Hobart Town in July 1844. For a time he served as Catechist in Lymington, Jericho where he met his wife, then Cygnet, before he overcame problems with Bishop Nixon, and was ordained a Deacon in 1848. He not so popular during his time at the Ross Female Factory where the Superintendent of the Factory resigned rather than continue to work with Eastman who had sided with staff against him. He arrived in Port Arthur in 1857 and was popular, not so the older of his children who ran amok.
When he died at Port Arthur the medical officer, George Dinham, diagnosed his cause of death as Anthrax-Pyremia, as no one else succumbed the diagnosis was probably incorrect. Most reports say he died after he rose from his sick bed suffering from a chill and went to visit an unwell convict. Sacred to the memory of the Rev George Eastman. For 26 years the faithful chaplain on Tasman's Peninsula and at other Institutions who departed this life 25 – April – 1870 aged 51 years.
The reverse inscription.
The first and last gravestone is of Henry Savery, Australia's First Novelist. Died 6th February 1842 Port Arthur, Tasmania.
Australian Dictionary of Biography says: Henry Savery (1791-1842), businessman, forger, convict and author, was born on the 4th of August 1791 in London, the sixth son of John Savery, a Bristol banker, and may have been educated at Oswestry Grammar School. He served an apprenticeship to business in Bristol, where he engaged in sugar refining, through which he became bankrupt, and newspaper editing. On the 14th of October 1815 he married Eliza Elliott, daughter of William Elliott Oliver, of Blackfriars, London. A son, Henry Oliver, was born on the 30th of June 1816.
Returning to sugar refining he entered upon commitments beyond his firm's resources, forged fictitious bills, probably because he could not admit having overextended the firm's commitments to his partner, Saward, he began trading in forged bills of credit which eventually amounted to over £30,000. His partner called the authorities when he absconded with £1500 and he was arrested on the 9th of December after being captured on board the Hudson at Cowes within half an hour of sailing. Brought back to Bristol, he pleaded guilty on the advice of a magistrate, was condemned to death on the 4th of April 1825, but the day before the hanging was to take place his sentence was commuted to transportation for life.
He arrived in Hobart Town on the Medway (with 171 other convicts) early in December 1825 and was employed as a clerk in the colonial secretary's office and then in the colonial treasurer's. In 1827 he was assigned to Captain B. B. Thomas, superintendent of the Van Diemen's Land Establishment. Early in 1828 Eliza Savery sailed on the Jessie Lawson, was saved from the wreck of that ship, and later in the Henry Wellesley arrived at Hobart in October to find Savery still bonded and threatened by a writ for debt. His distress was probably heightened by doubts of the relationship between his wife and Algernon Montagu, the attorney-general, to whose care her parents had entrusted her on the voyage. Savery attempted suicide by cutting his throat but was saved by the attentions of Dr William Crowther. After her husband was imprisoned for debt Eliza Savery left Hobart in mid-February 1829, never to return.
While in prison Savery wrote sketches of Hobart life for the Colonial Times, from June to December 1829, under the title of The Hermit in Van Diemen's Land, using the pseudonym Simon Stukeley. They formed the first volume of Australian essays; published in Hobart in 1829 they were the subject of a libel suit in May 1830. After his release Savery wrote Quintus Servinton, the first Australian novel. It was published in three volumes in Hobart in 1830-1831. Both works are now extremely rare, only four or five copies of each being known to exist.
For some years after this Savery prospered somewhat. In June 1832 he was granted a ticket-of-leave which was withdrawn for some months in 1833 because of a law suit in which he served as an innocent victim; he engaged in agriculture, was granted a conditional pardon early in 1838, and even had one or two assigned servants. Then, falling into debt, he once again forged bills, was arrested, and in October 1840 was condemned by his wife's former protector, Montagu. Savery was sent to Port Arthur, where he died, possibly from a stroke, on the 6th of February 1842.
Though his literary fame rests mainly on his priority in time, his sketches have some life and vividness, and his novel, in part autobiographical, gives an insight into business life in England and convict life in Tasmania.
Someone with a great view, sadly no writing to be seen.
On the 19th of July 1916, the Island was proclaimed a reserve under the Scenery Preservation Act, and an official guide was appointed to take tourist to the Island. Control of the Island was to change hands a number of times.
In 1937, attempts were made to clear the island and lay it out as a garden of remembrance. However, many of the plants were not suited to the Island and did not survive and it was decided to re-establish native bush plants that thrive under the Island conditions.
In 1971, under the National Parks and Wildlife Service, the island was cleared of undergrowth and maintenance of the grounds, headstones and graves was undertaken. Paths were established and regular guided tours are now part of the island.
The graves offer a glimpse into the past, offering a look at the people who lived, worked, suffered and died, bringing to life images of a fascinating historical past.
It is wonderful that so many stories have survived over the years, there are others but this blog only features the pictures we took. So chuffed we visited the Isle of the Dead.
ALL IN ALL SO PLEASED THEY ARE PROTECTED
A COLD AND REMOTE FINAL RESTING PLACE
---