Christmas Buffet 2017

Beez Neez
Skipper and First Mate Millard (Big Bear and Pepe)
Mon 25 Dec 2017 23:57
Christmas Buffet, Intercontinental Saigon, 2017
We had read that the Intercontinental Saigon offered the best Christmas buffet in the city. Table booked at six, we left our digs at half past five and bimbled around the corner arriving at ten to.
We took it in turns to pose by the main tree in the lobby and played with our reflection in the mirror.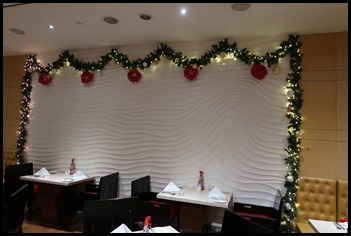 Water features and decorations were lovely and festive.
Our ten minutes early status put as first to arrive, we had assumed the buffet was an all day thing and that we were slotting in. The serving staff asked if we minded waiting with a glass of while while they finished preparing, no problem at all, I went to take pictures.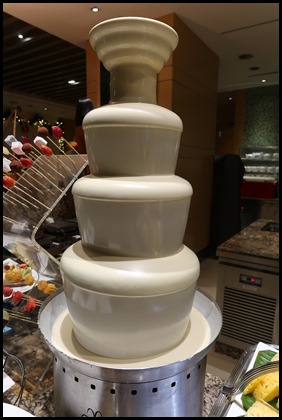 Starting at the far end – sweets, puddings or afters.
Starters and cold foods. There was also a selections of soups and breads.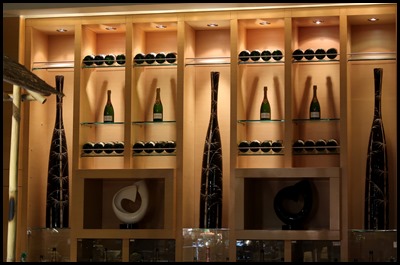 The far wall and seating area to the left.
Salads, vegetables and duck rolls were busily attended to.
The ladies told us we could begin. Bear went for lobster, I went for prawns.
Cooked dishes as well as raw meats and veggies that could be cooked as you fancied.
I went meat lover and Bear went mixed, very sadly – no sprouts.
It would have been rude not to poke a couple of pieces of fruit in the chocolate fountains and push a couple of the tiny glasses of raspberry and chocolate mousse around my plate. I felt the need to push the apple pie about a bit. Best clean the palate with a bit of watermelon..... Full, contented, replete, we had enjoyed the atmosphere and an Australian couple who live in PNG sat at the next table to us.
A final look at the restaurant house, the tree in the lobby and on our bimble back a lovely polar bear arrangement in a shop window.
We popped in to the corner shop, opposite our digs for a couple of bottles of water. I stood in the doorway as the lady was mopping the floor and there on the end rack nearest me was a bear, all on his own at the end of some sweets. I did my usual as we walked away, if he's there at the end of our time here we will have to take him home. No sooner than we were in our room than I asked Bear to go back for him. Moments later his soft self was out of Bear's arms and in mine. Soon introduced to Beds, a shy smile appeared on his face. He has love tattooed on his right foot and a button over his heart with Chinese symbols and a handsome bow, the actual ribbon is printed with the recurring words 'Shy Bear', well what to call him........ He comes from Ho Chi Minh City how about Minh. Yes, well suited and reminds it me of Spike Milligan. No blog writing for me tonight, far too busy chatting with Beds and Minh.
ALL IN ALL A MARVELLOUS SPREAD AND WELCOME MINH
REALLY GOOD AND I COULDN'T LEAVE MINH ALONE, HE'S VERY SOFT
---