To Isles des Saintes

Beez Neez
Skipper and First Mate Millard (Big Bear and Pepe)
Fri 27 Mar 2009 20:57
En route to Isles des Saintes
We decided we had seen enough of Portsmouth and indeed of Dominica, so up Bear got and went to clear us out. Then to the simple task of up-anchor, over to the cruise ship dock to fill up with water and fuel. Easy. NOT. It took me three attempts to aim us between the tractor tyres in a 26 knot wind with gusts of 32, with the huge current all trying to spin me out bottom first.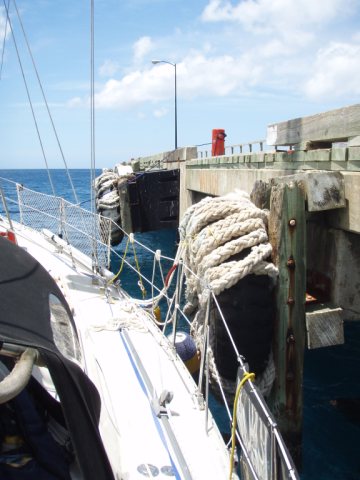 Sort of in the right place, the water man did his thing and then had to go and find the fuel man. Both enjoyed a cold juice and off they went with Bear to the till. We had up-anchored at 10:45, we got off the fuel jetty at 12:05.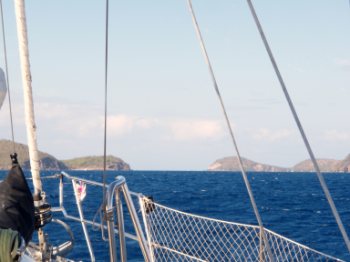 We had two reefs in the main (big sail made smaller) and a bit of Genoa out (the front one) for a smashing sail. Skipper did the flag bit, strange taking down a very Caribbean flag and hoisting the French one. Yellow (Q) flag until Bear clears us in through customs. The first sight of the Saintes.
In the "Thousand places to see before you die" book it says "Guadeloupians' are understandably loath to divulge the destination of their weekend getaways. When hard pressed, they'll admit they escape to the small offshore archipelago of Iles des Saintes (also known as the Saintes) and the larger Marie Galante, whose innocent, rustic charm is reminiscent of St Barts twenty years ago, with few cars and a rural character. Terre-de-Haut, the largest of the Saintes, is only slightly more tourist-oriented, with its pastel cottages and winding trails. A middle of nowhere spirit".
Sandy beaches do not immediately strike the eye.
The views from this chalet must be spectacular.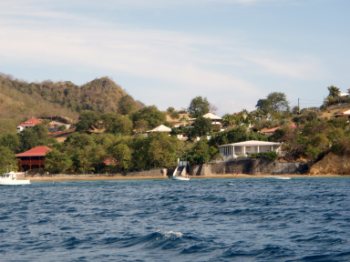 The rustic charm is very apparent.
We arrived too late to clear in, so all there is for it, is to finish our chicken stew with plantains, yams and christophenes, watch a couple more episodes of The Sopranos, now into series four. Early night, clear-in in the morning and begin exploring this pretty place.
ALL IN ALL a lovely day sail, in glorious sunshine.
---