Tanjung Pandam

Beez Neez
Skipper and First Mate Millard (Big Bear and Pepe)
Mon 17 Oct 2016 22:27
Tanjung Pandam
We formed up by the buses at nine and once again our trusty police escort was waiting for us and once again Mark (Coomera) was heralded like a rock star.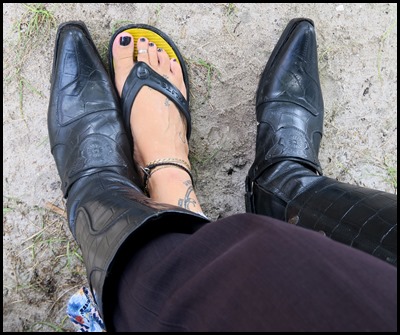 Whilst Mark dealt with a long queue who wanted to pose with him, I found my favourite boots and went in for a close action shot. My model insisted I wait for him to get his trousers just so, pulled himself to his full height and puffed his chest out. The rest of the policemen were in fits.
We settled at the back of one of the buses – next to the smoking room of all things. We all received a snack box containing a carton of water, mini pasty, jelly 'thing' and a darling and delicious little cake in the shape of a duck.
As we pulled through the gates of our first stop we all gasped. The whole school of six hundred and three pupils were ready to welcome us.
After our emotional school visit we went the very short distance to the Tin Museum. Next came a stop at an 1860 Dutch built house.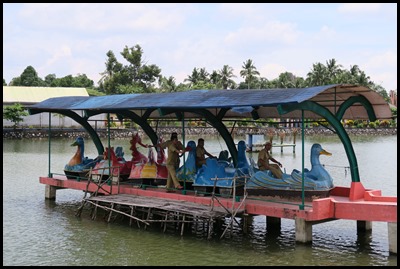 Another short bus ride and we arrived, at the invitation of the Regent, for lunch. Sadly, the swan boats were not to be released on the lake........ We were asked to settle on traditional mats in groups of four.
Officials and dignitaries joined us.
After we had enjoyed chicken, beef, vegetables and rice followed by cake and iced tea, the band struck up, The lead singer sounded like a young Michael Jackson and looked all of about four.
Youngsters danced for us.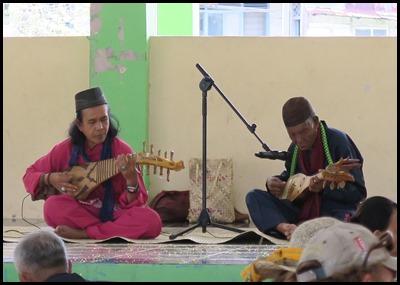 Two traditional 'twangmasters' plucked away for ages............
...........that was until they realised 'Keef' was in the audience. Crowd whooping, girls all unnecessary..............
I got to pose with the dancers, see how tiny the lead singer is.
Happy faces.
Our final stop was in the town centre. A quick once over the supermarket, then we walked to the fruit and veg market. To the left a huge swift warehouse with lots of chirping that we have become accustomed to.
A bit of one careful ownership as we bimbled toward the market. Once there we found all the fruit we needed.
We wondered if those 'downstairs' knew what happened on the 'top floor'.......Brings a new meaning to the word fresh.
Back to base for a beer. Mark showing his new smooth image.
ALL IN ALL SUCH VARIETY MADE UP ANOTHER GREAT DAY OUT
ENTHUSIASM WAS ABSOLUTELY AWE INSPIRING
---