To Pacific Harbour

Beez Neez
Skipper and First Mate Millard (Big Bear and Pepe)
Thu 13 Aug 2015 22:57
To Oceanus, Pacific Harbour
At nine o'clock the boys went off to Budget to pick our pre-booked hire car up. When they got to the office the car that was for us had been returned 'banged up', they had nothing else to offer other than a tiny car and wanted to help not a jot further. Gentle persuasion from the boys got the said chap to ring around and good old Avis came up trumps. An hour later the boys arrived in a brand new wagon with just twenty five kilometres on the clock. We were to have it swopped for a car later that afternoon so we had one journey to enjoy the space. We bade our farewells to our apartments in Suva and set off for the shopping centre. A few bits gathered and off to the market.
Using the main entrance, it was nice to see the flowers.
My two favourite tomato sellers remembered me and had a load of really green tommys put to one side, hopefully after being wrapped in newspaper will last us for many weeks. One did get three points for a refusal................
A lady we knew called Bougainvillea was in port. Soon out of the city, we passed Suva Yacht Club and left Suva behind to follow the road to Pacific Harbour.
Driving along we passed the conspicuous shape we had seen from Suva, a quick search on the web revealed that it is called Joske's Thumb. Paul Joske was a German who came to Fiji with the Polynesia Company in 1870.
Wiki Says: Joske's Thumb is a precipitous volcanic plug that rises in the skyline to the west of Suva, Fiji. It is located 15 kilometers west of Suva and its base is accessible from Naikorokoro Road, which connects Naikorokoro Village to Queens Road. Other sources note that Naikorokoro Road, the road toward Joske's Thumb, intersects on the north side of Queens Road, 0.8 kilometres (0.50 miles) west of the Lami Bay Hotel outside Lami.
Sir Edmund Hillary was defeated in his first attempts to reach the peak of Fiji's Joske's Thumb. Sir Hillary was conscripted into the Royal New Zealand Air Force during World War II. He served as a navigator aboard Catalina flying boats in New Zealand's No. 5 Squadron based at the flying boat base in the Suva Point neighbourhood, currently the location of the University of the South Pacific's Lower Campus. He made two attempts to climb Joske's Thumb, the first of which ended before reaching the base of the mountain, due to heavy undergrowth. In his autobiography, Sir Hillary wrote about his second attempt to climb Joske's Thumb while stationed in Suva: "We had come up the wrong side — underneath the ball of The Thumb.... Bitterly disappointed at being rebuffed I was much too conscious of the 400-foot (120-metre) drop below me to take any more risks — and I hadn't much confidence in our length of clothes line. The Thumb had beaten us again." In 1983, 30 years after his successful Everest expedition, he reached the summit of Joske's Thumb along with several members of the Fiji Rucksack Club.
The peak takes its name from Paul Joske, one of Suva's pioneer settlers, who came with the Australian-based Polynesia Company in 1870. Joske and his son, Adolf Brewster-Joske, later known as established Fiji's first sugar mill, importing machinery and beginning the country's sugar industry. The mill, which operated between 1873 and 1875, was on the site where Fiji's Parliament Building currently stands. The mill ultimately failed, owing to the poor crop from shallow soil in the Suva area. Later in life, Paul Joske devoted much of his time to designing and establishing Suva as Fiji's new capital.
Prior to Paul Joske's arrival in Fiji, the mountain was known as "Rama" and Devil's Thumb, because "the locals say looks like a man trying to claw his way out of hell." When Paul Joske committed suicide after allegations of incest, his descendants changed their names to Brewster, Joske's wife's maiden name, but the Devil's Thumb was commemorated with Joske's name, due to his demise.
Today, the mountain and the area around Joske's Thumb are known as a habitat for many species of birds. Among the species that live near Joske's Thumb are many birds that are endemic to Fiji, including the masked shining parrot, the giant forest honeyeater, and the pink-billed parrotfinch, although parrotfinch sightings have declined significantly since the area was logged in the early 1980's. Joske's Thumb is also a historical nesting site for Falco peregrinus nesiotes, Fiji's endemic peregrine falcon. Along with the Grand Pacific Hotel in Suva, Joske's Thumb is featured on the reverse side of the 2007 and 2012 series of Fiji's ten dollar bill.
We drove through villages with typical houses.
I did not expect to see lilies growing in a drainage channel.
The very smart looking Navua Hospital built by the Janjian Group with China Aid.
Oh colour me happy, a 'One Careful Owner' destined straight for the semi finals.
The loveliest house we have see to date.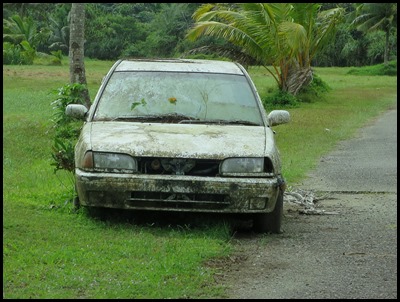 Bear insisted this lady be put in, but after the bus, well I felt it was a poor show. Definitely lunch time then.
We saw Pacific Harbour from the road which is neither a harbour, nor joined to the Pacific – don't ask I didn't, then over a bridge and there below was our new digs, not that we knew that at the time.
Soon settled in our room which came as a bit of a shock to Beds especially when he saw the flower arrangement. What no screaming taps.............
At least the flower vase was quirky, in the restaurant where we enjoyed an excellent supper.
The well kept gardens transformed from fairly ordinary to lovely as night fell, the lighting especially showing off the lipstick palm – also known as red sealing wax palm or more correctly cyrtostachys renda, a native of Indonesia. Right now it's away to bed as we have a very early start tomorrow – white water rafting, yeeha bring on the fun.
ALL IN ALL A VARIED JOURNEY
ALL SORTS TO SEE
.
---