Bitter End

Beez Neez
Skipper and First Mate Millard (Big Bear and Pepe)
Sat 2 Jan 2010 23:26
The Bitter End Yacht Club
Arriving in the huge sheltered bay we saw the obvious attraction to larger vessels
and beautiful superyachts
One of those idyllic Caribbean shots
We buoyed up at The Bitter End Yacht Club and went on Baby Beez over to Prickly Pear Island to be sole inhabitants for the afternoon. I took this shot for the colour - Bear is just visible far left of frame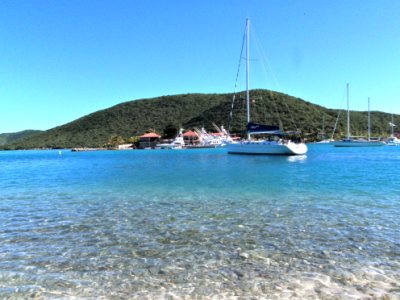 Panning a little to the right we can now see Saba Rock - not to be confused with Saba off St Martin.
We decided - or Jump did - that the coral was very sharp underfoot, so she built a clearway or runway - but promptly fell out of it. Bruise to be seen on The Virgin Baths Blog. Sorting and Falling.
Meantime I went headlong against quite a current to snorkel around Saba, found clear water and a brain coral
An urchin and friends. An anenome but Nemo shot off.
It's really funny trying to take underwater pictures looking through a snorkel in a massive current
Saba Rock Restaurant
Saba Rock Hotel to the left of the restaurant and deep sea fishing boats
ALL IN ALL WE ENJOYED THE DAY - OTHER THAN THE INJURY TO JUMPS REAR END.
---