Airlie Botanic Garden

Beez Neez now Chy Whella
Big Bear and Pepe Millard
Sun 5 Jun 2016 22:57
Airlie Botanic Garden
A cockatoo thought he was big and brave until he heard the kestrel in the tree next door and suddenly our white feathered friend looked very small and made for a stage left exit.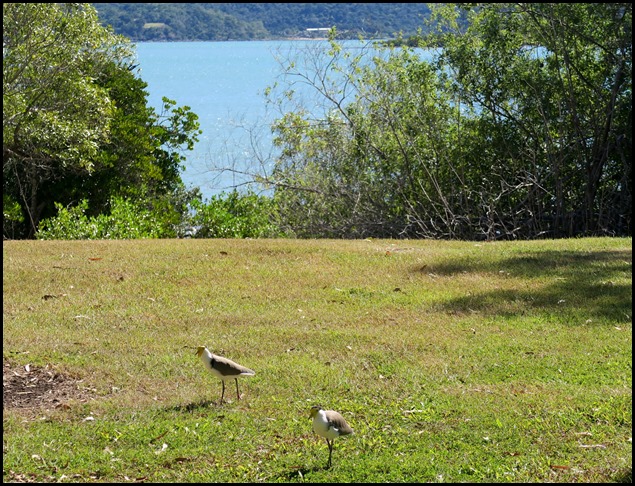 We thought we had arrived at the Botanic Garden as we found ourselves in a huge area of green, toilets, picnic tables, pretty edging to the shore and keep fit machinery, said in a higher pitch....... A couple of Thora's looked on.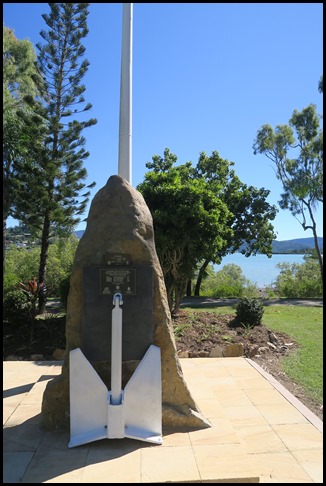 We had a good laugh on the air walking machine, then realising we hadn't passed the skate park, knew we had to walk further. On we went and stopped to pay our respects at a memorial.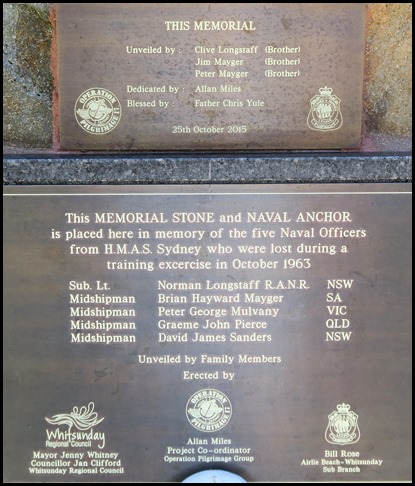 This monument commemorates those who lost their lives in a H.M.A.S. Sydney Whaler sailing boat while on a training exercise in 1963. The memorial was organised by Allan Miles, CEO of the Operation Pilgrimage Group - Operation Pilgrimage consists of former members of the Australian Defence Forces who served together in the years between 1960-1977.
On October 17th, 1963, the whaler left H.M.A.S. Sydney with a crew of five young officers on a training cruise in the Whitsunday area. The boat failed to return and it was found a hundred kilometres away on October 21st. H.M.A.S ANZAC found the bodies of two midshipmen in the whaler which was dismantled and swamped. An intensive sea, air and land search which lasted for several days failed to find any trace of the other three young officers. How very sad.
A rather handsome shaggy, that's no way to talk about your husband. Don't say anything, I didn't.......... The skate park, now we know the Botanic is next.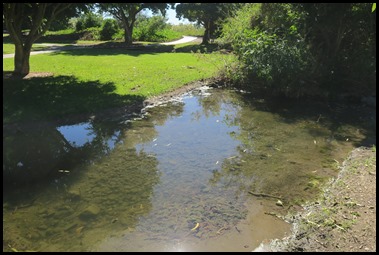 Over a tiny stream and there we were.
Stage One of the Whitsunday Botanic Gardens is located close to Cannonvale Beach on the seaward side of the Cannonvale State School. The first stage of the gardens has been designed to tolerate various weather conditions, which can be experienced in North Queensland. Hardy natives have been hand selected to feature alongside the natural seashore and mangroves. During the wet season a seasonal creek flows through the garden and helps alleviate stormwater from the surrounding parkland.
The Whitsunday Botanic Gardens are unique, a real one of a kind and thanks to our natural environment and the diverse range of native plants, these gardens assist in the conservation of local plant and wildlife species and also act as an educational resource for visitors and locals. The Bicentennial Walkway passes through the gardens, so be sure to take some time to investigate this park as you stroll through.
The sign read: I floated in on wind and tide like most of you, To wash up on these coral shores. And then for long repose did lie beside the mangroves..... And watched the seasons come and go, Content with no other purpose. Till once again was called to service...... But this time to anchor thoughts instead of men. – John Harper.
This mooring buoy is a genuine piece of flotsam, which was found on a local beach by Denise and Adriaan Vanderlugt, who have donated it to these gardens for its beauty and appropriateness.
First time we've seen a mooring buoy described as a 'beauty' but it did give the skippers trigger finger some action.
A strangler and on, along the path.
A handsome chap called Pie.
It was a pity that the fence was so close to Pie, silly really, the sign said to keep off the artwork but the fence was only on three sides.
This chap has had a severe grade one haircut but he is quite well.
A funny looking business then a wadge of sea lettuce (Scaevola taccada).
We watched this chap scruffing about until he found something he fancied.
At this fancy sieve we stopped to read the sign: Improving water quality in our urban creeks. The outlet of this stormwater drain has an Ecosol trash rack system installed. This system is designed to capture litter and other pollutants before entering Pioneer Bay. What a wonderful idea.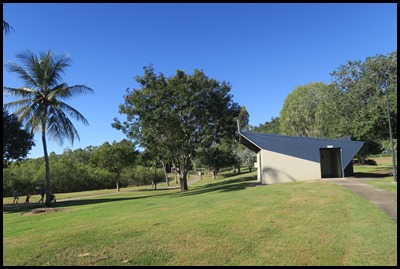 After our celebratory lunch at the Fat Frog, just loved the name. What were we celebrating ??? Eight years on our amazing AT-Venture (Adventure at our own pace, which now makes Captain Cook look like he used a speed boat going round in three..........It was time to head back to Beez to raise a glass with her.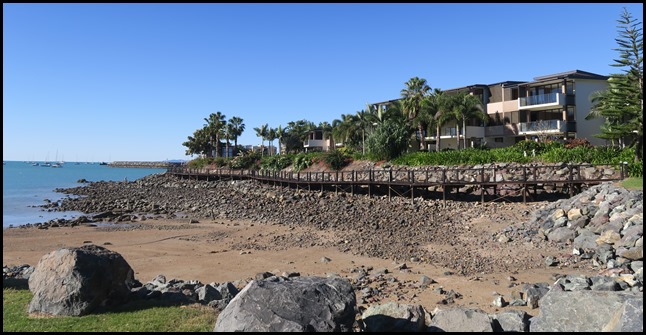 ALL IN ALL A LOVELY PLACE TO BIMBLE
A VERY PRETTY, WELL-PUT-TOGETHER SHORELINE
---