Locals, Welding, Lunch and Shopping

Beez Neez
Skipper and First Mate Millard (Big Bear and Pepe)
Sat 3 Aug 2019 23:57
Local Girls, Welding on Beez, Lunch Date and Shopping Trip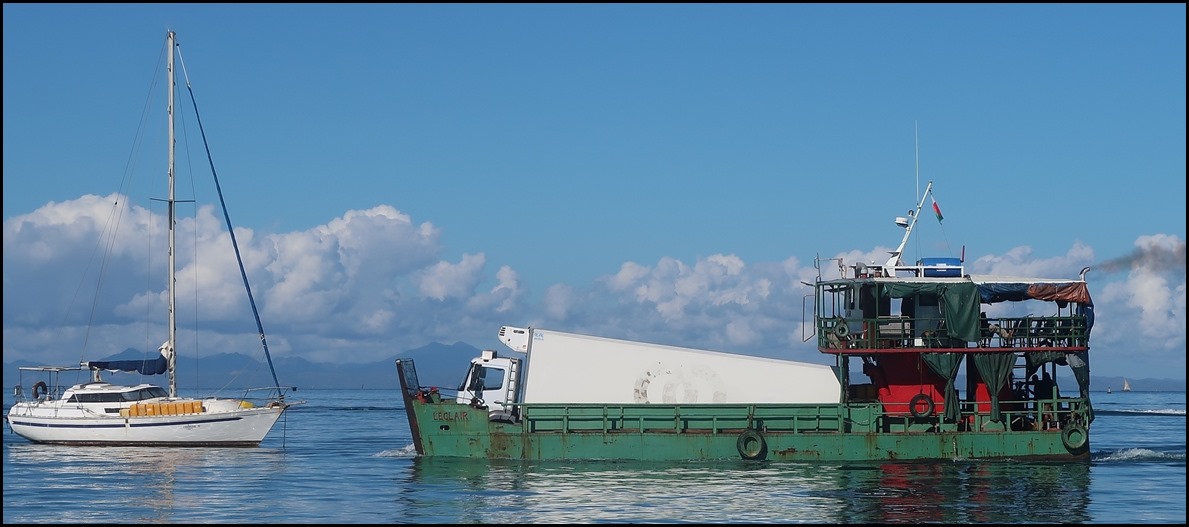 Eight thirty this morning this lady nipped through the anchorage.
At nine Jean Louie came over to assess the welding job and returned at ten with his brother......
......Jimmy (left) acted as clerk of works.
Shades and bare feet.........
Both sides of Beez welded and polished, thirty-five minutes, £67.
Solar panels back in place, time for a loaded but sadly I lost five three at backgammon. Growling from me then..... At two we headed in for a lunch date, en route we watched these local girls being expertly driven.
All slightly different mainsail fittings.
Yesterday I replaced my broken pound shop shades with pretend Ray-Bans, after a little bartering – a pound, perfect. Today, as we bimbled past the market Bear spotted my very hat. My old one suffered badly on the trip here, when the stall lady asked for two pounds neither of us even attempted to bring the price down. Wonder why. After yet another stop at the ATM we headed for Nanidos for lunch.
Bear enjoyed fillet steak and chips, I had carbonara with pieces of pork. I had the strangest Russian coffee complete with squirt-squirt cream and Bear had a cheese platter, bread came some time later. All very tasty and it set us up for the supermarket. I replaced all our tins save baked beans, no idea why they are not available. I found a rabbit for Bear. Lucky me. We stocked up the freezer as we are off to Russian Bay on the morrow. Back to Beez as a tidal swell kicked up enough for the big girl to keep trying to ride over Baby Beez. We left the crates of shopping until later. I lost badly at Mex Train Doms, I'm sure I was put off by the trad jazz, make that bad jazz as the festival continues. Hope it's not jazz all night long.
ALL IN ALL A BUSY, TIRING DAY
ANOTHER GOOD JOB DONE BUT NEED SOME PEACE
---