SL To Colombo

Beez Neez now Chy Whella
Big Bear and Pepe Millard
Fri 8 Mar 2019 23:57
To Colombo
We left Beez Neez at six this morning. Bear dropped me at the jetty as it was safer to get the luggage off Baby Beez, he then tied up at the back of GAC Sapphire and scrambled up the big tyre that dangles for the use of... Now it looks as if we have a ridiculous amount of luggage – the big, blue bag and the big box are heading to a boys orphanage in Colombo. Youssef was there to meet us and as Bear and he settled our luggage I was hailed by 'one of the uniforms'. "You going away" yes "I fill in book". No pen in hand, nothing happening. I suggested if he give me the book I would fill it in for him. Sucking of teeth. "Do you have an agent" yes. He slowly flicks through another book and I see Beez stamp, that's us. "You going on your own" no. "Where you going" Colombo. Sucking of teeth. I'm wearing thin now. A pen appears, hurrah. Very slowly, very, very, very slowly columns are neatly filled in. Just then the nice uniform appears, he's been washing his feet and face. "Hi, you on a trip" yes. "where are you going" Colombo. I now want to rip a tissue, crush a grape and probably punch someone. I smile and drag my desk on wheels and fight with masses of mosquitoes out of the small minibus before I get in.......
A few streets later we stop to let the train we could have been on pass. Later, I wish I had been on it.
We pass The Grand Trincomalee Mosque and it's now I realise I have to hang out of the window like a labrador or every picture will be fuzzy. Oh, that's better, the massive main lake / reservoir that supplies the whole area, fills during the rainy season.
There's a row of seats behind me, my row (a two and a one) and Bear's row in front of me. Youssef (driving) and his co-pilot (out of view). It becomes clear fairly soon that the standard of driving is only second to the psychopathic taxi drivers (clinically and psychiatrically measured) of Miraflores, Peru. We accelerate fast, brake hard, overtake with inches to spare and there nothing wrong with two tuktuks, a lorry and us all abreast on two lanes jockeying for position. The overtake vehicle somehow assumes that by beeping the attempted to be overtaken vehicle will slow down. Later, this nearly came a serious cropper as Youssef tried to overtake a large lorry with a blind, right hand bend coming up quickly. We got half way along the lorry when a big, white SUV came barrelling the other way – straight at us, Bear was dozing and missed this bit. Youssef had to stand on the brake and swerve in behind big lorry, white SUV went in the ditch and I said "Holy Shit", now for me to make any comment surprised me. I like to settle in the back and take loads of pictures and enjoy the scenery, I have always been a peaceful passenger but now things were grating. The indicator did a high pitched and shrill bip, bip, bip. Youssef beeped at with long, long blasts of the horn every time we overtook. No air con meant all the windows were open making everything that went on outside much louder than it might have been. I felt blessed when he asked to go on the dual carriageway as we had to pay the 350 rupees toll (1.51). Even here he beeped every time we overtook and when passing a skinny, little lorry he cleared it by a foot or so – not in the outside lane. Sadly, the dual carriageway was only about six miles before we hit queues. He hadn't looked up where we were going in Colombo and Bear had to navigate. He took a wrong turn, did an illegal u-turn across four lanes, misjudged and had to reverse away from a lamp post. By the time we pulled up at our digs I asked Bear to sack him. I would not be picked up in Kandy and taken back to Beez with this uncertain maniac. His answer, apparently was "It is very difficult to drive in Sri Lanka". I thought he should try London, the Cornish single track roads and for the fun of it Milan or Paris.............We got a text message the next morning offering a "very, very good price" if we used him for our return....... Mmmmmm still growling. Anyhoo, here are the pictures I took along the way.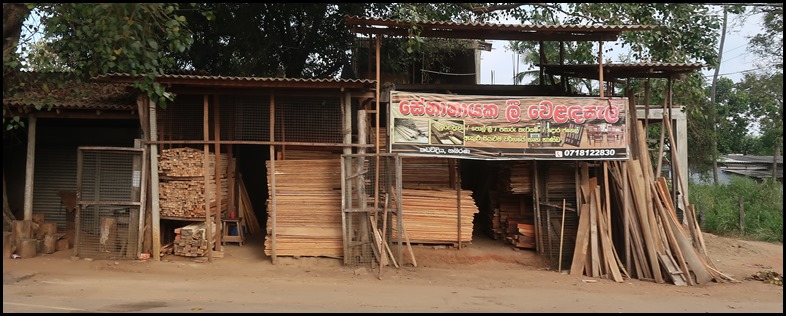 It was a relief to stop for a couple of hours at Lion Rock along the way. Another form of transport.
This amused Bear. A couple of chaps sitting on plastic chairs up and in amongst a flatbed carrying a fun fair ride. Sad to say the picture is not great as there was so much crud dangling, fur trim, tissue box and stickers in the windscreen – something I would make illegal.......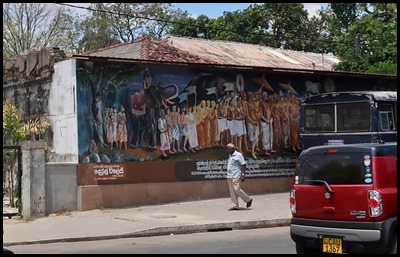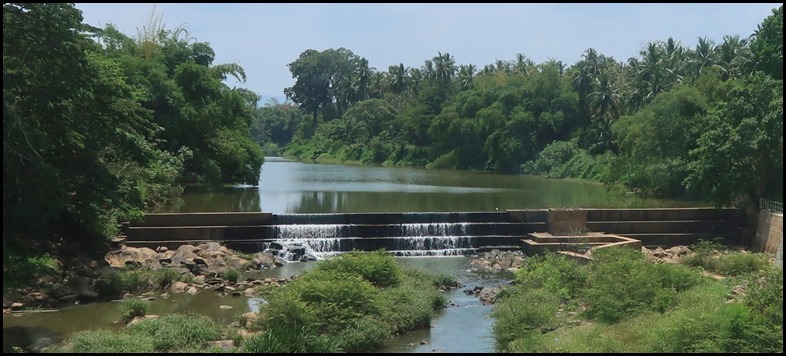 Every so often we would go past walls with elephants sprouting from them and massive boulders.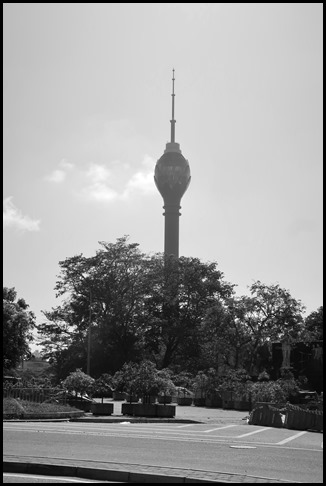 We were both relieved to arrive at our digs at just after four, thinking back I never felt frightened with the taxi drivers in Miraflores but my Danger Radar was on high alert for most of this journey. Three hundred yards away is a nice supermarket (I spotted as we did the horrendous non-u-turn) and as soon as we had settled our luggage we bimbled off to get some milk and bits to cob a squat party. An industrious man was ahead of us on our return bimble and very sad to see the street before ours, a lady absolutely flat out asleep but in non too good a shape. I guess we will see more during our stay in the city.
A conjoined tomato I found for Bear and our digs above an Italian cafe.
Beds and Bear party. Sleep came very late for me as I got used to much activity above our wooden ceiling – a family of (suspected likely) polecats......
ALL IN ALL ONE HELL OF A JOURNEY OR JOURNEY FROM HELL.............
INTERESTING COUNTRYSIDE BUT A BIT OF A LONG SLOG
---