Ninety Mile Beach

Beez Neez
Skipper and First Mate Millard (Big Bear and Pepe)
Mon 23 Dec 2013 23:47
Ninety Mile Beach
Ninety Mile Beach on the map and a
satellite photo
, the sand clearly visible, (thank you NASA).
Ninety Mile Beach (Te Oneroa-a-Tōhē in Māori) is a beach on the western coast of the far north of the North Island. It stretches from just west of the town of Kaitaia towards Cape Reinga along the Aupouri Peninsula. It begins close to the headland of Reef Point, to the west of Ahipara Bay, sweeping briefly northeast before turning northwest for the majority of its length. It ends at Scott Point, three miles south of Cape Maria van Diemen.
Etymology: The name Ninety Mile Beach is a misnomer because it's actually fifty five miles long. Several theories have been put forward - the most widely accepted comes from the days when missionaries travelled on horseback. It was reckoned that an average horse could travel thirty miles in a day before needing to be rested. The beach took three days to travel therefore must be ninety miles, but the missionaries didn't take into account the slower pace of horses walking in sand. The beach's Maori name Te Oneroa-a-Tōhē will be officially recognised as part of the government's Treaty settlement with Te Aupōuri iwi, who will also take part in the management of the beach.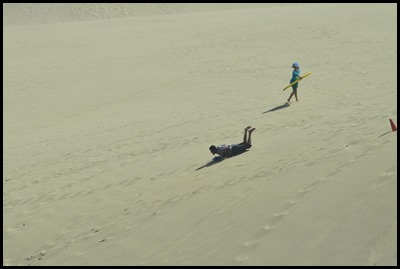 We watched b
ody boarders - the
popular tourist attraction here.
In 1932, Ninety Mile Beach was used as the
runway
for some of the earliest
airmail
services between Australia and New Zealand. It is officially a public highway and sometimes used as an alternative road to
State Highway 1
north of Kaitaia, though mainly for tourist reasons, or when the main road is closed due to landslides or floods.
The beach, and specifically its northern dunes, is a famous tourist destination.
The dunes, look very much like a desert landscape, you can blink and tell yourself you are in the Sahara Desert. A very unexpected sight, especially like us, arriving from the landward side.
The edge of a dune by the Te Paki Stream.
Just miles and miles of sand.
A car sunk in a stream, would be a one careful owner but no foliage. Apparently this is not a rare sight, this happens to several cars a year.
In 2013, Jeremy Clarkson of
Top Gear
drove the length of the beach in a
Toyota
Corolla as part of a race against a
AC45 Racing Yacht
occupied by James May.
Wow. Something we just didn't expect to see – so much sand.
ALL IN ALL WHAT A SURPRISE
WHAT A BEACH
---