To Yangon Yuzana

Beez Neez
Skipper and First Mate Millard (Big Bear and Pepe)
Thu 7 Dec 2017 23:37
To The Yuzana Hotel, Yangon
We arranged a taxi from our digs to Heho Domestic Airport some twenty eight kilometres back over the mountains from Nyaung Shwe, after our super couple of days exploring Lake Inle. Leaving at half seven, we had some lovely views as the sun was trying to peek through the clouds.
We bought our air tickets to Yangon on line, paying by credit card some weeks ago, all very simple. Check-in Desk went smoothly, a man took our case and we had a sticker each on our chest. Immigration was a cursory look at our Passports and we went to find lounge two.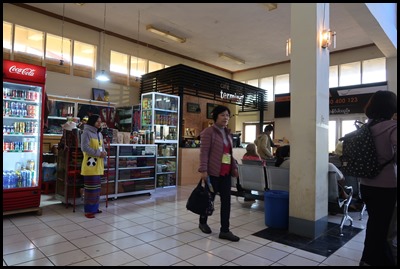 Lounge one and two were one and the same, at one end a cafe and shop, the other had a small bar. I suddenly needed the loo, off I went toilet roll underarm, hysterical, there was one squat and one European. Luckily, the ordinary toilet was free but I couldn't get my knees between the wall and the toilet as the gap was about six inches, towering sideways was the only way forward.
Our plane came in and a chap pushed an empty cart out to collect the luggage, we saw our case go by when another chap took out a full cart. No ear defenders and flip flops on feet, yet another example that a Health and Safety bod would have a canary fit visiting Myanmar.
Someone called our flight number from the door and on we got, up the back stairs with a stewardess asking us to fill the front seats first. Like getting on a bus really, all very easy. Soon settled, we waited for a plane to land before we could taxi to the end of the runway.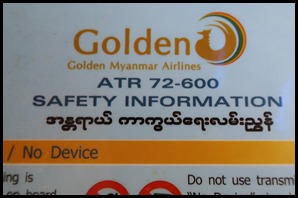 As we left our parking spot we saw Air Myanmar, Asian Wings and we were Golden Airlines, take off on the dot of nine thirty five.
Settled at eight thousand feet, no ear popping and hopefully no repeat of sinus explosion, it was nice to see the countryside.
We had to nip up to twelve thousand feet, then pleasantly surprised that on this hour and five minute journey to be given a piece of sponge, Danish pastry, water and choice of tea, coffee or juices. All very nice.
Above the clouds for a little while, toward the city and over Yangon.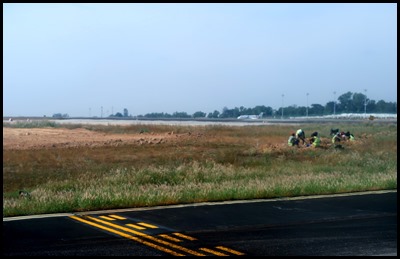 A little light repairs, at least the workmen had fluorescent jackets on. We don't usually taxi in with a cement truck but there you are then.
Odd-size tickled me as we went to Baggage Claim.
In a taxi after a bit of negotiation, soon passing a 'Welcome to Yangon' sign and a huge green space to then be stuck in traffic for an hour. Bear handed over six pounds fifty and we entered our new digs 610 kilometres door to door or a minimum of 13 hours in a car, heaven knows how long on a bus or train.
A room agoraphobic would have nightmares in. Just huge.
Silly Boy demonstrated further.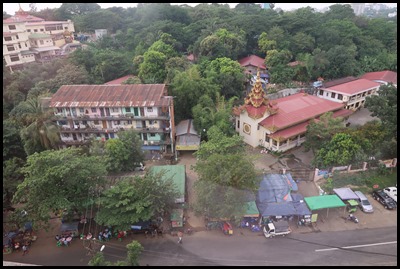 View from side window and front. A quick wash and brush up and it was out to secure our train tickets to Mawlamyine (or now known as Morwellan Quay) on the morrow.
Always hating how betel nut chewers spit in the street, this was worse. The ash tray by the lift had been used, people had missed and it was all down the wall, grim.
ALL IN ALL A PLEASING LITTLE HOP
A RURAL EXPERIENCE TO A BUSY CITY
---