To Cocoa City

Beez Neez now Chy Whella
Big Bear and Pepe Millard
Thu 21 Apr 2011 22:48
To Cocoa City, Florida, USA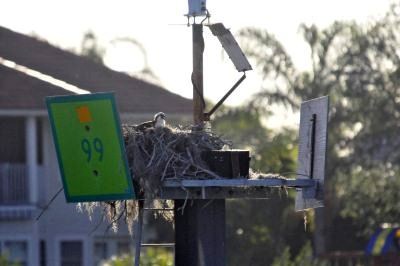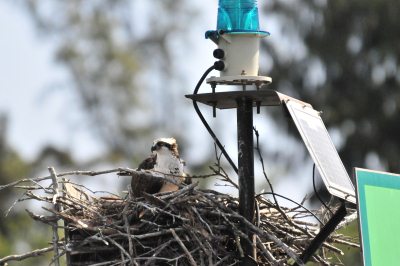 No sooner than the anchor was up, we were back on the ICW for the thirty one mile journey to Cocoa City. The blogs on the trip to New York could all end up looking identical and become very boring so we are trying to give each one a theme. This one is mostly about the people we've seen. However, the Osprey nests seemed to be on each and every mile marker, each with chicks I happened to say out loud as I was musing - "I wonder how or why an Osprey chooses one marker over another when they all look the same but they do seem to favour the green ones". Ahhhhh they don't you know; it's the wise owl that allocates them.
Check Pepe for warning signs.
Have you ever seen a spiral bound Chartbook of the ICW hurled with such force.
Bear has
Duck Bear, Duck.

One of the dads off to catch fish, watched by a couple of friends having a great day out
We have seen boats in all shapes and sizes but surprising to us - no commercial traffic at all
One particular bird caught our eye. He swooped in handed over a fish and off he went in a split second
We saw three sailing yachts today, each one as they passed came on the radio for a chat. We were pleasantly surprised that big motor cruisers slow down to overtake us or radio with their intentions. One chap in a powerful motor catamaran told us that he intended to pass at fifteen knots unless we wanted him to pass slower. All very thoughtful as some boats can make colossal wake and wobble us all over the place.
We have often had a good laugh over some radio conversations, we had one today. A side note is: Why do American Coastguards speak so fast, anyway, this is what we heard.
"This is US Coastguard Sector Jacksonville sailing yacht Carriacou your last position given puts you on dry land can you confirm".
Maybe that's why the said vessel is calling for Boat US then pipes up you know who.
There were no commas in the Coastguard transmission as they don't stop once they get started. I must have got used to them as I used to get quite cross. Any serious messages where they say "Keep a sharp lookout" and give a Lat and Long, no way can you write it down quickly enough.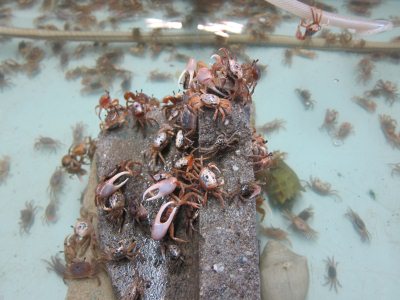 We go under one of those enormous bridges, turn right, keep going about a half a mile until we have point five of a metre below us and anchor. We are now on the outskirts of Cocoa City. Skipper Bob says it's a two block walk to West Marine Chandlers or a bus ride east to a massive Mall which includes Sears and Macy's, further on the bus to Wal-Mart. no sooner the word than we were in Baby Beez and heading ashore at half past four. The only place we could see another dinghy parked was in front of a bar cum bait shop, in we went to ask permission. Did we get a Southern welcome or what. "You be comin' from England y'all. Your tender be fine thar". We get this a lot now, seen as a novelty. I was somewhat alarmed though, at these little chaps in their thousand being sold by the pound for bait.......... in vast shallow tanks.
Next door was a restaurant with this massive crab sign, complete with vulture - just in shot (top left).
Across the busy main road, we stood at the bus stop for ten minutes. Got on our first American bus, complete with bike rack at the front, drop suspension to allow it to be level with the kerb and automatic ramp for wheelchairs, very fancy. Again seen as a novelty we got tickets for sixty cents. Fifteen minutes to the Mall and another ten to the massive Wal-Mart. We bimbled around for a while and thought we could stop at the Mall. Back on the bus, into Sears for a pair of sandals for Bear. In the food court we had to have sweet and sour chicken (a must have once a month for me) and back out to the bus stop. This was where the fun started. We had to get on the bus as it was the last one. It would take us in a loop back to Wal-Mart, then back to this very stop at the Mall before it would go west to drop us where we came from. Well it halted at every stop and being dark, we had no idea which county we would end up in. All was well and nearly an hour later the driver told us it was our stop.
Now pitch black and gone ten o'clock, we got a good shot of the now lit sign over the Crab Shack to compare to the earlier photo. By the time we got on Beez it was time for bed
ALL IN ALL A VERY FULL DAY
.
---