Antigua via River Salt

Beez Neez
Skipper and First Mate Millard (Big Bear and Pepe)
Sat 2 May 2009 22:02
En route to Antigua via the River Salt
Shortly after we arrived in Pointe-a-Pitre, we had gone for a reccy of the river before our spuddle round the marina, certainly a recommended thing to do before attempting the trip - which potentially is in pitch dark, with river currents, wind and rain.
The pedestrian bridge looking back from the N1 bridge, they open at the same time, every day at 05:00 except Sunday.
2nd May. We spent the morning doing stowing and chores, took a picnic to the beach for a couple of hours of swimming and a game of Upword. Returning to Beez to rack the outboard, stow the dinghy, go for a final shower, post MY gate key OK, OK and say farewell to Patrick, the chap next to us. He had flown over to help his friend sail back to Douarnenez tomorrow, we wish them a safe passage.
We bade our farewells and left our slot at 16:30, as we left the marina our friend sat on the entry buoy to watch us leave.
We passed the town as dusk fell and had anchored in a quiet corner, set the alarm for 04:30 and settled for the short night. Strange for us to sleep with adjacent motorway noise.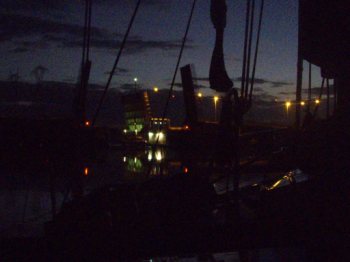 Final sunset, view of the bridge 500 yards from us and as it opened at 05:15. We saw a catamaran appear in the gloom, followed by one small and one big yacht. The lights change to green, just then a powerboat came shooting through, there is an unsigned speed limit of 5 knots but some of the locals seem ignorant of the fact, especially jet skis and powerboats. The passenger bridge as you can see is wide but unlit, I knew I had to tuck over to the right to get a better angle on the N1, not too close as the bridge supports look very hull biting. Then at a left angle through the well lit N1 supports to the other side. Guadeloupe is the shape of a butterfly, the River Salt cuts up the body, not so much a river as a saltwater mangrove channel separating Basse Terre from Grand Terre. Overhead clearance my be 80 feet but width maximum is 7 metres 60 and depth for most part is 9 to 16 feet. By taking this route we save over 40 miles on our trip to Antigua.
Concentration after the pedestrian bridge, past the N1 and through. We had been warned that the central bit of the river had mozzies the size of Boeings and I sprayed myself well with Deet. Always a last resort for me as the stuff strips nail varnish, the shine from leather and Lord knows what it does to your skin - but- when I feel Tesco blue-and-white-stripe isn't man enough for the task, needs must. AND she made me light a Leopard Coil and set it beside her. I'm first Mate, navigator and don't make me start, not this early in the morning. OK OK........ "Button it Big Boy, Passport, shorts........." Yes Dear ................
No rush to the next bridge, so we enjoyed the peace of being the only boat to travel north today. The bridge operator radios through to the second to inform him how many are on their way and cameras watch for your arrival. This bit of the river was wiggly but buoyed to help, green on the right, sonar helped us to pick our way along in depths that went from 0 to 4.0 metres (below keel), not too alarming as soft sand below. There is a potential to loose the way when the river looks as if it turns, these are just huge pools in the mangroves and so long as you follow the buoys all is well . Second road bridge as we passed though at 05:40, thanking the attendant, who said farewell through his loud hailer.
When you do the journey south it is in pitch black, we wouldn't fancy that much, but had an idyllic wind free plod with just an occasional fisherman returning with his catch.
Egrets waking up and going for a stretch. This heavy mangrove is all National Park, no lobster pots allowed, hurrah.
River end at 06:00 to apparently open water, not so, five miles of reef to pick our way through. A fisherman sped over to us to tell us which way to head, very sweet of him. We enjoyed the frigate birds.
Beautiful sunrise for a very hot day.
"Does my bum look big in this". "yes" they all replied, "well I'm off then". Skipper on buoy look out.
Our route on GPS
"I'm going to land on the top" "Don't be silly have you seen how sharp and slippy that pointy bit is" said the pelican. "I'm gonna give it a damn good try". "Stupid boy"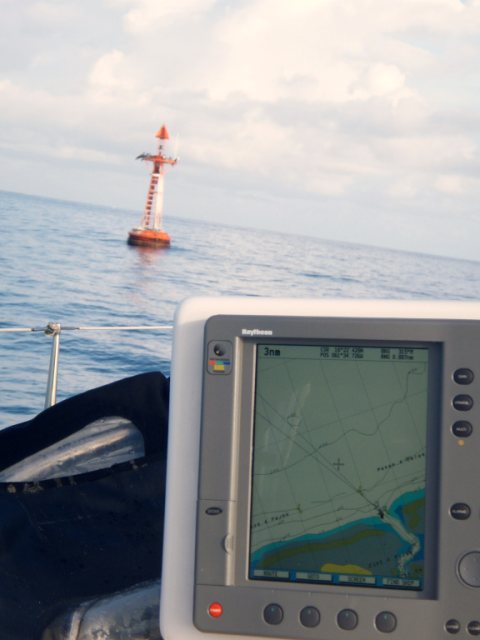 Our final red marker buoy - GPS says we are about to exit the Passe a Colas at 07:10 - frigate birds liked, final green they did not and the yellow they did.
Sad Montserrat, beautiful blue water with twenty miles to go, Skipper doing his flag thing with seven miles to go.
Our first proper look at Antigua, with a plane coming in to land. Not long till we see Jump Jet.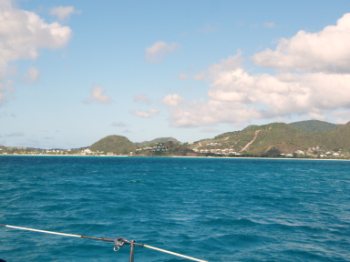 Skipper with his excited face, (his nose is not burnt, it's just shadow off his "Bill and Ben hat" - honest) Lovely hill top chalets must have glorious views over this huge area where the water is only fifteen feet deep. The anchorage at the entrance to Jolly Harbour, well marked for the superyachts. Anchor down at 16:30, chores, skipper inflated dinghy, engine on and time for a swim, shower on the stern platform, all before supper and an episode of NCIS to end a perfect day.
ALL IN ALL A REALLY ENJOYABLE DAY - would we do the river again - definitely northbound. Southbound NO. Unless through the reefs in daytime and camping with the mozzies - and HER ticking about them - by the northern bridge, but still wouldn't fancy the wiggly narrow bit between the bridges in the pitch black.
---