A+E Day One

Beez Neez
Skipper and First Mate Millard (Big Bear and Pepe)
Thu 31 Aug 2017 22:57
Andrew and Edward - Day One
Miffy and Rachel dropped the boys to Eva this morning, said their 'farewells' and we wished them a terrific time in Rome. No sooner than they had left than we headed out for Saltram with a picnic. Bikes came out of the boot, Andrew gave a serious look of intent and then a smile as we began the whole "don't back-peddle" and "feet have to push round and round".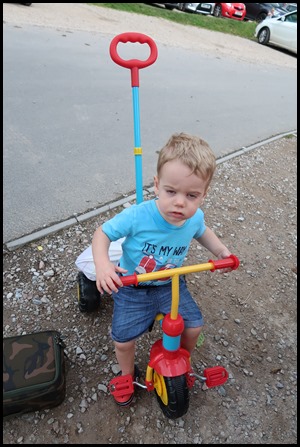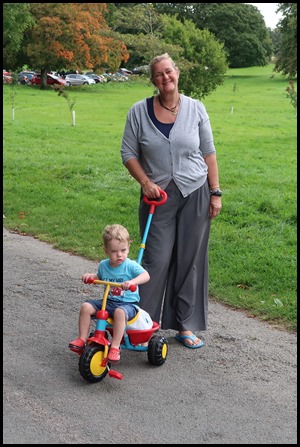 Edward crossed his eyes when he saw what was going in his basket but we were soon on our way.
Steering failure and a pit stop.......
Andrew and grandpa enjoy lunch together.
Small Person takes his food very seriously and enters labrador mode.
Problems in the long grass........ A more confident look and slow improvement.
"Have you seen the stuff in my basket" and "I've found my bell".
Ice cream time. Oh the look of indignation when Edward saw such a tiny amount in his cornet.......
Next stop, soft play.
We captured each other in the same scrambling pose.
Kings of the castle ???.......
Injury, no a purposeful roll and so much giggling. Time to collect our Wingnuts and dollars from Sainsbury's followed by nuggets and chip, a good wash and a film before bed.
ALL IN ALL OFF TO A GREAT START
BRILLIANT DAY OUT
---