1st Day at School

Beez Neez now Chy Whella
Big Bear and Pepe Millard
Thu 5 Jul 2012 22:49
Our First Day at Don Pedro de Alvarado Spanish School, Antigua, Guatemala
Breakfast at 07:15. Mama prepared fresh fruit, scrambled egg, rolls and the equivalent of baked beans, oh oo
The formal lounge, the room between the lounge and the dining room. I'm happy to have seen a colibri (hummingbird) this morning in Mama's flowers. I'll take that as a good omen as we embark on the new adventure of going to school. At ten to eight we bade farewell to mama and off we went.
Bear being formally welcomed to school. The entrance to the office, the school computers, the new students.
The office is full of scary big books in Spanish
Outside study. Bear was whisked away by Brenda, I went off with Gloria. Eight until twelve, with a coffee break. We walked home at twelve for a delicious lunch with mama. Back at two o'clock for our conversational teachers – Elsi for Bear, Claudia for me. My conversation ended up with a list of interrogative verbs and by four o'clock my head was quite hot. Thursday evenings school just happen to be supper at school. We went home to shower and walked the five minutes back yet again.
The ladies were busy in the al fresco kitchen. The tables were laid out for all the students and teachers.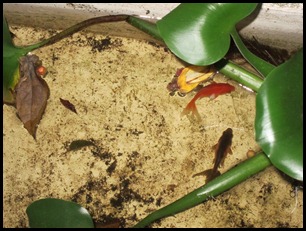 Time to explore more our school. Terrapins to the left, fish to the right of the walkway to the back of the garden.
More desks at the back, complete with a whiteboard AND a blackboard. Saints to help with study and a 'One Carefully Owned' sewing machine
More tables in the middle of the garden
Ladies still busy cooking, I'm thrilled with the hoya bella and time for a Salsa lesson with Herman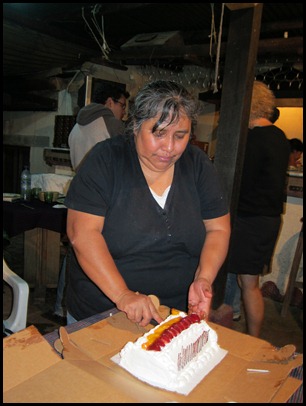 A great supper, Letty (admin) cutting pudding.
We were videoed. New students and the more fluent were asked to contribute.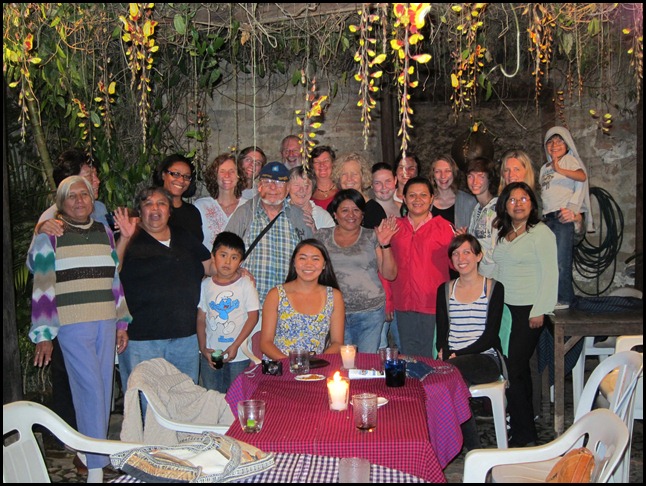 The whole troop
ALL IN ALL A FINE EVENING
.
.
ALL IN ALL SO MUCH TO LEARN
---