Week Five and Arrival Antigua - YAY

Beez Neez now Chy Whella
Big Bear and Pepe Millard
Sun 22 Mar 2020 10:07
17:04.322 N 061:53.977 W
Week Five to Jolly Harbour, Antigua
Monday the 16th. I got up to a very overcast morning but the sky was gorgeous with a mix of clouds. At ten thirty the wind had dropped off completely.
Down came the main and we swapped the genoa to the port side.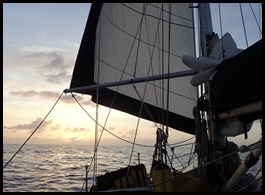 14:00 Genoa poled out. Bear enjoyed cottage pie with lashings of melted cheese on top with sweetcorn, peas and carrots and of course RBG (real beef gravy or you can substitute the B word if you prefer).
20:00: Slow and sunny doing 2 knots in 6-8 knots of wind, I think we put the bockers on our romping along by typing that we hoped to be in on Friday or Saturday..... Bear slept along the back of the cockpit as we are rolling from side to side. The pole holding the genoa out is doing a great job.
20:15: Sub 600 nautical miles to go.
Tuesday the 17th. Sunny but a bit dull. We are now above Suriname and St Vincent and the Grenadines. We are managing 2.8 to 3.5 knots in 6-8 knots of wind. Genoa still poled out. Now hope to be in on Sunday or Monday at the minute – hope the winds picks up just a bit. Bear enjoyed cottage pie with baked beans.
Bear downloaded a GRIB file which tells us the wind will pick up a little around midnight and more due at midnight tomorrow, fingers crossed.
I got up an hour early at 17:00 for a sub-500 nmiles to go party. It will happen in my shift in the middle of the night but...... we shared a bottle of rose, Bear had pickled asparagus and we shared Doritos with guacamole dip. We know how to party.....I lost at backgammon and sent Bear smartly to bed.
Wednesday the 18th. 03:45 sub-500 nautical miles to go. Wow. I went to bed feeling when not if. It is beginning to become a reality. Happy picture, IPad map and a lovely flat sea.
I won at backgammon and we started a game of Mex Train. Very strange to see Bear place the double twelve on my open train – especially as we were playing the 12's.......I don't know how that happened. Because you reached and took not realising it came from the station, you eejit. At the end of the nines I went to cook. Bear enjoyed steak and kidney pie (his final pie) with mash, peas and sweetcorn. For a man who in the past claimed not to be a huge gravy lover, he wolfed through a huge pot of it.
18:00: Sunny with 9.6 to 11.7 knots of wind giving us a speed of 4.4 to 5.3 knots. That's better – hope it stays like this until we get in.
20:00: Bear popped out to see me mid his rest time. I made him come out for a hug, (not a usual request) and within minutes we both enjoyed seeing two massive frigatebirds swooping about us seeing what we were and on the lookout for food. YAY and YEHAA, we are nearing the Caribbean for sure. In fact two became three and they stayed with us for most of the next day.
Thursday the 19th. I got up to eat my final carrot for breakfast. We are now in what is called the North American Basin.
Bear enjoyed beef curry with raita (I shared some of my yoghurt and the cucumber that is still going strong with one more left).... A lovely sunset.
21:40 three hundred nautical miles to go. I'm really enjoying Endeavour (the young Morse) series during my overnight shifts. Too slow a burn story for Bear, he likes episodes that are thirty to forty minutes as anything longer his interest withers.
A massive thank you to Sue and Helle (Mailasail office) who are keeping us topped up on the Sat Phone and to Steve and Chris (Scott-Free) who are keeping us informed about Antigua (virus and border control). In fact having such good friends watch your back while we are so far from land has been amazing. These lovely people telephoned from Malaysia to ensure the authorities in Antigua know we are due in and have been at sea for a long time. Thank you xx xx
Friday the 20th. I got up to a sunny morning but it soon became overcast. Trotting along nicely but the swell is all from the right with the odd cheeky breaking wave. Rain late morning but that gave us a gorgeous rainbow, we'll take that as a harbinger of good luck.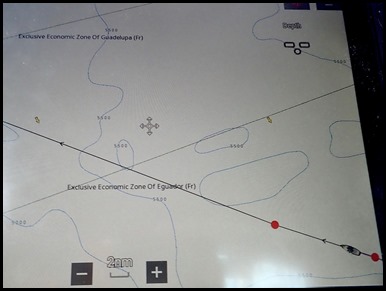 13:00, we are on a course between what are called the Exclusive Economic Zone of Eguador (Fr) and Guadelupa (Fr), didn't phase Bear too much, today's Happy Picture I took through the spokes of the steering wheel as he made his nest along the back bench. When he woke I made omelette with the kitchen sink – tinned ham, mushrooms and tomatoes with cheese served with baked beans – all very colourful and delicious, why thank you skippy. Too rough for Mex Train so we played a couple of Triominoes instead. I went to bed in a huff as I was beaten both games. 196 nautical miles to go.
Saturday the 21st. Bear went to bed as normal at 02:00, I settled to an Endeavour. Soon the chartplotter 'battery low' warning chirped and as instructed engine on, revs to 1200, turn key in office to parallel charge house and Beez batteries (all because St Helena alternator failed) but at 02:40 we ran out of diesel. Up Bear came to decant our very last twenty litres of fuel. What back luck with the alternator and the back-up of using the generator until the pull cord broke off inside. Careful calculations now needed. With pencils on ears, workmen like, we know we have enough for two two-hour, one three-hour charge and enough to get to anchor outside Jolly Harbour. Phew. Bear went back to bed. So near. First time to see Caribbean Sea YAY. The chum ahead of us in the picture is called Scot Stuttgart. She is on her way to AGS JO (St Johns, Antigua). 117 x 18 x 5 metres, trotting along at 13.3 knots.
I came on at ten and Bear stretched out along the back. How I didn't wake him with my laughter..... He frowned in his sleep every time the sun washed across his face, then he did a Pepe by pulling his towel over his face. I was wet eyed with giggling at the impromptu show he put on. Huh.
More omelettes to finish the eggs and at 13:25 we have one hundred miles to go, there is a sense of real excitement aboard. YAY and YEHAA.
Sunday the 22nd 03:54 31 nm to the corner (five up the coast) and 05:20 with 25 nm to the corner, I'm now obsessed with moving our little arrow along the line showing miles to go. I flopped into bed at six, Bear saying he would leave me as long as possible. Big swell from the right, quite rough conditions but I soon fell into a deep sleep.
Bear woke me at 09:30 (05:30 local time), I came upstairs to find Sleeping Indian Hill a silhouette in the early morning light, what a glorious sight to wake up to. A mile to go to 'Close the Circle'. WOW.
I brought us in to anchor off Reeds Point and away from many yachts. Bear dropped the hook and the engine went off at ten o'clock our time (06:00 local). Very spooky to realise we moved on board Beez Neez on Mothering Sunday at 10:00 and we end our circumnavigation on Mothering Sunday at 10:00 today some twelve years later. The wind is howling at it is lashing down with rain – what a welcome, but nothing can lower our soaring spirits.
The picture I have for so long dreamed about. My skipper adopting the pose of success.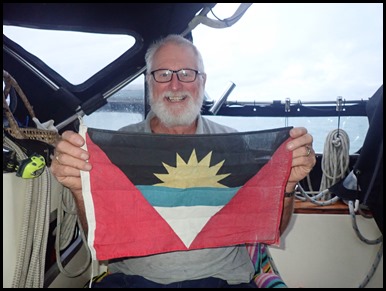 The smiles say it all. Perhaps the most special Flag Ceremony of them all.
Wind gusts to 25 knots didn't dent the smile as the 'Q' flag was hoisted along with the National flag of Antigua.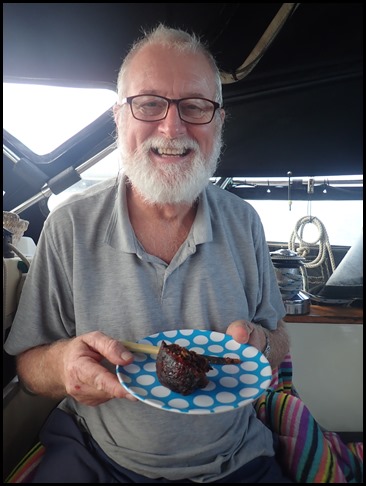 Delving in his tuck box, Bear had saved himself a piece of Christmas cake to enjoy with a cup of tea when I get in. My fluffy boy deserved it.
Miles completed 4,161 nautical miles
Hours to complete 825:20 or 34 days, 9 hours and 20 minutes.
Motoring 125:45 or fifteen per cent (a bit more than we had hoped but crossing the Equator.......)
Charging 167:05 (much more than anticipated but alternator failure.....)
This journey from St Helena of 4,161 nautical miles has brought our total to 45,169.
Beez Neez has looked after us through thick and thin, winds to 56 knots, raging seas, storms, sunshine and anything else we can think of without batting her eyes. She needs a very well earned rest, lots of TLC and a good rub down. Thank you Girl.
ALL IN ALL JUBILANT
ECSTATIC
---