OCO 2012

Beez Neez now Chy Whella
Big Bear and Pepe Millard
Mon 31 Dec 2012 23:17
The Finals of the 2012 One Careful Owner Award
This year saw a brand new class entered in the OCO – Scaffolding. This beauty was seen from the top of our tour bus in Havana, Cuba. The first look was nothing too amazing in a city that has so many restoration projects on the go, but as we turned the corner and saw the full extent of the greenery Bear insisted it have a place in the finals.
In the Housing Category San Ignacio in Belize provided these two beauties but the skipper had the casting vote and the winner is......
A lovely man lived in this corker on Isla Mujeres all waves and smiles
No complaints at my choice for the Working Girl Class. Magic Penny II, Key West
Big Girl Class was off the main channel, once again Isla Mujeres
2012 saw Beez Neez complete the ICW – Intracoastal Waterway on the East coast of the USA. Venture over to Havana, Cuba. Onward to Isla Murjeres, Mexico and enter the Rio Dulce, Guatemala for the hurricane season. Our final and most lively journey to Roatan put the distance traveled for the year at one thousand, six hundred and twenty point five nautical miles.
Our total since leaving the UK on the 6th of June 2008 at twelve thousand, eight hundred and six, plus a tiny bit.
Games draws a heavy heart from Bear as for the first time EVER I wiped the board. Hear Bear growl.
Upwords: Bear 15 Pepe 25 Loud Growling
Rummikub: Bear 275 Pepe 516 and $4922 up. Sad I didn't go over $5000, very poor year compared to last. Louder Growling.
Sequence: Bear 17 Pepe 22 Loudest Growling.
and perhaps the sweetest victory as for two years it has been a draw. Thunderous Growling.
Backgammon: Bear 177 Pepe 188 and $175 up. Incandescent Growling.
Paint Bear's face scarlet
Have you ever seen a croc aimed by a Growling Captain
Pepe has
Run Pepe, Run
Trucks this year had a very poor showing, this one got a Reserve Rosette in Belize
Cars and vans were also a slim bunch but a rosette with Future Highly Recommended of San Ignacio
Another brand new class was Fender category. A corker in Cuba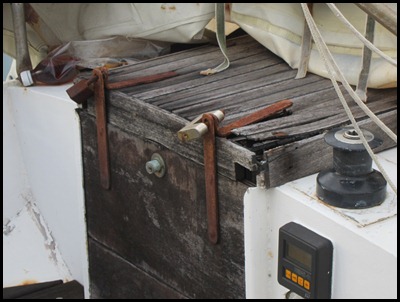 Key West, Cuba and Guatemala really entered some gems in the Liveaboard Category. Judging was tough at at times very heated, but the captain put his foot down and respect had to be given to the jaunty angle if nothing else. In fact the angle was proven beyond reasonable doubt when the hammock was slept in by the joyful residents of this years 'One Careful Owner Award 2012' we give you Sultana del Mar, Isla Mujeres.
ALL IN ALL ANOTHER CRACKING YEAR
GOOD TO HAVE DONE THE ICW BUT TIME TO GO TO SEA
---