Wanci Bimble 2

Beez Neez
Skipper and First Mate Millard (Big Bear and Pepe)
Wed 10 Aug 2016 22:47
Wanci Bimble 2
At one o'clock several of us met in the restaurant (still being built around us) opposite the anchorage. Today we ate to the sound of floor sanding broken by the need for the machine driver to bed nails a bit further down with a hefty piece of metal and hammer................
.......... His mate joined in with a bit of chainsaw harmony and the idea of an inter-boat game of cribbage was abandoned for a bimble on new territory, well to turn right out of the eatery instead of left. Another chap was clearly making an effort to tidy up a bit and everything in his collecting bucket was confined to the sea.
Plenty of time to wait for our food John (Afar VI) showed us our second letter that very few had received, he had read it out and the translation on the radio this morning. Basically, if officials came to us asking for National Park fees of $AU 15.00 we were to say we were exempt. Several boats had already paid by then but Beez had no such visit...........
After lunch, I once again went for the safe option of chicken and noodles but did go a bit wild and asked for sweet and sour chicken – it was neither, tasted of fire and was swiftly pushed over for Bear to break into a mild sweat over. That done I felt the need to take another picture of this beautiful one careful owner. Now braced and ready for our bimble.
We indeed turn right on to new territory and see a house with a little light engine maintenance going on in the lounge.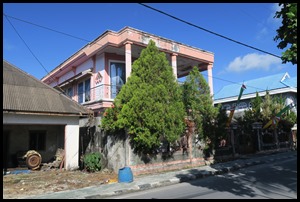 We all stop at the bakery and buy sliced loaves at fifty pence. Down the road we take in the houses (clearly the more affluent end of the city) and make it to the roundabout. A right turn here would take us to the ferry port but we spied an information board on the opposite side of the road.
We saw our little shopping trolley between the two anchors on the left and a much bigger trolley on the right by a white bus. Not sure about the scale of the map or whether it means a bus ride to the bigger supermarket, we decide to walk a little further to the market on the right.
The bread delivery man sets off on a run.
We wonder if like in Europe, these householders don't have to pay Council Tax if the upstairs is not finished.
Local electrickery.
A near derelict mansion and a new build opposite.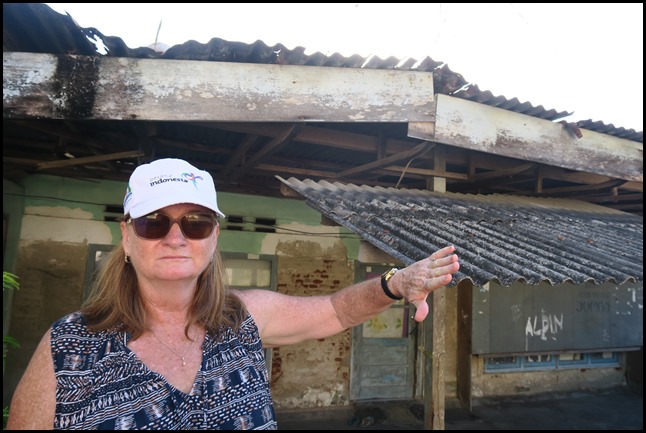 Low obstruction with sharp bits. Danger lurks everywhere with pot holes, a man sweeping round a bend with roofing wires trailing behind his motorbike and schoolchildren having to skip over them as their ankles are threatened. It is lawful to walk with the flow of traffic and depend on passers-by to beep. We all walk with the traffic coming toward us so we can see the perils approaching.
Sometimes in places we need to find stuff in yellow and black for Beez and come up empty. No so here in Wanci. Bear buys a new torch, we see a crash hat and a head and footboard to match. Handbags, tee shirts, dresses – in fact, a smorgasbord of things bee-coloured.
We pass an eatery with an interesting name. The menu gives an idea of prices in Rupiah. We have to take off all the noughts, call it Australian dollars, halve it and add a few bob to guesstimate the sterling. Therefore a bottle of Coca-Cola is around forty two pence.
A very parsey pad with silver touches, complete with water feature and handsome car.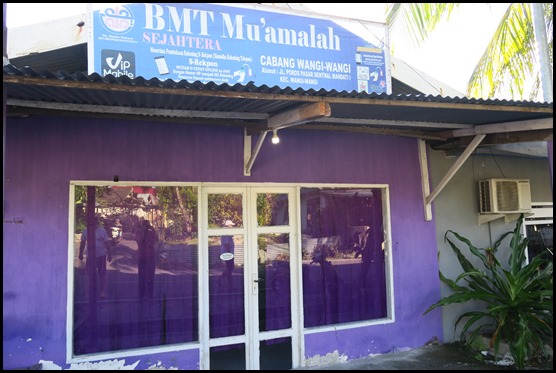 A shop in purple brings that poem by Jenny Joseph to mind. Warning.
When I am an old woman I shall Wear Purple
With a red hat which doesn't go, and doesn't suit me,
And I shall spend my pension on brandy and summer gloves
And satin sandals, and say we've no money for butter.
I shall sit down on the pavement when I'm tired
And gobble up samples in shops and press alarm bells
And run my stick along the public railings
And make up for the sobriety of my youth.
I shall go out in my slippers in the rain
And pick the flowers in other people's gardens
And learn to spit.
You can wear terrible shirts and grow more fat
And eat three pounds of sausages at a go
Or only bread and pickle for a week
And hoard pens and pencils and beermats and things in boxes.
But now we must have clothes that keep us dry
And pay our rent and not swear in the street
And set a good example for the children.
We must have friends to dinner and read the papers.
But maybe I ought to practise a little now ?
So people who know me are not too shocked and surprised
When suddenly I am old, and start to wear purple.
A shack with a view through the window to a carefully owned boat.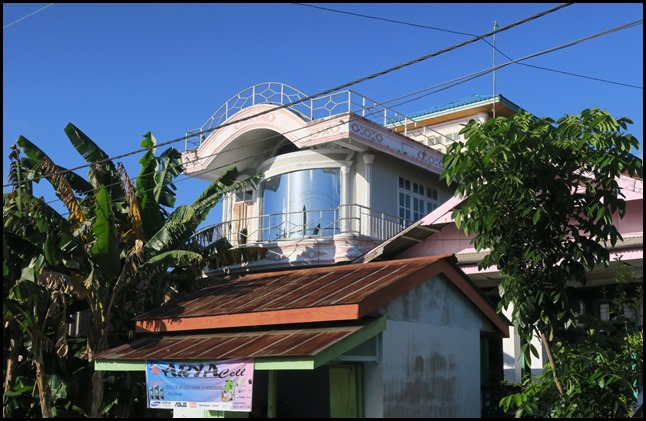 A fancy house with an impressive bay glass window, wonder if the glazier lives here.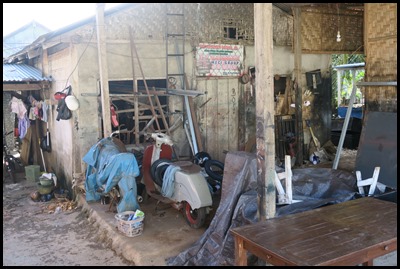 The motorbike repair shop and a couple of boys out in their PJ's. Wonder if they will wear purple in later life ???
Clearly these householders feel the need for security judging by the four inch nails used as a deterrent for unwanted trespassers.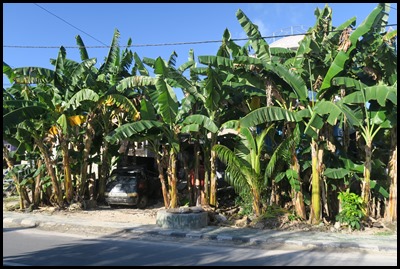 A nice little house next door to a keen gardener.
The local old and the plastic new pass each other.
ALL IN ALL NOT A CITY TO TEMPT ME TO RELOCATE......
BUT WHAT AN INTERESTING MIXTURE
---