To Bali

Beez Neez now Chy Whella
Big Bear and Pepe Millard
Tue 13 Sep 2016 22:57
To Bali

After our start, stop, start when we had to turn back to Gili Air to put Baby Beez away, the rest of the eighty five mile journey was thankfully very uneventful. I went to bed at six just as the day began to shake the sleep out of its eyes.
No sooner than I was tucked up asleep than Bear passed a large FAD (fish aggregating or attracting device).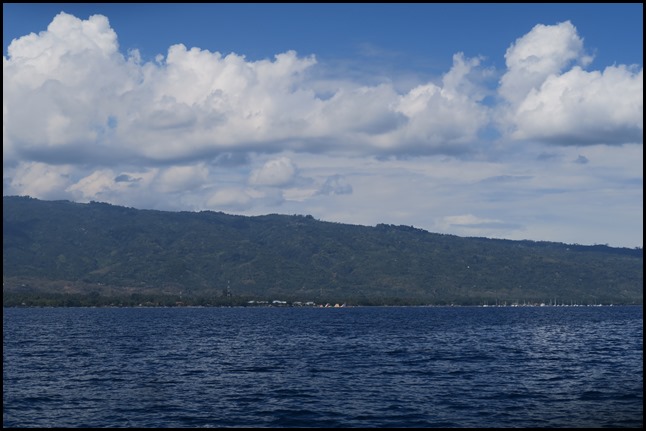 I got up at ten to see Lovina Beach and loads of yachts at anchor (on the right).
There are several yachts here from the other rally (that left from Darwin), some are still awaiting their Visa Extensions......... our first task as soon as we get in.
A local scoots by as we set the anchor.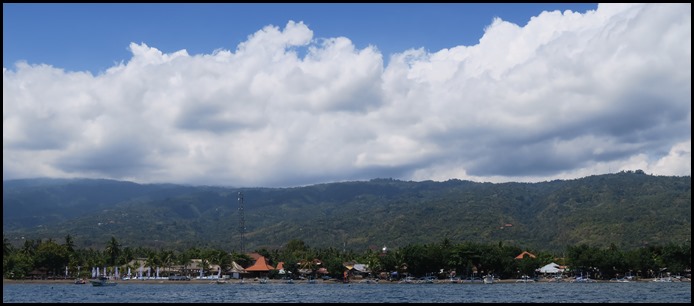 The town is ready for the Yellow Festival this weekend, we have no official festivities as such.
Michael and Gin came to pick us up and we readied ourselves for our first predominantly Hindu / tourist island. Nothing could have prepared us, Jimmy was there asking about diesel and laundry, a man opening a jewellery case that held rings Keef Richards or any of the cast of Pirates of the Caribbean would authentically wear. The old lady with a tape measure around her neck with oversized false uppers offering "Velly cheap Mrs". Then the worst offender with severely pencilled eyebrows, was the lady from the shop next door to LA Tours – our destination, she was the real deal; everything you loathe about a vendor all wrapped up in a scary look and lies, as we were led to believe her daughter "made everything out the back". I turned to take a picture of the dolphin, huge mistake, as new vendors further along the dark brown beach came as a throng.......they asked innocently "where are you from" and we found ourselves replying, this is seen as the beginning of a successful exchange – them gaining money, us withdrawing with non essential stuff, time to retreat and stand in the queue waiting to see Nia.
Opposite the dolphin and across from LA Tours was our first Balinese Hindu temple.
Heavily gated..........
............I poked the camera through, very elaborate. The vendors spotted me, time to retreat.
Crossing the side road (main road apparently at the far end) I found Beez Neez only had to wait for Wishful Thinking to be called in, I chose to tuck behind Bear as tape measure and next door were waiting nearby – now bearing armfuls of wares. Nia soon finished with Michael and Gin so in we went. Paperwork handed over, forms filled, labels attached and lighter by 1,300,000 Rupiah (AU$ 65 each) and the threat of the Immigration Office on the morrow for photographs and fingerprints,,,,,,,,,,, but the codicil "this is Indonesia". Definitely time for lunch.
We snuck up the side road, ducked past a hotel entrance and successfully left our Velcro Vendors behind. New meat to the variety of shop owners as we found a bar / restaurant we all fancied. We spoke to several yachties along the way, at the end of the road, turn left for ATM's, great, next stop.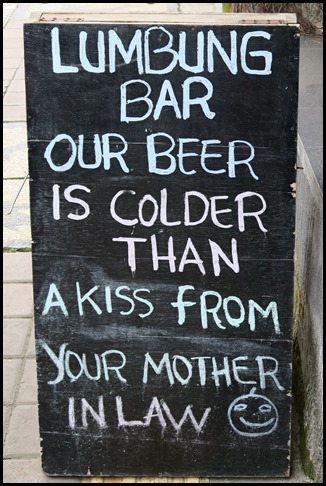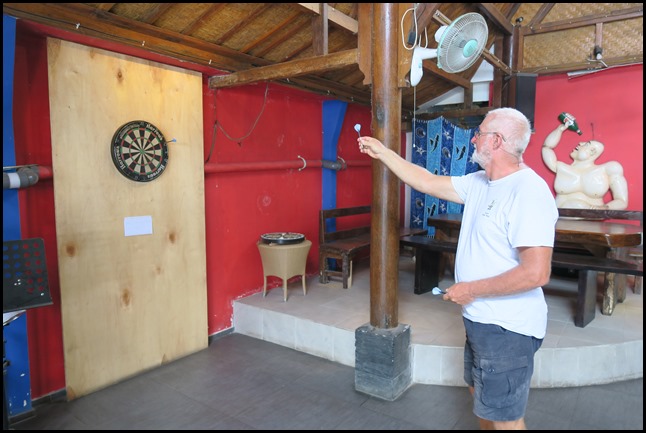 That done we headed back through the arch and to a sign we all loved. Settled for a cold beer, delicious lunch and a game of darts (that we very narrowly won due to Bear's accuracy – that combined with his Finska skills he may soon become unpopular with the fleet), it was late enough to join up with a big crowd for 'happy hour'.
The bar we joined had a swimming pool, liqueur as strong as rocket fuel but no cocktails, the women began braying so the men led us to a cocktail bar on the corner offering the usual suspects at two for the price of one. Next was hunger time, someone suggested the beach, that being festival time, had many food vendors and local bands, a plan not to be missed. Bearing in mind that we were followers as Baby Beez was at home, but on the flip side Michael had wanted to go for a sleep after lunch so the original plan had moved from A to B.
En route to the beach Simon (Nicha) had a go at Standing the Bottle, a skill made to look so easy by the owner. We held our breath for him, things began well until the wiggle and a nil point..........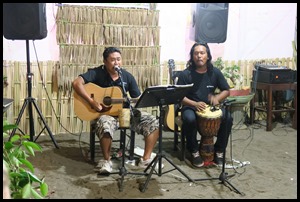 We passed loads of temporary booths and settled in one with a duo. Everyone got up to dance, downed more cocktails – this time by the jug, I went from tambourine to bongo in a easy movement and joined in the chorus of "Honky Tonk Woman" and remember little else from then on. A great night back with the extended gang.
ALL IN ALL VERY BUSTLING WITH SELLERS LIKE BOA CONSTRICTORS
BUSY AND FUN
---