To Hurghada

Beez Neez
Skipper and First Mate Millard (Big Bear and Pepe)
Fri 7 Apr 2017 22:57
To Hurghada, Egypt
Joe and Vicky decided we would be missing the heat and very kindly organised a week in Egypt. Up early this morning, we headed to Manchester Airport and after a bimble through duty-free we were soon settled aboard a full plane.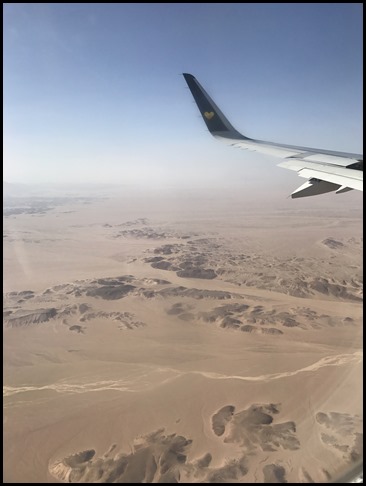 Flight stats and the view as we flew over the desert.
Landing, bag collection and half an hour transfer from the airport and we were settling in to our hotel.
Beds found the bed very comfortable.
History: The village, which later evolved into what is now the city of Hurghada, was settled in 1905. It acquired its name from a plant which has grown naturally since ancient times. By then it was only a fishing village. Oil was discovered in the area in 1913, but actual production and export only began in 1921 under British oil magnates. During the reign of King Farouk a recreational centre was built in the city, but after President Nasser's nationalization of Egypt's industries it was turned over to the armed forces.
During the War of Attrition between Israel and Egypt, Shadwan island east of the city in the Red Sea, was fortified and held by Egyptian troops and used as a radar post. On the 22nd of January 1970, it was the site of Operation Rhodes, a heliborne assault by Israeli troops which occupied the island for 36 hours.
Tourism: Although a town in its own right Hurghada's current major industry is foreign and domestic tourism, owing to its dramatic landscape, year-round dry and temperate climate and long stretches of natural beaches. Its waters are clear and calm for most of the year and have become popular for various watersports, particularly recreational scuba diving and snorkelling.
Dive sites around Abu Ramada Island, Fanadir, Giftun Kebir, and Giftun Soraya are popular. Tourists also visit shipwrecks such as the El Mina or the Rosalie Moller. The beach at Hurghada is not secluded, out to Sigala the beach is then followed by coastal holiday villages and then desert.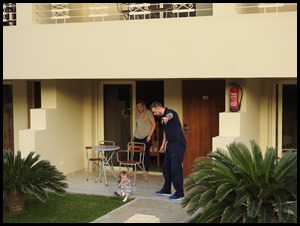 A visit from our next-door-neighbours.
The huge pool to explore before a delicious supper and a few sherbets
ALL IN ALL LOVELY TO BE IN THE HEAT
REALLY LOOKING FORWARD TO THE WEEK HERE
---