More Wiring

Beez Neez
Skipper and First Mate Millard (Big Bear and Pepe)
Sun 11 Jan 2015 23:57
Yet More Wiring for the New Solar Panels
Yesterday we needed a break, well certainly Bear did. We went off in Mrs Puki to Kerikeri to have a Warehouse fix and gather supplies from the supermarket. En route we stopped at the avo place. Ten for twenty five pence each, money in the honesty box. Home and unpacked, time for a few games.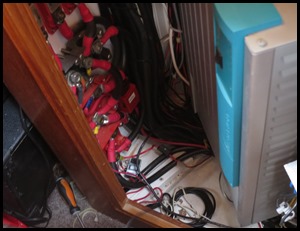 I trot by to say hello to Bear every so often. I'm utterly thrilled to just look at this blue job and step back.
I'm saying nothing. Critical moments these. I'll slip along then.
Oooooo. I'll head from this to put supper on then.
I actually shouted Oye like a fish wife out of our bedroom window – hidden from view by our yellow cover, well it was ten to two in the morning. The deaf, loud and inconsiderate Frenchman next door had obviously arrived back from the tall ships day at Russell having had one or two Beaujolais' too many...... Could I get back to sleep. Nothing for it but to get back to my task at hand. Shore power coming to an end had thrown me at the chore of doing all our backing up on our varied collection of hard drives. The three three terabytes – Films, TV Drama and Police Drama, need to be plugged in, knowing the mobile hard drives are designed to fail or now and again fall on the floor means back ups are essential. I did stop to take the morning light at ten to five........................
The day ended with Bear showing me the one Chitty-Chitty-Bang- Bang ear in place. Wiring to be done on the buoy, oh really pleased my fishing rod holder has got a new job. Well it will keep the wires safe. Mmmm.
Nice wig, Captain.
ALL IN ALL GETTING THERE
NEARLY THERE
---