Nha Trang Bimble

Beez Neez now Chy Whella
Big Bear and Pepe Millard
Wed 3 Jan 2018 23:57
Nha Trang Bimble
We set off from our digs to take in Po Nagar Towers, the bimble to takes us along the High Street, the trot after takes in a side street and the coast road. Our first gem is a lady beavering away on an elderly Singer Sewing Machine, loads of material in sacks beside her and on her work table boxes of thread with many colours to choose from.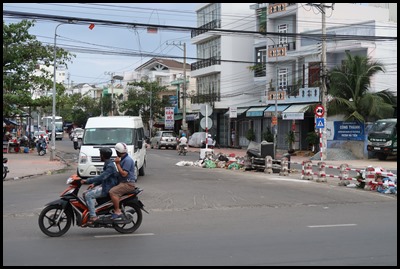 We frequently have to skirt around piles of rubbish.
Complex electrickery.
All the shops we pass are either full of wedding dresses, knock-off designer jeans and eateries. The more interesting ones are the huge numbers of hardware stores stuffed with all manor of bits and bobs.
As we leave the Po Nagar Towers we hope most sincerely that this young lady has secured a new pair of trousers. Some things should really remain secret or at least hidden from view. The population of four hundred thousand depends very much on the tourist industry and all that comes with it.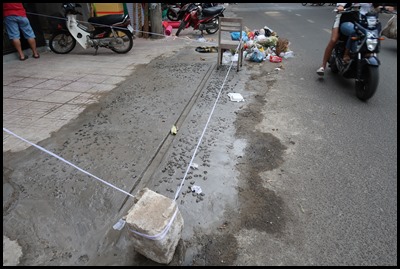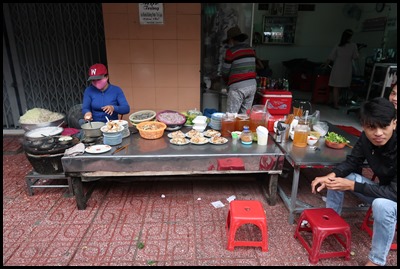 We cross over to cut through to the seaside passing a newly finished shop front with drainage run. The fish prep eateries begin.
We watch mesmerised as these three men rev this very stripped down engine, head scratch, adjust, rev, makes for great entertainment.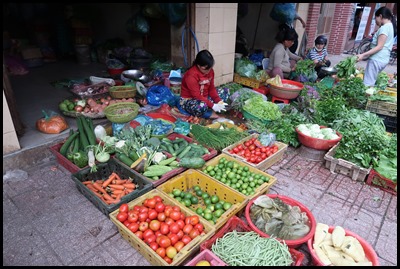 We get a couple of tomatoes for our rolls for tomorrows train journey from a sour-looking lady – that is, until we thanked her in Vietnamese when she beamed and laughed hard. Then we see many shops selling fresh fish, so fresh they swim about in shallow bowls each fed with fresh water and bubbles.
A shop full of tanks is having a bit of repair work done. This man sitting in one of the huge tanks.
The repair man is being watched by a couple of eels and 'chose your own fish'.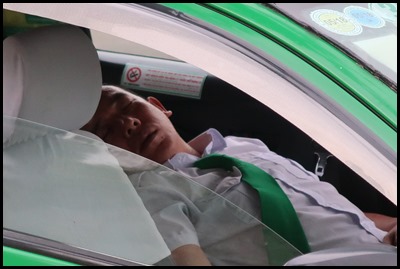 This taxi driver has simply pulled over on the main road (suppose to look like Pacific Highway – OK if you have a super imagination) and is now catching up on Zzzz's.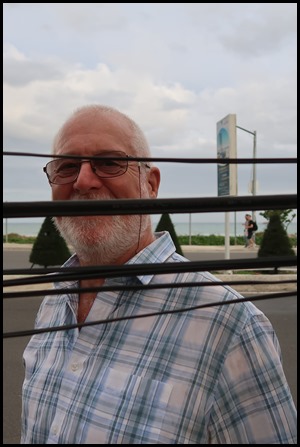 More electrickery and Bear poses 'near' a mains cable. We watch a chap balance precariously on the back of his bike as he does a little maintenance. We all laugh and wave at each other and mimic balance actions.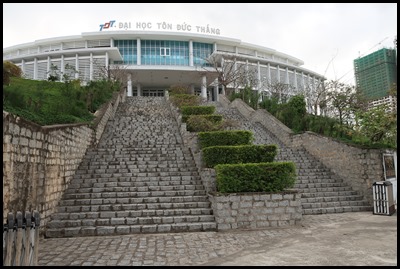 In the darkness of this home-made shelter is a bare mattress, completely at odds with the fancy building next door.
A garden centre right on the seafront.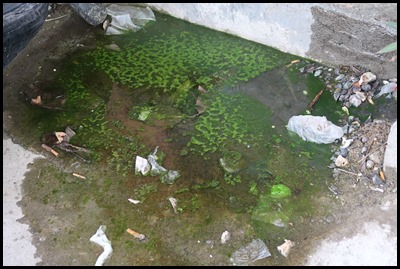 A push bike left where it fell and a mosquito-loving puddle make this end of town particularly miserable.
Crabs trussed up in carry home strapping and grouper as we once again hit the fisheries.
Snails keen on escape and lobster available in several sizes.
Bear promised me all kinds of variety for supper in the Bistro by our digs, we got there to find just coffee and cocktails. Oh well, filled rolls from the nice lady at the mobile snack truck opposite our place and home for a couple of good films.
ALL IN ALL THE TOWN HAS A NICE FEEL AND INCREDIBLE FISH
THE FIRST HOLIDAY RESORT WE HAVE BEEN TO IN AGES
---