Bluefields, Hair, Maenporth

Beez Neez now Chy Whella
Big Bear and Pepe Millard
Fri 20 Jul 2018 22:57
Bluefields, Hair, Maenporth Beach and a Dance Diva
Bluefields extension and new garage coming along nicely under Tim and Big John (now sporting braces as he was so jealous of Mr. Yodel Pants).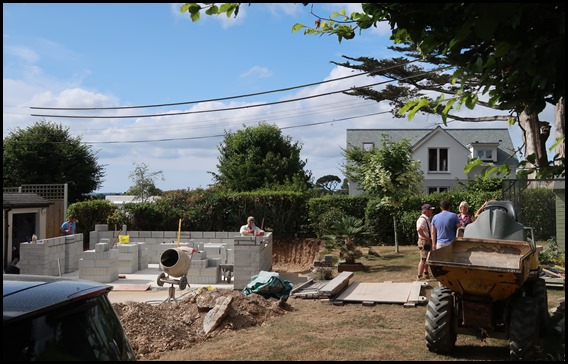 Bear took me to the hairdressers as said Mr. Yodel Pants and Cecily had a garden meeting with the Men from the Electric about the saggy wires across their property to next door.
So there I was sitting in a hairdressers, My last cut was two pounds ninety five, so I thought this would severely bring my average up.
Well, after having the dark stuff cut off the bottom, my 'young man' was aghast at my "natural curliness", so much so, he rubbed in a little mouse, shoved chunks in a dustbin lid attached to the end of a hairdryer and left it. Hmmmm, so used to tamed buns, this was a real game changer, unsure if this will stay, get tamed or shaved.......
After lunch Mr.Yodel Pants had changed back into Martin and Cec bimbled us down to the beach, as we headed down the road there was quite a clatter as a truck lost some scaffolding off the back. We took in the scene, nothing hurt and the lads began resettling their load.
Bear decided to take a picture of his sister and wife at that point. Really, really unsure about the hair.
The scenery on the way down was stunning and then Maenporth Beach, simply lovely.
Loved the wheel cover and then I found myself following Cec, Martin and Bear across the road for a drink.
From the swanky bar patio, a view up the river.
On our way back we stood to take in the boats on the water.
We simply had to walk to the end of the path to look out to sea over the craggy rocks.
Looking across the bay to Swanpool.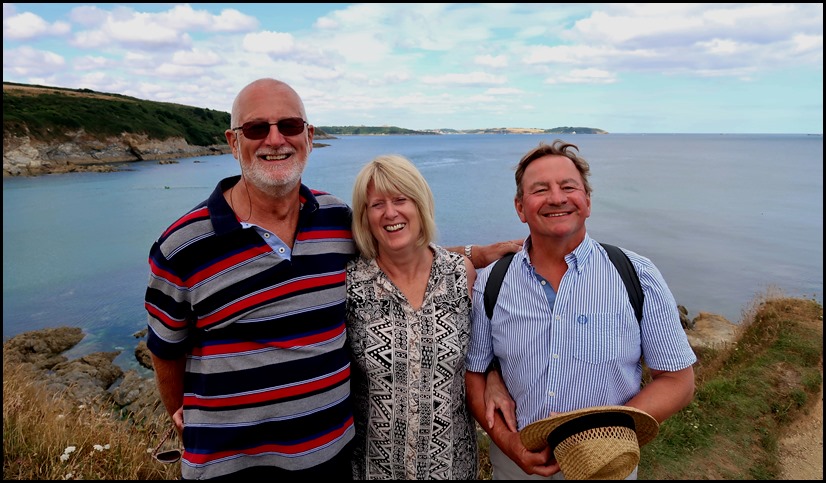 My scenery was photo-bombed by my three companions.
One last look back as we reached the top of the path, looking over the fields.
Later, after supper, we took on Alexa and kept calling out our favourite disco hits. Cecily owned the floor and during one of her favourites used the third stair up as her own personal 'dance cage'.........I was laughing too hard and the left leg was gyrating so fast to get decent focus on this priceless image.........
ALL IN ALL A MIXED BUSINESS OF FUN
WHAT A GREAT TIME
---