Final Ketapang

Beez Neez
Skipper and First Mate Millard (Big Bear and Pepe)
Tue 11 Oct 2016 22:57
Final Ketapang – Busy Bear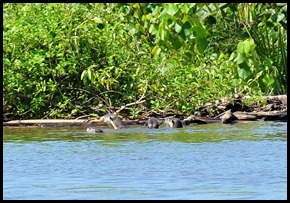 Bear got up this morning to go ashore for hydraulic fluid – Baby Beez had other ideas. Despite having her new brain card yesterday, nothing, nudda... On went the electric back-up and off he went calling otters as he went. To the left of Beez a group of five played in the shallows.
No doubt the otters were waiting for snacks from a pair of fishermen.
Slightly unnerving when single-handers come in, pass close by, apparently not looking........ Sadly, one hit Hybresail this morning making a hole high up on one hull. He tried to flee but the navy got hold of him in an arresting fashion.
A tug and tow com in and the tow parks opposite. Quite entertaining this life on a river.
Bear got home late on having had two men work all afternoon on Baby Beez. They ferried him by car for parts and charged him five pounds.......They wouldn't let him go until they were fully satisfied all was well. How very kind. We watched a girl come in we thought she was going to park.

No, she apparently wanted to do a u-turn.
Sunset tonight was a more pleasant business – we put a mosquito net over the gazebo and very few beetles, bugs and grasshoppers got in – there were thousands outside on the net though.......
The small town lights up
ALL IN ALL A DOMESTIC DAY WITH INTERESTS
AMAZINGLY HELPFUL PEOPLE WHO ALWAYS SMILE
---