Emmie the Shopper

Beez Neez now Chy Whella
Big Bear and Pepe Millard
Wed 22 Aug 2018 22:57
Emmie the Shopper in Show-Stopping Welligogs
We arrived with Harley just before six, he immediately went to bed and once Vicky and Joe left, we were effectively in a silent house. About eight, Emmie woke and snuggled with me to have her morning milk, with Grandpa whilst I did her toast and once eaten asked him to take her to the toilet and help her choose her clothes.
They did really well, the lights glittering at the heels of the wellies topped off a great choice. Well done both.
After shopping, me manning the till, there was plenty to chat about until dolly got tired.
Strict orders, dolly cuddles and the sign for quiet.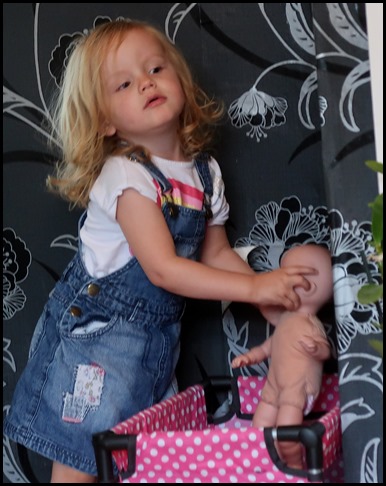 Emmie checked to make sure Grandpa had his finger to his lips as dolly went down for a nap. Once more the house fell silent. Kaiser was the first to surface and after his breakfast Harry appeared. Still looking shattered, we settled to children's television until Vicky and Joe came back. Time for us to head back to Eva and an afternoon nap ourselves.
ALL IN ALL GREAT FUN
A DELIGHT
---