Malacca 1

Beez Neez
Skipper and First Mate Millard (Big Bear and Pepe)
Sun 20 Nov 2016 22:07
To the Malacca Straits - Day One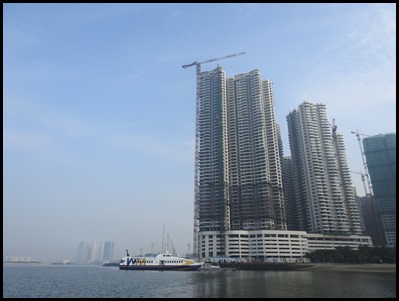 Yuan Hong 6 anchored overnight behind the little Orchard Garden Marina, we passed this dredger on our way down the Johor Strait having set off at ten past eight. Her length is 100 metres, 20 metres wide and she trots along at 7.5 knots.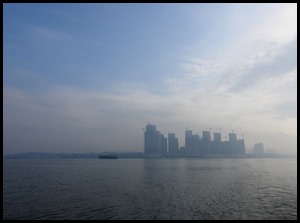 Orchard Garden – perhaps the biggest building site we have ever parked near began to fade into the haze. A happy skipper and a not so happy osprey being hassled by two crows who made such a noise.
A fisherman sorting out his net, not so busy that he didn't wave enthusiastically.
At ten we went back under the
Malaysia–Singapore Second Link
.
Over to our right on the Malaysian side – a massive reclamation project.

Sand delivery girls behind the red dredging float.
Our first big working girl, Nan He 6 chugged by at seven knots with an unusual flag of Bolivia. She is 122 metres in length and 19 metres wide.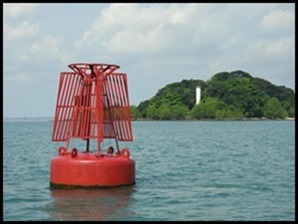 We get to the last red, I see my first combo of working girls and I see a cheesy grin on my skippers face.
Closer to the combo we see their names are Sinaran Mentari and Sinaran Handal.
Sisters nearby – Sinaran Warni her tug Sinaran Warna and within minutes Sinaran Indah and her tug.
Local fishermen using the yellow buoy – time to turn right.
Behind us = Yeeha, I'm back amongst the chums, for a little while.
Wow.
Agility and Bow Sea.
Grace Star looked massive.............
...........then we saw her next Taurus Sun, where she looks simply huge.
Grace Star of Bangkok, a crude oil tanker measures in at 320 metres in length, 70 metres wide and a draught of 8.45 metres. Her DWT 312,638 tons and she was built in 2001.
Taurus Sun fuelling the bigger girl and also a crude oil tanker measures in at 243.8 metres in length, 43 metres wide and her draught is 13.1 metres. Her DWT is 115,577 tons. She trots along at 12.4 knots with an average of 11.2 knots – registered in Liberia.

Christa Schulte who we would meet underway later on, and then a chum we assumed was her sister..........
..........Sarah Schulte looking resplendent. This 2005 Cypriot flagged chum (Hazard A (Major)) is 222.14 metres long, 30 metres wide and her draught is 9.2 metres. She is not a racer but is happy pootling along at 6.2 knots, although she can break into a trot and manage 8.6 knots, not bad considering her DWT is 39,383 tons. Christa Schulte is actually a local girl registered her in Singapore. These chums got us talking about containers and how they are fixed in place.
All those containers..........
........................held on by little clips and bracing straps across the back row.
I found this picture of an empty chum.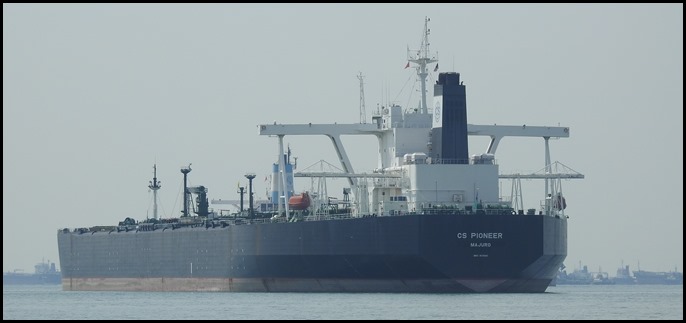 CS Pioneer. Our next big chum was truly a big girl. 332.94 metres long and a colossal 60 metres wide, her draught 13 metres. DWT 281,705 tons.
Northern Star nearly had the deepest draught of the day at 20.5 metres, her length a modest 330 metres but her width is 60.04, just a snip wider than CS Pioneer above, her DWT 281,050 tons a shade lighter.............
............her sister Energy Star has the deepest draught at 21.6 metres, her length 329.77 metres but she is a 'slim' 58.04 metres........ but she is a heavyweight with a DWT of 309,966. Northern Star trots along at an average speed of 10.3 knots but can shift gear up to 12.5 knots whilst Energy Star has a top speed as well as an average of just 5.5 knots.
Navig8 Executive is brand new chum flying the Marshall Islands flag, measuring 219 metres by 38 metres wide and her draught is 12 metres. Her DWT is 74,431 tons. Top speed of 13 knots but she is no slouch with an average speed of 12.2 knots.
Our last chum at anchor was a scruffy looking girl called Safmarine Chambal. She is 249.12 metres long, 35.4 metres wide with a draught of 11.3 metres. Considering she is only four years old her rust is a bit of eyesore. Her DWT 65,458 tons and she carries the Hong Kong flag.
Going down the side of her, we once again got a good look at the back row of containers and how close they look to the rear.
Still something to see a little fishing boat with a chum in the background.
One final look back at the chums anchorage, now it's the Malacca Straits and chums on the move.
ALL IN ALL A JOY TO BE ZIG-ZAGGING THROUGH THE CHUMS
GREAT TO GET MOVING AND HAVE FUN AMONGST THE CHUMS
---