Guy Menzies

Beez Neez now Chy Whella
Big Bear and Pepe Millard
Sat 30 Aug 2014 22:47
We left State Highway 6 before Harihari and drove six or seven miles to see the replica of Guy Menzies plane. Guy Menzies completed the first solo crossing of the Tasman Sea on January 1931. He landed his single engine Avro Avian plane,
Southern Cross Junior
, in the La Fontaine swamp near Harihari, mistaking it for a grassy paddock. The plane tipped over, an ignominious end to a record-breaking flight, Guy had crossed the west coast of the South Island near Ōkārito after eleven hours and forty five minutes. Initially, local residents refused to believe that he had flown across the Tasman Sea, and were only convinced when he produced a sandwich bag from Sydney airport.
The landing spot near Harihari is marked by a memorial. The swamp has been drained, and now actually
is
a grassy paddock.
At the end of the road we saw a paddock and crossed a bridge.
Just over the bridge was the memorial to Guy Menzies with a very smart plaque, not a replica in sight.
The Pilot: Guy Lambton Menzies was born on the 20th of August 1909, the eldest of five children of Dr and Mrs Guy Menzies of Sydney. A high spirited boy, he was intently interested in all things mechanical – the faster and noisier the better. He did not excel at school and left at the age of sixteen. During his teenage years he raced a motorcycle on Sydney speed tracks as Don McKay, the Flying Scotsman, to conceal the activity from his parents. An accident forced a change – to flying. Initially irresponsible, Guy continued taking lessons with the Aero Club of New South Wales and by 1930 was an accomplished and experienced aviator.
The first crossing of the Tasman by air had been achieved on the 10th and 11th of September 1928 by

Charles Kingsford Smith

and

Charles Ulm

in the

Southern Cross, Charles Smith had also flown the plane from England to Australia.

Determined to fly the Tasman, Guy with his new business partner Albert James, bought the Avro Sports Avian biplane 'Southern Cross Junior.
Guy spent hours studying aerial navigation, as radio and navigational aids were still in their early development. For direction, a bearing would need to be established between Sydney and some point in New Zealand, then this bearing maintained by compass, making allowance for drift either way, by cross winds. Ground speed had to estimated by adding or subtracting head or tail winds to air speed. The only means of calculating wind velocity and direction would be the pattern and height of the waves. No life raft was carried on the flight. A solo bid non-stop from Perth to Sydney was indicated so that night flying p
ractice, maximum quantities of fuel, eighteen hours flying time, and other preparations would not seem out of place. After meticulous planning including equipment testing, meteorological forecasts and learning stress reducing techniques, Guy was ready.
A map of New Zealand could not be procured without raising suspicion so Guy visited the New Zealand Government office in Sydney and charmed an office worker who provided detailed maps and kept her promise of secrecy. After much study, Guy chose Blenheim as his destination. Having only taken delivery of the Avro Avian on Christmas Eve 1930, he spent the next fortnight familiarising himself with the plane, and installing a second compass.
Guy wanted to make the flight as soon as possible to take advantage of the short nights, so the decision was taken to leave on the 7th of January 1931. At Mascot Airport he bade farewell to seven friends and family and the Controller of Aviation.
The Flight: Despite fitting an extra fuel tank that gave the Avian eighteen hours endurance, Guy realised he was unlikely to get approval for an over-water record attempt. He kept his plans to himself, indicating instead that he was going for the Sydney-Perth record. At 1am on the 7th of January 1931, Guy took off from Mascot Aerodrome and headed east, not west. When opening their sealed envelopes, his friends learned of his real destination.
One of them read:- Dear Norm, I am sorry to have kept my real destination from you and know that, if you had known where I really intended making for, you would have tried to prevent my going. I am flying to New Zealand instead of Perth as planned with you. I have always wanted to do this trip and, as the opportunity presented itself, I did not hesitate about taking it as I feel perfectly confident about getting there. At any rate you might wish me luck. Cheerio Guy.
The flight started in calm conditions, Guy saw the lights of Sydney fade behind him as he headed east. After an hour or so he felt the first of an easterly wind. This increased until he was being buffeted by squalls. Guy would estimate his fuel reserves at half past each hour, jotting his results down, and on the hour would pump more oil into the engine from an auxiliary tank. The first big squall caused him to knock the ignition switch and stall the plane. With discipline he went through his cockpit drill and rectified the problem, gradually coaxing the plane back to cruising level. By 4am he was beginning to feel fatigued. At 5:15 the wind had backed around to the north-west and instinct told Guy he was being blown to the south but he resolutely stuck with his planned bearing. He calculated at six that he had eighty gallons of fuel, in theory enough for another ten hours flying. An hour later Guy encountered a storm, causing his plane to rock and lurch violently. He fought for control. Trying to fly above the bad weather at eleven thousand feet proved too cold so he was forced to fly under the cloud and at one stage nearly hit the sea, actually tasting salt...... The planes only blind flying aids were an altimeter and a simple turn-and-bank indicator.
At eight in the morning with an estimated seventy gallons of fuel left Guy noticed logs floating in the sea. At eleven o'clock as he flew between three and five hundred feet, the weather became atrocious and Guy was flying blind with huge tail winds. He estimated that with the help of these winds, he should make landfall at any time. By 11:30 there was no sign of land and only forty five gallons of fuel remained. Another tortuous hour passed before the horizon darkened and eventually showed itself to be the land he had so longed to see. Guy had made landfall on the southern West Coast close to Gillespie's Beach, a former goldmining settlement of the 1860's. Only two people had lived there since the mid 1920's, brothers Ted and Bill Bagley who prospected for gold in the black sands. On the 7th of January Ted was taking his turn 'to go on the medicine' after the gold specks had accumulated. Riding with a packhorse to Weheka – Fox Glacier, for supplies. He would then travel on to Hokitika to have a high time before returning. At home, Bill heard a plane circling, looking up he saw Guy fifty feet above the ground. Guy shouted "I want to land". Bill shouted back directions to a landing strip at Weheka but these were lost in the engine noise. He pointed inland and Guy headed that way. However, thick weather hid the mountain peaks, and having no wish to encounter them, he flew back up the coast into the rain.for
"It was the fog and cloud enshrouding the Southern Alps which prevented me going on to Christchurch. I could not see very far, and did not know whether the mountains were two or twelve thousand feet high. I could not take a risk, so I looked for the nearest landing ground."
Flying above the seaside settlement of Ōkārito and seeing people below, Guy scribbled a note, crammed it in a bottle and threw it out. It was found many months later by Charlie Black who was cutting gorse near the lagoon. The bottle broke but the note is kept at the West Coast Historical Museum, Hokitika. With the tide in at Ōkārito and no clear paddocks, Guy continued north. Turning inland at the Big Wanganui River mouth, now running short of fuel.
The Landing: Guy spotted what looked like pasture, not until nearly down did flax bushes loom into view. "Near Hari Hari I spotted what looked the goods and went down. My pick was bad, for the ground turned out to be soft and marshy but it was too late to worry. The wheels went in, and the machine stopped dead and then stood up on its beak." Uninjured, Guy undid his harness and dropped out of the cockpit. He
then tried to make his way to one of the farmhouses he had seen from the air, soon a local, Jack Hewer demanded, "who the bloody hell are you ?" The young pilot explained he had just flown from Australia but Jack wouldn't believe him until he saw the plane.
Some other locals were quickly on the scene, Alf Wall who owned the farm where the plane 'landed', Gordon Mitchell and Jack Searle – neighbouring farmers. Bert Kelly owner of the cream collection truck who had seen the plane flying too low and feared the worst. Mrs Minnie Wall, Alf's wife, who had an endearing way of climbing on her roof for "a look around" also saw the plane circling the area. Bill Berry Senior with his friends Bill and Vic, witnessed the Avro Avian descent, these people quickly crossed streams and farmland to make their way to the plane about a mile away.
Alf Wall took Guy to a local homestead where afternoon tea was provided for everyone. A telephone call was made to the local shopkeeper and postmaster George Rowley, to tell him of the flight and landing. Following afternoon tea with the incredulous Harihari farmers, Guy was eventually driven to the small telephone exchange in order to telegraph his parents. Fifteen year old Marjorie Rowley sent it. Guy was driven in triumph to Ross.
News of his flight was telegraphed around New Zealand and Australia, the cablegram to his father was sent at 4.35pm and was delivered to Drummoyne, Sydney at 5.00pm, the message read: Arrive Harihari south Island soon after lunch. Cheerio Guy.
News spread and many made there way to the 'landing' site to be involved in this story in aviation history, eventually Southern Cross was righted.
The locals helped load the plane onto a horse and cart, driven by the capable hands of Mr Jock Adamson who crossed the fields to the nearest road. One of Newman's trucks was waiting at the road to transport the plane to Hokitika where it would travel by rail to Wigram Air Base for repair.
The hero was feted by delighted West Coasters, Guy was soon joined by Albert James, his business partner and they set off on a flying tour of the Dominion.
West Coast hospitality and ringing home
After the Flight: Guy Menzies returned to a civic reception in Sydney where he was awarded Freedom of the City. He and Albert James dissolved their business partnership, with Albert retaining ownership of the Southern Cross. He was killed a few weeks later when the plane crashed at Mascot. Guy Menzies' piloting skills secured him a commission in the Royal Air Force. During the 1930's he served with 23 Fighter Squadron in England. 205 Flying Boat in Singapore, and 56 Fighter Squadron and 114 Bomber Squadron in the UK. Just before World War Two broke out he went to 228 Squadron of Coastal Command and Sunderland Flying Boats. Squadron Leader Menzies served in the Meditteranean until he was killed on the 1st of November 1940 when his Sunderland was shot down by Italian Air Force Fighters off the east coast of Sicily whilst flying from Malta. No remains of the aircraft or crew were ever found.

He is commemorated at the

Alamein Memorial

in

Egypt

.
On the 7th January 2006, celebrations were held in Harihari to commemorate the 75th anniversary of Menzies' trans-Tasman voyage, and were marked by a re-enactment of the flight by adventurer

Dick Smith

.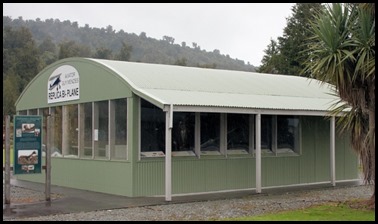 We left the memorial, drove back toward Harihari, once on the main road we passed a few shops,
then, the building that houses Guy Menzies Replica.
Sadly, the building was locked and in the bright sun pictures through the glass were limited. The best two.
ALL IN ALL LOST TOO YOUNG
A DARING AND BRAVE MAVERICK
---