To Lady Musgrave

Beez Neez now Chy Whella
Big Bear and Pepe Millard
Sat 14 May 2016 22:57
To Lady Musgrave Island
When we saw this fantastic picture taken by NASA of Lady Musgrave Island, it became our plan to arrive here in time for Bear's special birthday.
At six this morning I went to bed to grab a couple of hours before the reef entrance, rather pleased that Bear was the one to see Lady Musgrave first.
I got up to see the island about five miles off, we had to slow down at this point to enter the 'gates' at the right time – low tide, slack.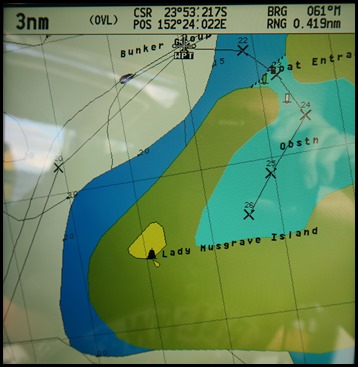 Now on the wheel with Bear at the nose to guide me, ready for the 'in'.
One final look right to the island before.........
Beak line-up, red marker off to the left.
We had one red and two greens to the right followed by one isolated danger marker, then a right turn. The gates are about twenty metres wide but at no point did we have less than 4.8 metres below us. A daily tour ferry come each morning and leaves around two o'clock which suggests any time of the tide is fine – if a three knot current is outgoing though a bigger engine than ours is a bit more required........
In front of us a Chinese chum passes the other side of the Barrier Reef.
Behind us Fitzroy Island some three miles off.
Bear's IPad view. The coral bommies few and far between. The shallowest bommie is marked with a couple of floats.
We aimed for a space between two yachts (ten in total in this vast area) with six metres below us (our shallowest coming over to anchor was 3.8 metres below for all of one second before 6.8 below). My chartplotter view and Bear's IPad, we are seen as the small blue arrow........ In reality.............
ALL IN ALL MAGICAL
FABULOUS – ON THE GREAT BARRIER REEF AT LAST
---